Thanks for reading some of the latest features about area people and events.
To view every page and read every word of The Kenmare News each week,
subscribe to our ONLINE EDITION!
KHS volleyball team knows they won't be intimidating
When the KHS volleyball team takes the court this season, no opponent is likely to be intimidated by the Honkers' size. "We are even shorter than we were last year," said head coach Tim Wallstrum.
8/29/12 (Wed)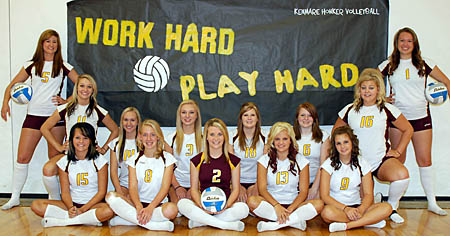 2012 Kenmare High School Varsity Volleyball Team
By Caroline Downs
When the KHS volleyball team takes the court this season, no opponent is likely to be intimidated by the Honkers' size. "We are even shorter than we were last year," said head coach Tim Wallstrum.
"I think we get smaller every year," said senior setter Lexie Munson.
"And younger," added Shelby Hass, senior outside hitter.
"And less experienced," said libero Morgan Goettle, the third and final senior on the squad.
In fact, with only 13 girls in grades 9 through 12 playing volleyball this year, the coaching staff added four eighth graders and a seventh grader in order to fill the C-squad and JV teams. Those changes meant that sixth grade girls stepped into roles on the seventh grade team.
The seniors are well aware of their size disadvantage in the district. "Basically, it's David vs. Goliath when we play Minot Ryan," Munson said. "I think they have five girls over six feet tall."
"Our tallest girl is 5'10", and she's an eighth grader!" Goettle added.
The seniors appreciate their younger teammates and cite their hard work and positive attitudes during practices. "They love to play with us," Goettle said. "I remember being like that. As a freshman, I was always wanting to play with the older girls."
Wallstrum called the team a grassroots squad.
"They get down and they work hard," Wallstrum said. "It's not going to be the flash it used to be. It's going to be some hard work."
He noted the team's passing and serving skills looked strong in the first days of practice, and he described the veteran players as solid. "You have Lexie back as setter, a two-time All-State team selection," he said. "Shelby is a strong outside hitter and one of our leading passers. Morgan Goettle is back to play libero for us and she's quick, a good passer. And we have Katie Nelson. For a little girl, she's a heck of a middle player. The rest of the girls will have to step up."
Two offenses with
two setters
"Stepping up" has meant learning two distinct offenses with two different setters working the court. "In one offense, Shantell Brekhus will be setting when Lexie hits," Wallstrum said. "In the second offense, Lexie sets all the time."
He realizes he's asking a lot of the team, with sophomore Beca Wallstrum moving from right side to middle hitter, and sisters Kennedy and McKenzie Chrest moving into the right side hitter roles. "It's going to be a complicated year," he said. "The girls have to keep two separate offenses in their minds, and we've got to get our offense on track."
The senior players agreed. "We're not clicking on our offense yet," Munson said. "We need to be more intense."
"Everything happens a lot faster," Hass added. "You have to get used to the people next to you and know how they're going to react to certain things on the court."
Hass's job won't change much on offense. "It's more about who's around me," she said. "In one offense, I hit off Shantell and the rest of the time, it's Lexie. Lexie and I read each other really well, but in practice, I've noticed I've gotten more adjusted to Shantell."
Munson is relearning her game. "It's weird going from setting to hitting," she said. "When you're setting, it gets curled around your brain that you handle the ball every time. Now, I don't touch the ball every single play. It's a good different, though. I like it!"
Wallstrum believes a choice of offenses may be the Honkers' best weapon in district play as they work through this rebuilding year. "There's Minot Ryan, who not only has six-foot girls, but they're good athletes and they've had a taste of winning and being very successful in their other sports," he said. "Our Redeemer's has the best hitter in the region with [senior] Ashley Koppinger."
Munson laughed about running the two offenses. "We hardly know what we're going to do," she said, "so there's no way the other team's going to know what we're doing!"
Wallstrum noted his young team is all too aware of the level of competition they'll face this season. "They want to live up to the tradition of our volleyball program," he said. "For the last five years, we've had a big red target on our back, and that's gone now. I think they want to prove to everyone else and themselves they're a contending team."
The seniors admitted they want to return to the state Class B tournament, where Kenmare has made six consecutive appearances since 2006. "It's not an impossible goal," Munson said.
Hass grinned and interrupted, "It's go big or go home."
"We'll definitely have to work for it," Munson continued, "but the younger players know that's our goal and they want that for us, too."
2012 KHS roster
The senior trio of Lexie Munson, Morgan Goettle and Shelby Hass leads the Honkers this season.
Juniors taking the court include Katie Nelson, McKenzie Chrest, Shantell Brekhus and Chelsea Nelson.
Sophomores suiting up in the maroon and gold are Beca Wallstrum, Justice Brown and McKinzie Jensen.
Freshmen working the net are Halley Bartlett, Jordan Ankenbauer and Kennedy Chrest.
Eighth graders testing their wings as Honkers include McKayla Neubauer, Kylee Nelson, Haley Kohler and Anne Johnson.
Seventh grader Sierra Overton joins the squad in the setter's role.
Shelby Kittelson keeps books for the team, with Ramsi Moorhead and Rebekah Fetterhoff handling stats.
Wallstrum is joined by assistant coach Faye Alexander and junior high coach Merry Feldman.
Honkers on their way
The Honkers opened their season in winning style on Saturday, winning the championship of the Coal Country Invitational tournament played in Hazen.
The Honkers also played a non-conference match at Ray Tuesday night, with results unavailable at press time.
Kenmare welcomes Stanley for the season's home opener on September 4th, then travels to Bottineau for matches September 6th and plays in the Glenburn tournament on the 8th.
The team goes on the road to Tioga on September 10th, MLS in Mohall on the 13th and Bishop Ryan in Minot on the 18th. Des Lacs-Burlington will play in the KHS gym on the 25th, and the team will close out September with a match in Glenburn on the 27th.
October opens as Kenmare hosts Surrey on the 2nd and Lewis & Clark on the 4th. The Honkers will play in the DLB Lakers Invitational tournament on the 6th, followed by home matches with Our Redeemer's on the 9th and DLB on the 11th.
The Northwest Conference tournament is scheduled for October 13th at Glenburn, and the Honkers round out regular season play with a trip to Divide County on the 23rd.
Kenmare hosts the District 12 tournament October 26th, 29th and 30th. Region 6 action will follow November 5th, 6th and 8th at the Minot Municipal Auditorium, and the state Class B volleyball tournament will take place at the MSU Dome November 15-17.
The seniors expressed their appreciation to the student and adult fans from past seasons, and they asked family and friends to continue supporting the team.
"We love hearing the loud cheers," Goettle said.
"If the crowd joins us, that's the best," said Munson, "and we love it when little kids make signs for us."
The team is performing under the theme, "Work hard, play hard" this year because those four words summarize the Honkers' attitude as Wallstrum leads the team match by match, one night at a time.
"We know we're gonna have to work really hard," Munson said as she glanced at her fellow seniors.
"And play really hard," Goettle finished for her, as gracefully as the two set up plays on the court.