Thanks for reading some of the latest features about area people and events.
To view every page and read every word of The Kenmare News each week,
subscribe to our ONLINE EDITION!
Kenmare's Fun Zone Daycare has a staff of four
Belinda Steen, owner of Fun Zone Daycare in Kenmare, stood among a group of children clamoring for help putting on their shoes for a much-anticipated trip outside.
8/02/12 (Thu)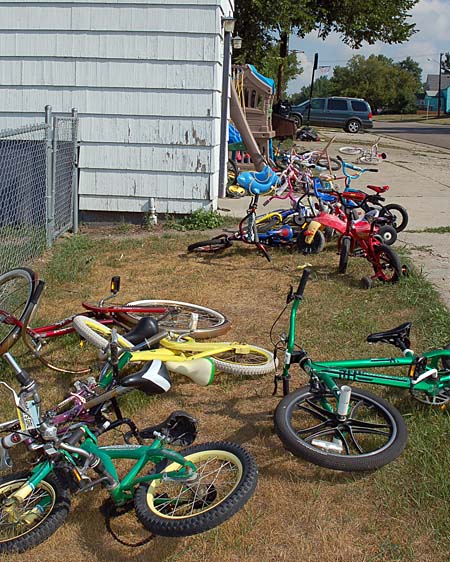 This is the Fun Zone, all right . . . The Fun Zone Daycare in
Kenmare is not marked with a sign at the present time, but the
line-up of two-wheeled, three-wheeled and training-wheeled
bikes at the daycare's entrance is a clue to its whereabouts.
By Caroline Downs
Belinda Steen, owner of Fun Zone Daycare in Kenmare, stood among a group of children clamoring for help putting on their shoes for a much-anticipated trip outside.
"I might lose their clothes or their toys," Steen said as one little girl tried to slip her feet into another girl's pair of shoes. Steen recognized the mistake and calmly made the correction before any shoes went missing. "But I don't lose children!"
The Fun Zone Daycare is a dream-come-true for Steen, who started doing daycare at her home in Donnybrook when her daughter Josie was three years old. "I didn't have a job then and I needed a little extra income for our family," she said. "Daycare would work into what I needed to do."
Her first client was a teacher in Donnybrook. "I did this out of my home when my own kids were growing up," she said, adding that other families in the area needed daycare at that time as well.
Eight years ago, the former New Life Church of God building in Kenmare became available as a daycare facility. Originally, the church was preparing to open the building as a child care center, but the operation didn't come together as anticipated and the building was made available as a rental, with the basement already remodeled for a daycare.
Steen considered the opportunity and took the risk, operating there under a group license which allows for up to 18 children. "I advertised I was going to start the daycare in Kenmare, and I got two or three families," she said. "It took off from there."
Actually, business was steady but slow for a while and Steen could hardly pay herself. She continued building her clientele, though. "As kids got older, I would lose them, but then I'd gain more new families," she said.
Those new families kept coming as the Fun Zone's reputation grew. By 2011, Steen added Josie Sauder and Sara Rudland as employees, with Mandy Moldenhauer joining the staff earlier this year.
Steen and her husband Ray purchased the building in March 2012 after she negotiated a deal with the Northwest Regional Church of God board, based in Bismarck. Steen runs the daycare as a small business, open Monday through Friday from 7 am until about 7 pm to accommodate various work schedules as she cares for 18 children from infants to 12-years-olds. During the school year, she may watch a few other kids before and after each day's classes, with her staff able to divide the children into groups according to ages or activities.
Steen's day revolves around the children under her care, with a full itinerary of games, craft activities, songs, stories, walks, bike rides, naps and pure playtime. She provides breakfast, lunch and an afternoon snack for the kids, following strict nutrition guidelines provided by North Dakota Day Care Children.
Steen also gets the kids out in the community for everything from swimming lessons and the library's weekly Story Time to T-ball games and special field trips to the Des Lacs National Wildlife Refuge.
While she enjoys all her kids--with the feeling apparently returned, based on the way they trail after her--she admitted to a special tenderness toward infants. "I love to take babies," she said. "I don't do anything extra-special, other than holding them and rocking them, but I get to spoil them rotten."
For the past year, Steen has had a waiting list for her child care services. "Right now, there are at least five families [on the list], with about two kids apiece," she said.
She noted additional pressure on local child care services, after former providers Margo Egeberg retired and Priscilla West announced her family's upcoming move from Kenmare.
Steen, who has a high school diploma, has been taking training courses through the years from the North Dakota Child Care Resource & Referral service, but she has stepped up her efforts in order to complete her Child Development Associate training through the agency. The credential would create more options for her business.
"As soon as I [earn] that, I can expand as a center and have up to 30-some kids," she said.
She has been researching various scenarios and touring child care centers in Minot, and she realizes any expansion could change her way of providing daycare. "At centers, the kids are divided by ages all day," she said. "It would a transition for my workers and me, but it would be easy enough to adapt to. The facility is there and the families are there."
She would have to hire a director with an early childhood or elementary teaching degree and additional staff members to work in a center, and some remodeling might be in order with both levels of the building in use.
The reality of that dream is months away yet as Steen continues her coursework and thinks about the changes.
In the meantime, she has short-term goals for her current operation, starting with landscaping the fenced-in play yard and redoing the sidewalk in front of the building so kids can practice their bicycle skills on a smooth surface instead of crumbling concrete. She wants to add more outdoor play equipment to the yard, especially with a full load of active kids who enjoy their time outside.
She will also maintain her focus on the children, with simple goals for them including being kind to others and learning to tie their shoes, say their ABCs, write their names and count.
"It's the stuff they like," she said, "and if it's practiced enough, they learn it here."
Despite the booming demand for child care in town, Steen's top priority each day is the particular children who come to her. She treats them as her own family and works to communicate clearly with parents to insure the best for their kids.
And she knows she's been successful when children don't want to leave. "A really good day is when the parents come to get their children and the kids say, 'Can we stay another half hour?'" she said.
For more information about Fun Zone Daycare, contact Steen at 701-385-3490.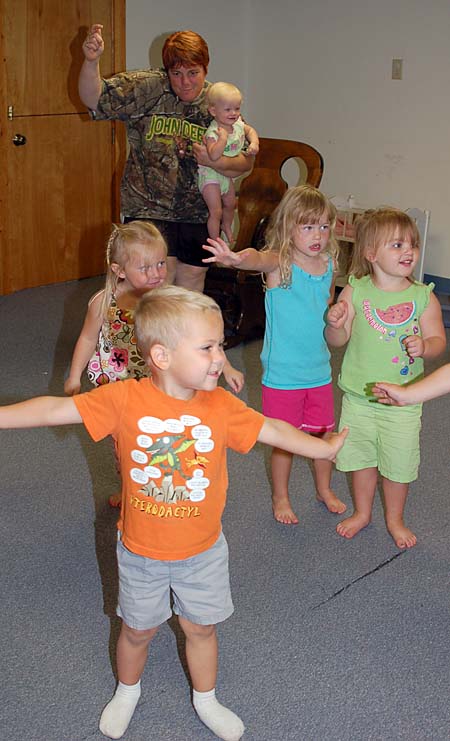 The daycare "Freeze Dance" . . . Fun Zone Daycare owner
Belinda Steen, back, joins children under her care in a version
of the "Freeze Dance" with stop-and-go music. Steen emphasizes
a variety of activities for kids in her day care, including stories,
crafts, outdoor play and music time.