Thanks for reading some of the latest features about area people and events.
To view every page and read every word of The Kenmare News each week,
subscribe to our ONLINE EDITION!
Kenmare ambulance answers state's call
As the Dakota Access Pipeline protests intensified late last fall in Morton County, the North Dakota State Department of Health put out a plea for assistance that included all emergency services.
3/21/17 (Tue)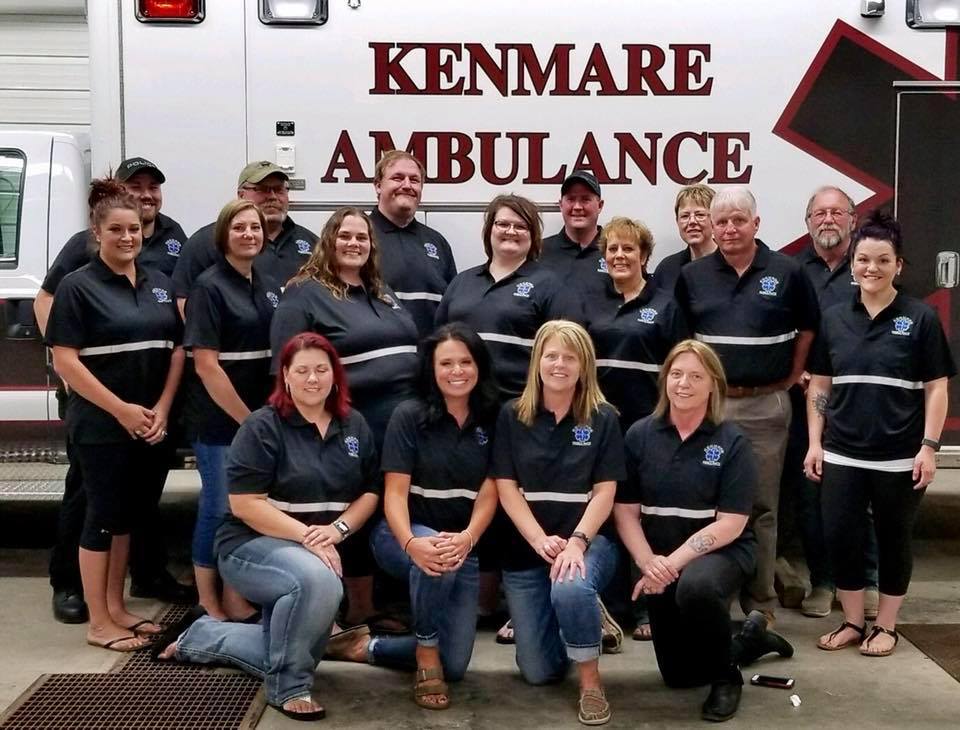 Long run . . . After a Christmas Day blizzard that hit the state, the Kenmare ambulance vehicle was drifted in at a Dakota Access Pipeline forward operating base at Fort Rice. Kenmare has had a presence at the site from early November until the camp closed on Saturday.
By Marvin Baker
As the Dakota Access Pipeline protests intensified late last fall in Morton County, the North Dakota State Department of Health put out a plea for assistance that included all emergency services.
Kenmare answered that call with ambulance and law enforcement. An ambulance crew was on site in early November, while police officer Chris Almlie spent the month of February at the DAPL site.
"Initially when the state called I took it upon myself and said yes," Becky Nelson of the Kenmare ambulance said. "Then I told the crew at the time I had no idea how long we'd be there."
Nelson, who spent most of November at the site, said her decision became very controversial because people in the community wanted the ambulance here in Kenmare.
But Christian Standard, an EMT who was on site since December, defended the decision because he said the state has already, or will reimburse Kenmare a total of more than $55,000 for being on site.
In addition, he said the run volume isn't high enough in the community to justify two ambulance rigs all the time.
Nelson added that during the entire duration of the mission, there were two incidents in which two ambulances were needed. In both those cases, Bowbells was called since Kenmare has a mutual aid agreement with the Bowbells ambulance.
Standard said it was all for the greater good of the state of North Dakota.
"It's somewhat disappointing to know we had an officer and a rig there; and to see the apathy within the squad and key people arguing against it," Standard said. "It was a good experience. It was nice to get down there and represent this community, because to a degree, a lot of communities weren't represented."
Standard added he was happy that Nelson supported the mission because it wasn't just about getting reimbursed.
Ambulance members who were there in addition to Standard and Nelson; Emily Christensen, Brianna Matejovsky, Mikki Bjergaard, Mark Staskywicz and David Sigloh, received valuable training, they were able to network with other ambulance personnel and they represented Kenmare on a state level very well.
Crew stayed active
And contrary to what some people may have thought, the crew wasn't just sitting around waiting for accidents to happen.
According to Nelson, they were always on call, but if they weren't on an ambulance run, they were working in the kitchen, a field dining facility that fed 900 people three times a day at its peak.
She said it was overwhelming for two people to handle that kind of service. After a while the demand dropped off to 600 meals, then to 400 meals in 24 hours.
"We always did the night shift and there were always at least two people in the kitchen," she said. "We had call ins and sometimes put together 50 to-go meals."
She said reefer trucks made trips to Bismarck, about 60 miles, twice a week to pick up food items. Most of the food was pre-cooked and purchased from Sam's Club.
"I think Kenmare was the only squad that helped in the kitchen," Nelson said. "Kenmare was gung ho and the state came to rely on us. If we saw something that had to be done, we did it."
Nelson, Christensen, Matejovsky and Bjergaard worked at the Fort Rice site in November. Sigloh worked the first week in January and Staskywicz and Standard were on site together in December, January and February with two weeks off in January.
Nelson called it physically demanding.
According to Standard, because of illness and absence of others, Staskywicz ended up running the kitchen for a while.
Standard himself worked with site command and often made rounds.
"The mentality was we were just there for patients, but in a FOB (forward operating base) everybody does everything," he said. "I worked 40 days straight. In December I worked a 96-hour shift and a 72-hour shift. That was every blizzard, every storm. I burned through three partners."
Nelson said they were there initially as emergency medical services for law enforcement and the National Guard, north of the Backwater Bridge, while Standing Rock crews took care of the patients south of the bridge.
"Then it changed in January if protesters were arrested on this side of the bridge," Standard said. "I did have patients. We were like Switzerland, we'll take care of everybody regardless."
When that happened, a police officer was in the module with the patient because of the potential for violence.
"A lot were not peaceful," he said. "The peaceful, praying protesters were not arrested."
When protesters were arrested, they refused to give their real names, instead using "spiritual names."
Standard never went into any of the camps as law enforcement took the injured to the nearest road and Standard picked them up there. He said there were three emergencies which needed transport to the Bismarck hospitals. The rest were minor injuries.
But while waiting on that road, his Marine mind was doing reconnaissance.
"There was no rhyme or reason to the camps' set up," Standard said. "There was no formality. It was based more on terrain than being uniform. It was a mess."
He said the protesters listened to the Standing Rock elders, at least in the beginning, but there really wasn't any formal leadership and that led to various issues.
"The true agitators refused to leave. There was no control and now they are fanned out," Standard said. "The tribe said it themselves that it got out of control and law enforcement noted that."
He said the turning point was when equipment began to get vandalized.
"It went from peaceful and praying to anarchy and the Standing Rock Sioux Tribe was disenfranchised," he said. "It was a training ground, a social media war that the law or the government wasn't ready for."
To counter the propaganda, Morton County released several You Tube videos with accurate information.
Standard suggested some of the agitators have gone to Iowa to protest the pipeline there while others are waiting for construction to continue on the Keystone XL pipeline... Read EVERY WORD on EVERY PAGE of The Kenmare News by subscribing--online or in print!