Thanks for reading some of the latest features about area people and events.
To view every page and read every word of The Kenmare News each week,
subscribe to our ONLINE EDITION!
Kenmare Hospital offers state-of-the-art health care for area
At 104 years old, Kenmare Community Hospital is going strong and offering state-of-the-art health care services to area residents.
9/19/12 (Wed)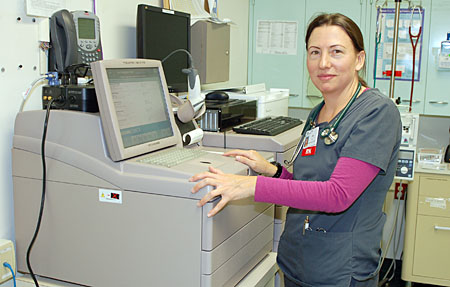 A visit to the Pyxis . . . Joy Hassberg, RN at Kenmare Community
Hospital who recently arrived from San Francisco, logs into
the Pyxis system to request a dose of prescription medications
for a patient. The new Pyxis is monitored and stocked by
Trinity Health and provides better security for medications
administered to local patients. Drawers behind Hassberg hold
the medications and will only open if the medication request
is deemed to be accurate and timely for the patient.
Ownership by Trinity has been good for Kenmare

By Caroline Downs
At 104 years old, Kenmare Community Hospital is going strong and offering state-of-the-art health care services to area residents.
Affiliated with Trinity Health of Minot, the Kenmare Community Hospital appears to be an older, quiet brick building settled along First Avenue between Third and Fourth Streets. Step inside the doors, however, and the atmosphere hums with activity.
Emergency cases are handled. Recovering patients are evaluated. Swing bed residents are cared for and entertained.
All with the most updated equipment and training available, mostly from Trinity.
"Trinity [Health] has been good to us," said Bev Heninger, director of nurses. "I've never had them turn me down."
A case in point is the eCARE system, which documents appointments, lab results, radiology reports, diagnoses, prescriptions and other medical records in digital format that can be reviewed by any health care providers in the system. The time and expense associated with paper records has been eliminated.
"We've gone to electronic records for the entire hospital," Heninger said.
Hospital administrator Shawn Smothers acknowledged the use of eCARE has been a learning curve for staff members as they adjust to the technology, but she is seeing benefits from the new Pyxis machine recently installed at Kenmare Community Hospital for pharmaceutical purposes.
"This was provided by Trinity," she said. "They keep it running and stocked."
The Pyxis maintains the hospital's supply of prescription medications, along with data about who should receive those medications, when, and in what dosage. "This cuts down on any chance of medication errors," Heninger said. "They review everything requested for a patient before we take it out of the machine."
The Pyxis consists of a computer monitor and keyboard connected to Trinity's system, along with a stack of sealed drawers loaded with specific dosages of specific medications needed by the hospital. Nurses log into the system and request the medications for a particular individual. If the request is accurate, the correct drawer opens and a compartment holding the dose for that patient is opened.
Smothers noted the hospital staff always takes great care with medications, but the Pyxis adds a level of confidence. "It's a nice system to make sure things are safer," she said.
Heninger emphasized the Pyxis system did not interfere with business at the local pharmacy, Kenmare Drug. "Kim [Essler] is well aware of this," she said. "We cannot provide take-home meds this way, and we can't fill any prescriptions."
Swing bed patients still have the right to choose a pharmacy to supply their medications to the hospital. Patients treated in the hospital's emergency room will receive just enough of any prescribed medication deemed necessary until they can get prescriptions filled at their choice of pharmacy. The Pyxis handles medication needs directly related to hospital services.
Electronic beds keep
patients comfortable
Along with the electronic record and pharmaceutical systems, Kenmare Community Hospital just received 25 electronic beds, which have been a big hit with residents. "It was wonderful to have something new," said Heninger. "We've had leftovers since I've worked here."
Trinity Health purchased the new beds and accompanying mattresses, spending just over $100,000 for the Kenmare facility. "They're electric," said Heninger, "and they have the legal side rails. In fact, they meet all the criteria for safety in hospital and nursing home beds."
The beds were required for the hospital according to mandates issued after the latest state survey of nursing care facilities. The control panel is situated below the mattress for the patient's safety and the staff's convenience. Heninger explained three of the beds, used for hospital patients rather than swing bed residents, were also outfitted with built-in digital scales and alarms to alert staff about patients leaving the beds.
"These are ergonomically correct, and they can be raised and lowered to the floor," said Smothers. "The patients can tell you they're better!"
More new equipment
to serve Kenmare patients
The beds have been a popular addition on a daily basis, but Heninger and Smothers were also excited about other equipment that can help the staff better serve patients and hospital residents.
A Bair hugger hypothermia machine has been ordered for the facility, using money from the city's health care fund portion of the one-cent sales tax. "This attaches to a disposable mattress and allows us to immediately warm a patient," Heninger said. She noted that core body temperatures, especially among children and elderly persons, can decrease for a variety of reasons in medical situations. "It was something Dr. Nelson thought we should have here."
An in-house security system will soon be installed at the hospital, paid by funds collected from Trinity Health staff members through the Providing Resources and Dedicated Employees (PRIDE) program. "This will allow our staff to alert law enforcement if we need assistance," Smothers explained, adding the system would be especially helpful in the emergency room.
And young children brought to the ER now benefit from quicker responses, thanks to a Broselow Kit. The kit is stocked with the appropriate supplies and resources to begin treatment for pediatric emergencies according to a child's height and weight.
Employment opportunities
in health care for Kenmare
Every patient and most activities at Kenmare Community Hospital are now monitored by the latest in digital technology, but one of the hospital's best assets is the quality of care provided by knowledgeable and compassionate staff members.
To that end, Smothers announced the arrival of a new doctor, Dr. Buki Olatunji, who will begin her work in Kenmare during the first week of October.
"She's a family practice physician," Smothers said. Dr. Olatunji lives in Minot, where her husband works at Minot State University, but she will work full-time at the Kenmare facilities.
"We're looking for another full-time family nurse practitioner," Smothers added.
She and Heninger agreed the hospital and Trinity Community Clinic-Kenmare have not been inundated by patients to the same extent as other health care facilities in the state's western counties, but the Bakken oil boom has made an impact in Kenmare. "Indirectly, we're affected by an influx of new people," Heninger said.
"The ER numbers have gone up," said Smothers. "The clinic numbers have gone up some and they're more steady."
She and Heninger would like to see staff numbers increase as well. "Staffing continues to be an issue," Heninger said. "We're extremely short-staffed in housekeeping and we could use more certified nursing assistants."
Individuals interested in the certified nursing assistant (CNA) positions do not have to certified prior to applying for a job at Kenmare Community Hospital. "That's something we provide," said Heninger. "They get paid while they're being trained."
Heninger and Smothers noted Trinity's commitment to professional development for staff members, ranging from leadership workshops and refresher trainings for various certifications to financial support for careers in medicine.
"There is room for career advancement, once they get in the system," Heninger said. "One of our employees started as a nursing assistant, then became a CNA. Now, she's taking online nursing courses for the MSU nursing program."
That individual received a scholarship from Trinity to support her studies, and she could be eligible for further stipends and sign-on bonuses as she works toward an RN or LPN degree and commits to starting her new career with Trinity Health.
Smothers pointed out possibilities for moving among the departments at Kenmare Community Hospital, depending on an employee's changing interests. "We encourage them to grow," she added.
"I have an excellent CNA who started in housekeeping," Heninger said. "Housekeeping wasn't a good fit for her, but she's a wonderful certified nursing assistant."
Both women emphasized the rewards for work in health care. "Pay is a small part of it," said Smothers. "The rewards are the people who work with you, and the families, the co-workers and the patients who touch you. This [field] gives people an opportunity to serve others and get that back."
"We've got good people here," Heninger said. "We just need some more!"
Anyone considering a position at Kenmare Community Hospital is welcome to contact Heninger or Ranae Ehlke by calling 701-385-4996.
Applications are also available online at www.trinityhealth.org by clicking on a link to positions listed for Kenmare specifically.
Heninger realizes not every potentially wonderful employee has access to the online application forms, so she invited individuals who want to apply for a hospital job to stop by the business office.
"They can come in here, and we can help you apply online," she said as she indicated a computer set up in the lobby area for that purpose.
Broad range of health care
services through
Trinity connections
Kenmare Community Hospital operates as a Level 5 Trauma facility, which allows providers there to stabilize trauma victims to be transported to a larger medical center. "Our last certification was good for two years," Heninger said. "All our RNs have completed the Trauma Nurse Core Curriculum, and all the RNs and LPNs are ACLS-certified in advanced cardio life support."
The hospital works closely with the Kenmare Ambulance Service, and Heninger praised the volunteers' commitment and level of training. "We're fortunate to have such an excellent ambulance crew," she said. "I usually go with them, and I would go anywhere with any one of them. They stay with us in the ER and do anything we ask them to do to help with patients."
Kenmare Community Hospital also operates a versatile laboratory. "Our lab does a lot of outpatient lab work for Trinity," Heninger said. "They're very good, and [Trinity's] lab is very supportive of our lab."
In conjunction with the local hospital, Trinity Community Clinic-Kenmare receives patients Monday through Friday from 8 am to 5 pm and offers a full range of family service practices.
The Wellness Center is also open for patients and members Monday through Friday from 8 am to 5 pm. Individuals or families who purchase memberships have 24-hour access to the building for fitness training, while two registered physical therapists and two licensed PT assistants staff the facility during business hours to provide outpatient physical therapy services as ordered by local doctors, other doctors in the Trinity system, or physicians from other health care organizations.
And local health care providers are ready to refer patients on for symptoms and health issues that cannot be handled in Kenmare, referrals made easier now through the eCARE system. "Because we're linked with Minot, we have that availability to specialists," Smothers said.
That connection with Trinity Health in Minot is here to stay, but according to Smothers and Heninger the benefits outweigh any concerns about being part of such a large organization. "Our salaries and employee benefits are much better because of [Trinity in] Minot," Smothers said. "The support is always there."
The two women acknowledged a small facility like Kenmare Community Hospital could appear fragile in the fast-paced and ever-changing world of health care in this country, with complicated costs, reimbursements, requirements and mandates sometimes overwhelming basic operations.
However, even as Trinity Hospital announced plans earlier this year to build a new, larger facility in Minot, Heninger and Smothers remained certain the services provided by Kenmare Community Hospital would continue and even expand.
"New windows are in the budget for next year," Heninger said, with a smile. "Kenmare Hospital will be here."
Just as it has been for 104 years, and counting.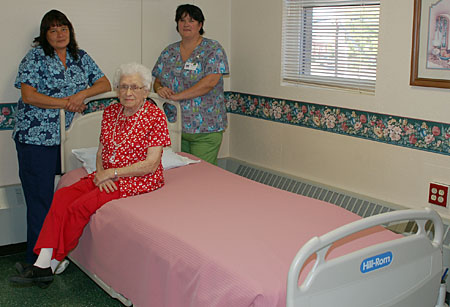 Best beds in town . . . Kenmare Community Hospital resident
Sylvia Evenson, center, enjoys the new Hill-Rom electronic beds
recently installed in the hospital, saying the mattress is more
comfortable than her former, sagging one. Hospital CNAs
Sherry Breece, left, and Michelle Heesch, right, described the beds
as quieter and easier to handle with patients. Evenson liked
the fact the bed could be lowered to the floor, making it more
convenient for her to stand and sit. "They're wonderful!" she said.