Thanks for reading some of the latest features about area people and events.
To view every page and read every word of The Kenmare News each week,
subscribe to our ONLINE EDITION!
Kenmare Country Club in great shape at the age of 95
After 95 years, the Kenmare Country Club refuses to show its age as it attracts golfers across the generations.
7/05/12 (Thu)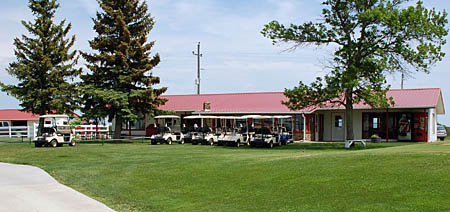 Today's Kenmare Country Club clubhouse has been
updated through the years.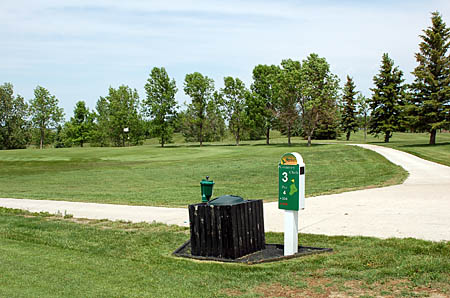 New signs designed by Dakota Signscapes owner Duane Ingerson
of Kenmare mark each hole, with other amenities including ball
and club washers made available to golfers throughout the course.
New concrete trails connect some of the holes at the course,
with a goal to replace all the gravel with concrete.
By Caroline Downs
After 95 years, the Kenmare Country Club refuses to show its age as it attracts golfers across the generations.
"I've been coming out here with my dad for as long as I can remember," said current Country Club president Shane Harris. "I probably wouldn't even golf if this wasn't here."
The course has been a significant part of Harris's life as he's shared the sport with his grandparents and parents, and now with his own son, Matthew.
"He turned two on Sunday [June 3rd], and he was so excited to come out here that he was shaking," Harris said. "He's got a putter and a driver. We did four holes, then it was bedtime. But he was crying when he had to leave!"
Current vice-president Jamie Livingston talked about riding his bicycle out to the course as a boy or convincing his parents to give him a ride. "I would stay out here then from morning until night, playing golf," he said.
These days, he brings his young children Jacob and Brooke to play the course. "Brooke has Jacob's hand-me-down clubs," he said, "and Jacob has a junior set. We usually get through about six holes."
Harris and Livingston aren't the only Kenmare parents making rounds on the course with their kids. According to club secretary-treasurer Sharlet Jensen, 19 families have joined this season, up from 14 last year. Thirty-five couples have memberships, an increase from 28 last year, and 57 individuals have joined the club, compared to 48 in 2011. The club also lists 2 junior and 8 social memberships.
"Membership is up quite a bit," Jensen said. "Anything within the Kenmare School District is considered in-town, and at least 15 of our members are from out of town."
In addition to Kenmare addresses, the membership roster includes golfers from neighboring towns, Minot, Montana and even Missouri. The course has a history of welcoming Canadian golfers as well.
In 1917, only one founding member knew how to golf
"I think it's is one of the nicest sports attractions in town," said Kenmare native John Odland, who has played the course for as long as he can remember.
According to an article in the Centennial Edition of The Kenmare News, the Kenmare Country Club was organized on April 2, 1917. It was the first country club to be formed in the northwest region of North Dakota, and only the fifth club in the entire state. Dr. Fred Ewing was elected president, with H.T. Sands as vice-president, R. Keith as secretary-treasurer, and B.A. Miesenholder and J.L. Wemark as directors.
The club had 22 charter members, with only one of those having any previous experience with golf clubs.
Fred Van Vleck allowed the club to use his cow pasture north of town, which was purchased by the club to build a 9-hole course.
Odland wasn't around quite then, but some of his earliest memories are of the golf course. "I think I'm the oldest living member now," he said, "and I still have a cart out there. I hope to play."
He said the course was built up on the hillsides because the drainage was so good. "It was a big deal to get water up there, though," he said, "to water the fairways and greens."
The original course had sand greens, and Odland talked about the dedication of then-city auditor Frank Rundlett, who handled mowing and maintenance duties on the course along with his other city duties. "He'd go out there in the evenings and go over and over those sand greens," Odland added.
Odland described the first clubhouse, known as Shady Lane, and the staircases necessary to access the facility. "It was down on hole No. 3, just a small building," he said. "They had some picnic tables down there and a cookstove. On Sundays, Frank Elliot, who was a delivery man for my dad, would go down there and make breakfast for everybody."
Odland said the second clubhouse was actually an old schoolhouse moved to a site northwest of present clubhouse. "That had a basement and we stored our clubs down there," he said. "It was where the practice green is now."
He served on the committee to build the current clubhouse in the 1960s, along with fellow members Leonard Jorgenson, Kermit Satterlee and Bill McClung.
The club decided to change from sand to grass greens in the 1970s and applied for Bureau of Outdoor Recreation improvement funds to do so. A grant of $92,700 was received to install an irrigation system and convert the existing greens. According to the Centennial Edition of The Kenmare News, the project started during the late summer of 1975 with plans to have the new grass greens ready for the 1976 golfing season.
"Other than that, there've been very few changes to the course," Odland said. "No. 2 became a par 5, but I think that's the only hole that really changed."
He laughed and continued, "And there have been some holes-in-one out there, mostly on No. 6. But I got one on No. 5 one time!"
The par 34 course spans 72 acres, with 2,684 yards to play.
Always improving,
concrete trails next
The Country Club board has focused on maintaining and improving the facilities. While additions have been built onto the clubhouse constructed in the 1960s, the club is currently working on plans to renovate the kitchen. "We'll have new cabinets, new countertops, new electrical and new appliances in here," Jensen said, as she discussed copies of the plans with Harris. "Basically, it'll be the same size, just updated."
Livingston pointed out other changes made in the clubhouse during the past few years, including new coolers, carpet, metal roof and steel siding, and new doors and trim work.
Cart sheds were added as carts became more common on the course, and the demand has reached a point that 15 additional units are under construction this summer.
"We had a donation from Harris Construction," Jensen said. "They gave $5000 toward the new cart sheds."
"They wanted to give back after all these years of the community supporting their business," Harris said about his father's and uncle's latest contribution to the course.
As for the course itself, Livingston, Harris and Jensen agreed it's in great shape this summer. "We have Kacy Keysor in his first year with us as the greenskeeper," said Livingston, "and we've contracted with a consultant for chemical, fertilizer and aerating treatments."
The club has updated their equipment, including a rough mower donated by State Bank & Trust of Kenmare, a greens mower purchased with a Kenmare Veterans Club donation, and a fairway mower to help with course upkeep. Harris Construction assists with road maintenance at the course and donated the work necessary to remove a row of carraganas growing along the No. 1 green.
The holes have been upgraded during the past couple of seasons with new signs, ball washers and even club washers at certain locations. "We're also getting new benches on every hole," Livingston said. "State Bank & Trust of Kenmare is donating that."
Golfers will notice the holding pond, with water pumped in from the Des Lacs National Wildlife Refuge and used to irrigate the course, has now been cleared. "Harris Construction dredged that for us, at no charge," said Livingston. "We got rid of our cattail problem."
Another major improvement to the course is the transformation from gravel to concrete trails between the holes. Concrete has been installed for some trails, especially leading from the clubhouse, thanks to donations from Kenmare Veteran's Club, Inc.
"Our goal is to change the entire gravel pathway to concrete," Livingston said, "and we have received other donations to do between Green 3 and the No. 4 tee box."
That goal remains on the country club board's wish list for now, along with renovating bathrooms in the clubhouse and planting new trees to replace those removed on No. 1. "We're making improvements every year, and we want this course to be viewed by the community as a great asset," said Livingston, "and used by the people who live here."
Other current board members include Stan Freeman, Rick Harris, Mary Ann Melin and Steve Simoneau. Joining Keysor as course employees for the summer are Jonathan Essler and Hunter Harris.
Everyone welcome to golf,
eat or enjoy the view
While the projects can seem never-ending, golfers at the Kenmare Country Club can expect to enjoy their time at the course. Livingston hopes plenty of golfers will do just that, including new residents in the area.
"This is something Kenmare can offer recreation-wise," Livingston said. "Locals tend to take our view out here for granted, but people who play the course the first time always comment on the landscape."
That landscape adds to the course's charm and challenge. "When you get up to hit the ball out here, it's always above your feet or below your feet," said Livingston.
The course does not require tee times and is open daily, with rental cars available. "And if there's no one in the clubhouse, we have an honor box," Livingston said.
He emphasized that out-of-town and first-time members are eligible for membership discounts, and suggested kids in the community watch for announcements about the youth golf lessons.
Kenmare Country Club will host four major events this summer, including the 32-team Oilman's Tournament the 24-team Ag Appreciation Open held in June, the Minot State University alumni "Friend-Raising" golf tournament August 2nd, and the popular GooseFest Golf Tournament planned for August 4th.
Ladies' Night takes place weekly on Tuesdays and Men's Night is held every Thursday. "We have meals available those evenings and everyone is welcome to come out, even if you're not a member," Livingston said.
And even with the summer golfing season in full swing at the course, the board is looking ahead to a particular celebration. "We want to remind people," said Livingston, "the 100-year anniversary of the course is coming up in 2017."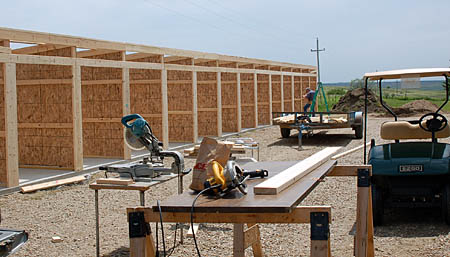 Demand for cart sheds has led to the construction of 15 new sheds
this season, wtih Harris Construction donating toward the project.