Thanks for reading some of the latest features about area people and events.
To view every page and read every word of The Kenmare News each week,
subscribe to our ONLINE EDITION!
Jim Hillestad grateful for WWII Honor Flight
When the fifth and final Roughrider Honor Flight departed from Bismarck on May 6th, Jim Hillestad of Kenmare made sure he was among the more than 125 World War II veterans on their way to Washington, D.C.
5/18/11 (Wed)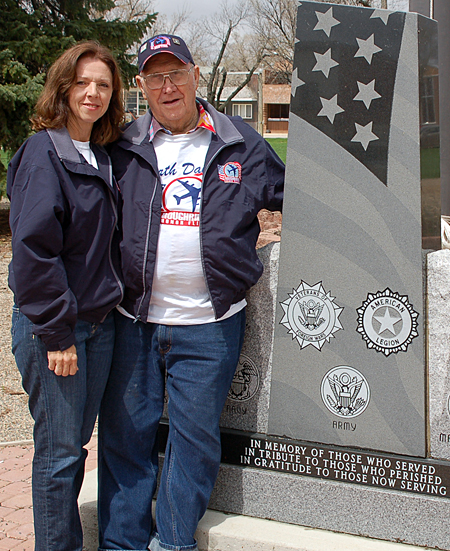 Making the Roughrider Honor Flight . . . World War II veteran
Jim Hillestad of Kenmare, who saw action in India and Burma as one
of the first American radar operators, and his daughter Debbie Oland of Phoenix, AZ, pay their respects at the Veterans Memorial in the city park.
Editor's note: This story is the first in a series of interviews with area WWII veterans who made the final Roughrider Honor Flight from Bismarck to Washington, D.C. in May.
When the fifth and final Roughrider Honor Flight departed from Bismarck on May 6th, Jim Hillestad of Kenmare made sure he was among the more than 125 World War II veterans on their way to Washington, D.C.
Hillestad was joined by daughter Debbie Oland, now of Phoenix, AZ, as his escort. "I had the best escort in the place," he said with a grin.
"I never would have believed my dad would have gone, especially at age 91," answered Oland.
Hillestad wanted to go on one of the Roughrider Honor Flights after hearing about the trip from a friend in Minot. "I got on the waiting list last fall," he said.
Even though he had talked with other veterans who made the all-expense paid overnight visit on previous Roughrider Honor Flights, he was still surprised by the deluxe service. "We had to be at the airport at 6:30 that morning," he said. "They issued us a jacket, cap and T-shirt and told us that was the uniform for us to wear. As soon as we got on the plane, they served breakfast."
"And that was the beginning of the royalty treatment," added Oland. "They wanted everything to be special, and they kept reiterating, 'This is all for you and we want this to be a special trip.'"
That special trip included greetings from North Dakota Senator John Hoeven, bus tours around the city to see various federal buildings and other landmarks, a trip to the Mall where the group stopped at the Lincoln Memorial, the Korean Memorial and other sites and a banquet at the Hyatt Regency Hotel where they stayed.
Hillestad and Oland got up early on Saturday to ride the tram across the city and go to Arlington National Cemetery, which made an impact on both of them. "It's beautiful," Hillestad said. "All those hills and the crosses up and down the hills."
"There are 330,000 people buried there right now," added Oland. "That's over 400 acres of graves."
Father and daughter agreed the World War II Memorial, also toured on Saturday, was one of the highlights of the quick trip. Hillestad described it as beautiful. "I liked that [Memorial], because it was mine," he said.
"It was emotional for me," Oland said. "It was just so inspirational, just to see all these [veterans] there. Then I'd think about his stories from then, about waiting to board the ship to go, all the lines they had to stand in, thinking to himself the whole time how he didn't want to go, and how some of them wouldn't come back."
Hillestad laughed, though, as he talked about one moment at the Memorial, when Oland left him for a few minutes. In looking for her, Hillestad climbed a ledge at the Memorial and stood there until he saw his daughter. However, he was stopped by guards at that point, who helped him down and asked what he was doing.
"I told them, 'I'm an old Norwegian,'" he said. "'Oh, I like to yump around a little bit.'"
Fortunately, the guards laughed, too, and told him he had to do his "yumping around" somewhere else.
WWII radar operator
After spending a year at the Civilian Conservation Corps camp in Kenmare and six months at one in Miles City, MT, Hillestad served nearly four years in the war with a special company of the Signal Corps attached to the U.S. Air Force. At age 21, he was inducted February 6, 1942, and went to basic training in Fort Sill, Oklahoma, before getting sent to New Orleans, Louisiana. "They were forming a new company that was going to take over the first radar units the United States had," he said. "We had no idea what we were in for."
His company was stationed at Drew Field near Tampa, Florida, where Hillestad worked as an instructor. "After two years, we got into a hot company," he said, describing his journey by ship to the combat zone in India via Australia.
He earned two battle stars in India as a non-combat radar operator, before his company was relocated to Burma, where he earned another battle star and stayed until his discharge. "We followed the Army in, and it was an awful mess," he said.
His company set up the radar that American pilots used to navigate the foggy valleys they flew on routes from China to India and Burma. "We were doing too good a job saving our own troops to be moved," he said.
Even though his position supposedly kept him out of any direct fighting, Hillestad had a foxhole ready if he needed it. That situation arose one day when he was relaxing on his cot after a full day's work and a Japanese plane roared overhead. "I leaped from that bed to that foxhole!" he said, laughing.
Years later, he met a WWII veteran who had worked loading the American planes flying those specific routes. When Hillestad told him he'd been a radar operator in Burma, the man was excited. "He told me, 'You have no idea how many lives you saved,'" Jim recalled.
Hillestad returned to the United States in January 1946, sailing on a ship from Calcutta through the Suez Canal back to New York City. Their ship arrived in the New York Harbor too late at night for a tugboat to guide the ship to the dock, so the soldiers spent one more night three miles out at sea. The next morning at breakfast, the soldiers were laughing and talking until a commercial played on the radio. "This stupid commercial for some cereal came on and everybody stopped at once, and the tears started rolling," Hillestad said, his eyes tearing up at the memory. "We were home! We'd never heard a commercial the whole time we were gone!"
Hillestad spent a few hours getting processed at a camp in New Jersey, then boarded a train for Camp McCoy, Wisconsin. "They assigned us to a bunk we never slept in because early the next morning we were on the train for home," he said. "I rode the train to Kenmare, and I think I was the only one who came to Kenmare."
His voice shook as he described riding up the tracks in the Des Lacs valley. "I remember when we came to Baden and it was dark," he said, "and then I saw the lights of Kenmare. I still look for those lights."
Hillestad had called his family from New Jersey, so his brother Clarence stood waiting for him to arrive at the depot. "He took me up to the house and the rest of the family was there to greet me," he said.
After Hillestad returned to North Dakota, he worked for the Farmers Union Shipping Association, buying and trucking cattle, then operated an artificial livestock breeding operation for the next 18 years before starting his antique business.
He married Sylvia Peterson of rural Tolley on June 20, 1949, after first spotting her watching him during the 75th Jubilee parade in Kenmare. The couple raised three children of their own and a foster daughter.
Heroes' welcome
While Hillestad and Oland were thrilled with everything they saw in Washington, D.C., the return to North Dakota made the occasion especially memorable. Hillestad shook his head as he described the greeting the group received as they deplaned, with color guards and firing squads and other military units standing at attention in formation. Civilian guests waved flags and bands played.
"We had an aisle we had to walk down and everybody wanted to shake your hand," he said. "The Bismarck paper said there were over a thousand people waiting for us to come off that plane. I shook a lot of hands!"
Former Kenmare resident Marvin Gravesen, who visited Washington, D.C. on one of the Roughriders flights from Bismarck in 2010, stood among the crowd and made certain to greet Hillestad. "His daughter Gail Johnson was there with him," said Oland, "and she told me it meant so much to Marvin when he got back from the trip last year, that he wanted to be there for these guys, too."
Roughrider Honor Flight (RRHF) led its fifth and final group of World War II (WWII) veterans to Washington, D.C., on Friday, May 6. Upon their return, the Bismarck Hub exhausted its waiting list, having escorted more than 500 veterans. An additional 800 veterans traveled on flights originating in Fargo and Grand Forks.
"When I agreed to chair this effort, I knew there would be a first flight and I was pretty sure there would be a second. I was amazed when we began organizing the fifth flight," said Kevin Cramer, RRHF committee chair. "We made the commitment to do this as long as there was a local WWII veteran able and ready to go."
The WWII memorial pays homage to the 16 million Americans who served during the campaign. The monument was not completed until 2004, and most of the war's veterans never had the opportunity to visit the site. Of the 69,000 men and women from North Dakota who served during the campaign, it is estimated that only a couple thousand are still alive.
The cost of each previous RRHF trip was approximately $165,000, all funded by corporate and private sector donations. Because of rising fuel prices and the size of the final flight, the cost approached $200,000.
Hillestad was grateful for the opportunity to go and the contributions made by so many people on behalf of the veterans and their escorts. Even a week after returning from the whirlwind trip, he was still talking over the new memories he made with his daughter. "That was my first trip to D.C. and my first trip on a big airplane, too," he said with a grin. "There was so much going on, you didn't have time to think!"