Thanks for reading some of the latest features about area people and events.
To view every page and read every word of The Kenmare News each week,
subscribe to our ONLINE EDITION!
Housing demand remains strong
The need for housing across western North Dakota has become a constant headache for township, city and county officials after five years of unprecedented oil and gas development in the region. Kenmare is situated at the edge of the Bakken oilfield, but requests for all types of housing continue to impact the community, even as newcomers arrive with no place to call home.
5/15/13 (Wed)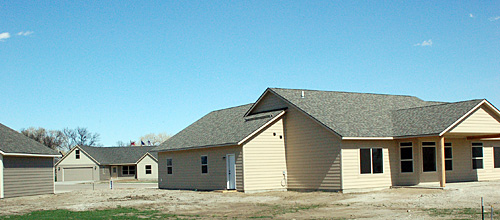 New homes available . . . KDAK, LLC has several newly constructed homes for sale,
such as these in northeast Kenmare. Existing homes offered for sale are
generally sold quickly. Rental housing remains in short supply.

By Caroline Downs
The need for housing across western North Dakota has become a constant headache for township, city and county officials after five years of unprecedented oil and gas development in the region. Kenmare is situated at the edge of the Bakken oilfield, but requests for all types of housing continue to impact the community, even as newcomers arrive with no place to call home.
Another campground
and RV park needed
The demand for short-term temporary housing may be the most difficult to fill in Kenmare during the coming summer construction and travel season.
"There are no open spots at the city's campground," said Jennifer Nelson, who serves as the executive director for the Kenmare Community Development Corporation. "The campground has been open all winter, but a lot of those people aren't leaving now."
In fact, the majority of sites that would be open in the campground located along U.S. Highway 52 on the northeast side of town have been reserved for the summer by Minnesota Limited for their work crews.
However, requests for campsites keep coming. "We get calls all the time from people looking for RV spots," Nelson said.
Kenmare mayor Roger Ness would like to welcome those folks to town. "We've got travelers coming through," he said. "We've got visitors. All those people coming to town and nowhere to go."
According to Ness, the city is looking for a location to establish a new campground. Ness himself drove around town last Thursday night, searching for a potential site. "We've been looking everywhere for possibilities," he said. "If water and sewer are available, it wouldn't take long to do such a project."
He continued, "We want something that's not right on the highway, but close enough so it has access to the highway."
Even better, Ness said the city encourages private ownership of a new campground and RV park for the community. "It's a great opportunity for someone to start a new business," he said. "We constantly have requests for RV spots and for trailer spots."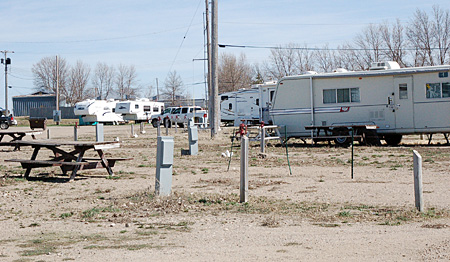 Shortage of campground and mobile home parking . . . Although the
city-owned campground behind M&K's Pizza Hub appears to have room
for campers, it is actually fully reserved for the summer months. Kenmare
also has a need for a mobile home park.
Rental housing limited,
most is income-based
The phones ring most frequently for rental housing in Kenmare, but apartments are in short supply and the few single-family homes available for rent get claimed by word of mouth before an ad can be placed.
Nelson said the city auditor's office takes calls for apartments on a daily basis. She refers those to Silvana Brewer, who serves as property manager for the Honkerville 12-plexes and the Kenmare Housing Authority four-plex.
The four-plex is currently filled, but Brewer has five units available among the two 12-plex buildings located along Division Street. Those buildings offer a mix of one-, two- and three-bedroom units, including one handicapped accessible apartment in each building.
However, because Gooseneck Implement and the Kenmare Community Development Corporation used funds granted from the North Dakota Housing Finance Agency to pay a portion of the project costs, median income levels of potential tenants determine who can rent some of the apartments.
The income mandates are often a point of frustration for Brewer, who could have rented the units several times over by now. "I get calls all the time," she said, "from people coming here from New York, Florida, Georgia, Colorado, Arizona. They're coming here for the jobs, for the opportunities."
Monthly rents have been established at $1,200 for the three-bedroom, two-bath units, $1,050 for the two-bedroom, two-bath units, $800 for the one-bedroom, one-bath units, and $539 for the one-bedroom handicapped accessible units. The garages can be rented separately at a monthly rate of $50 each.
Along with the applications required from potential tenants, Brewer has to compare applicants' incomes according to data provided by the NDHFA to determine if they qualify for the lower-rent units.
"If they're working in the oilfield, they make too much money to qualify," she said, "but in reality, they're supporting divided families. They're working to support themselves here and they may also have family and children to support wherever they are from."
On the other hand, potential tenants who have other jobs in the community may not be able to afford the apartments. "The money they're making here is not enough to pay the rent," said Brewer, "and many of the people who live here already can't afford it either."
Shelley Pullen, manager of the Kenmare Housing Corporation apartments, also has to review applicants' income information for the 46 units offered by that agency, but the income guidelines as provided by USDA Rural Development have more flexibility.
"The rent is income-based, but Rural Development does occasionally give us waivers to rent to people who are income-ineligible," she said, "so I encourage everyone who is interested to apply."
The Kenmare Housing Corporation apartment buildings are scattered throughout the community, with a total of 46 units rented at this time. Like Brewer, Pullen receives calls about apartments on a daily basis.
"Everything is full right now, and we have a little bit of a waiting list," she said, "but the situation can change from one day to the next."
The apartments have been designated as "family housing" by USDA Rural Development. Pullen said the units have been attractive to elderly residents for years, creating a misconception that senior renters were the only tenants allowed.
"Our elderly tenants tend to stay for a long time once they move in," she added, "but anyone who meets the income requirements is eligible to rent."
She noted more of a turnover among younger renters, who often leave the apartments after finding a house in the community or to start employment in another town.
Monthly rent for the Kenmare Housing Corporation units is capped at $500, including utilities, for the one-bedroom units. The cap is higher for the Parkview Apartment building at $770 for one-bedroom units and $900 for two-bedroom units.
"But each rent is based on household income," Pullen emphasized. "We have some renters who pay $150 a month. Everybody has to have their income verified."
Both Pullen and Brewer conduct background checks and criminal history reviews on potential renters. "I'm so grateful I have good tenants," Brewer said. "We want to be sure we bring the best people into the community."
Many of the new renters in the community have arrived from out-of-state, and Brewer, who moved from Arizona to Kenmare two years ago herself, encourages them to get involved in local activities. "I want them to make sure they know this is their home, even for a while," she said. "I see them making an effort to be part of the community. Hopefully, we keep getting people like that."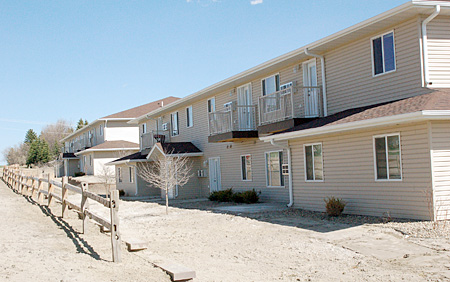 Shortage of apartments . . . A few income-restricted apartments remain
available at Kenmare's two new 12-unit apartment buildings, but
the majority of all apartments available around town are occupied.
Home sales steady,
prices cause sticker shock
A review of newspaper and online advertising, a drive around town to find "For Sale" signs, and casual conversations about houses on the market or coming on the market suggest about 10 to 12 houses for sale in Kenmare at the present time.
"Our housing market was slow this winter, but that's typical," said Jamie Livingston of Danish Mill Realty in Kenmare. "Now, we're getting more calls from people looking for houses [to buy] and for apartments to rent."
Unlike the rental housing, most callers interested in home purchases tend to come from local or area residents.
"They might be looking for a bigger or newer home," Livingston said. "We see some hesitation on the part of out-of-state people to buy right now."
He attributed that hesitation to possible difficulties with credit or personal finance issues and to the types of jobs attracting new arrivals to this area.
However, homes listed with Danish Mill Realty, the only local realty company in Kenmare, tend to sell quickly. "When we get a home listed, we're seeing an average marketing time of maybe 45 days," said Livingston, "and every house has sold before the 90-day marketing agreement has ended."
Homes for sale in Kenmare listed at www.bismanonline.com and www.minotlistings.com range in price from $100,000 to over $350,000. "There's some sticker shock for a lot of people," Livingston said. "The prices are a lot higher than they used to be, but our prices are similar to those in like communities in northwest North Dakota."
He noted housing costs in Watford City, Berthold and Minot tended to be higher than in Kenmare, while costs in Bowbells were generally lower. He noted Kenmare housing prices aligned with a town like Lansford that serves as a fringe community for Minot and the Minot Air Force Base.
"You have to think of how much it costs to build a home right now," he added.
Keeping pace
with the demand
As the calls keep coming with housing requests, Kenmare will somehow have to keep pace with the demand in an organized way without overbuilding.
Ness said the Kenmare Community Development Corporation is in discussion with a developer to build townhomes, apartments and single family homes south of Division Street. "We're getting close to signing a contract," he said, "and talking about a pre-construction meeting."
The project has caught the attention of Livingston. "If that project is built and occupied, that would be a good indicator of what's needed in Kenmare for the next five years," he said.
He has noticed a trend in recent years toward senior residents moving away from Kenmare as they no longer need or want to care for a home and yard. "Unfortunately, some of them are moving to larger communities," he said.
Although health care concerns could be a factor in those moves, Livingston believes housing plays a major role. "I think there's an opportunity here to create some housing so they can stay here in smaller, newer homes," he said.
Pullen has managed the Kenmare Housing Authority apartments since the first units became available 20 years ago, and she has watched trends change in the demand for rental housing. "When we first started, we were full with a long waiting list," she said. "Then, it seemed like we went through a period when we couldn't fill the units."
In fact, the Downtown Apartment building with six units was sold a few years ago to a private investor who rents out the apartments now. "There was not a demand at the time," Pullen said. "Perhaps there's room for more rental housing in town, but my concern is that we go back to where we were 10 years ago, sitting with empty units."
A development project east of Kenmare announced by Annabelle Homes in 2011 has not started yet, and the status of those plans is unknown at this time, but Livingston had concerns about extending the town in that direction right now.
"We've learned that if we're going to grow sizably more, we will need a bigger lagoon system," he said. "That will cost millions of dollars and the state has made it clear they're not giving Kenmare any oil impact money."
Instead, he would like to see lots reclaimed as old houses and other buildings around town are torn down and cleared for new construction. "I think we'll see people trying to utilize those spaces as much as possible," he said. "My take is, let's grow inside the city limits of Kenmare."