Thanks for reading some of the latest features about area people and events.
To view every page and read every word of The Kenmare News each week,
subscribe to our ONLINE EDITION!
Honkers wrestling team flying solo
The Honkers are flying solo this wrestling season, putting their own team on the mat now that a co-op with Tioga and Ray has ended after a four-year run.
11/30/11 (Wed)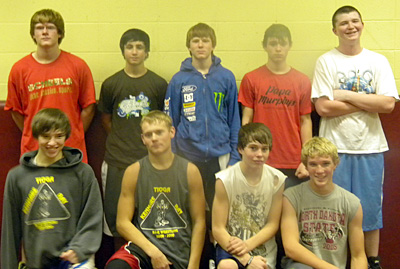 2011-2012 Kenmare High School Wrestling Team
KHS no longer in co-op for program
The Honkers are flying solo this wrestling season, putting their own team on the mat now that a co-op with Tioga and Ray has ended after a four-year run.
"We're very young, but we do have some experience," said head coach Dennis Kaatz. Then he laughed and added, "That sounds like a contrary statement, but it's true."
Kaatz was referring to state tournament experience from sophomore wrestler Riese Dignan, who qualified at 112 lbs. last season and will continue at that weight this year, and freshman Tanner Egeberg, who qualified at 103 lbs. as an eighth grader.
Two other wrestlers have returned to the Honkers' ranks after taking some time away from the sport. Kenmare fans will remember Zack Helmers, now a junior, who qualified for the state tournament in two previous seasons. Also stepping onto the mat again is junior Taylor Egeberg, who intends to fill one of the upper weights for the team.
"Zack has a lot of skills," said Kaatz, "and Taylor is solid at the upper weights. We also have Briot Nehring returning, who has grown and put on some weight this year, so he'll wrestle at an upper weight for us."
Another anchor on the team will be freshman Xavier Maureaux, a finalist in the junior high state tournament last season who earned fifth place at the regional qualifying tournament and just missed entering the Class B state rounds at 119 lbs.
Several boys have joined the team as first-year wrestlers, and Kaatz believes they will develop into strong athletes. "They're enthusiastic about wrestling," he said, "and they realize that with our numbers, it will be tough to be real successful in a dual, with five or six forfeits [for unfilled weight classes]."
He predicted Velva and Stanley, now co-oping with Tioga, could be the teams to challenge in the region. "And Minot Ryan should be good, too," he added, "with an almost-full roster."
The Honkers will support each other as a team, of course, and encourage each other to individual success through the season onto the state tournament. "We have a number of kids who have chances of doing pretty well down there," said Kaatz. "This year, our goal is to qualify wrestlers for state and get some place winners."
To achieve that, Kaatz wants to see the boys emphasize intensity during practices. "We need to increase our intensity level in competition," he said. "We'll be working on technique and they'll get that down, but I want them to develop their intensity by building confidence, setting goals and focusing on what to do to be successful."
Honkers wrestling roster
Juniors Briot Nehring, Zack Helmers, Casey Lucy and Taylor Egeberg will lead the Honkers this season.
Sophomore Riese Dignan brings his experience to the team as a returning state tournament qualifier.
Freshmen Alex Giese, Xavier Maureaux and Tanner Egeberg will be competitive at the lower weights.
Eighth graders Ty Jesz and Austin Kratch will challenge their older teammates.
Seventh grader Kolton Jesz wears the maroon and gold for the first time on the varsity squad.
Kaatz, now in his second year with the team, will share the head coaching responsibilities with Mitch Greenwood, a teacher in Bowbells. Lars Christensen will serve as assistant coach.
Alex Grosser will continue her statistician duties for the team.
Schedule
The KHS wrestlers will begin their season on the mat tomorrow night at the Stanley Triangular meet, then travel to the Velva Tournament on Saturday.
Honkers' wrestling fans can watch the team at home on Saturday, December 9th, in the Kenmare Tournament at the high school gymnasium.
The Kenmare squad will close out December action at the Linton Tournament on the 16th and 17th.
In January, The Honkers will compete at the New Town Triangular meet on the 5th, then return to New Town for an invitational tournament on the 7th.
The team travels to Minot for the Bishop Ryan Triangular on the 12th and to Beulah for a tournament on the 14th. On January 20th, the Honkers will compete in the Rolla Triangular and then return to the Rolla gym for a tournament on the 21st.
Local fans can support the Honkers at the KHS gym on January 26th for the Kenmare Triangular meet, which will be the final regular season meet of the year.
On February 2nd, Kenmare will compete in a qualifying dual triangular, then at regional duals on the 4th. The team will travel to New Town on February 11th for the individuals regional qualifying rounds.
The Class B state wrestling tournament is scheduled for Bismarck on February 16, 17 and 18.
With only two home events, Kaatz hopes to see large crowds of parents and students cheering on the young Honkers wrestling team. "We are no longer in a co-op and these are our homegrown kids," he said. "They're going to need some support."