Thanks for reading some of the latest features about area people and events.
To view every page and read every word of The Kenmare News each week,
subscribe to our ONLINE EDITION!
Honkers win consolation championship at State
Literally the shortest team in the Class B state tournament on paper, the KHS Honkers stood tall in fifth place Saturday afternoon, winning the consolation championship in an epic battle against Hatton-Northwood and finishing the weekend with two quality wins after a tough loss to Linton-HMB.
11/23/11 (Wed)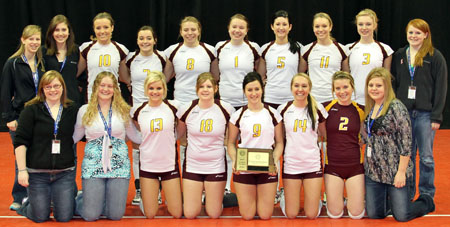 Kenmare Honkers -- 2011 Class B Consolation Champions!
Editor's Note: Al Christianson and Ken Barnhart provided invaluable stats and play-by-play information about the Honkers' performance in the 2011 Class B state tournament.
Literally the shortest team in the Class B state tournament on paper, the KHS Honkers stood tall in fifth place Saturday afternoon, winning the consolation championship in an epic battle against Hatton-Northwood and finishing the weekend with two quality wins after a tough loss to Linton-HMB.
"I remember lining up for the Parade of Athletes just before our first match on Thursday," said KHS head coach Tim Wallstrum. "The girls looked this way and they looked that way and they said, 'We really are short.'"
Following a pattern begun in the District 12 tournament championship match, Kenmare lost the first set 22-25, then rolled over the Thunder 25-13 in the second set and battled their way to victory and the fifth place trophy with 25-21 and 26-24 wins.
Kenmare tied Hatton-Northwood three times in the first set and had a 13-12 lead at one point, but played catch-up for the rest of the game as Brianne Thompson and Stephanie Iverson scored on kills for their team. Halie Nelson, Ashley Barnhart and Shelby Hass all marked the court with their own hits and a Katie Nelson kill kept the Honkers within striking distance at 22-24, but Iverson punctuated the win for her team on the next play.
The second set was all Kenmare, with three kills by Halie Nelson early in the game. The Honkers' offense was running efficiently as Lexie Munson also set up Barnhart, Hass and Beca Wallstrum for hits.
Munson had a hit of her own, as well as an ace in a string of points. Hass came alive near the end of the set, with back-to-back kills, then a pair of aces to put the Honkers at game point.
Hatton-Northwood managed one more point, but gave away the game with a net violation.
The third set proved to be another battle, with the Honkers and the Thunder tying the score 10 times. Kenmare shared the hitting honors among Halie Nelson, Munson, Wallstrum, Hass and Katie Nelson, but Hatton-Northwood came back from an 18-21 deficit on an Iverson kill, followed by a block to tie the score at 21. The Honkers stayed patient and fired back balls that rattled the Thunder defense. With a margin of 24-21, Halie Nelson ended the story with one of her 21 hits for the day.
The real story of the match came in the fourth set, another battle between the two hard-hitting and tournament-worn teams. Kenmare established a lead, beginning with a Katie Nelson block followed by two Halie Nelson kills and topped off with a Katie Nelson ace. Iverson and Jordan Johnson and the Thunder block revealed the ever-present threat from Hatton-Northwood, though, who tied the game at 15, then inched forward on an Iverson kill and a Mackenzie Schwartz ace.
Hatton-Northwood picked up steam on an Iverson ace, followed by two kills and a block, and the Honkers watched their lead transform into a 17-23 deficit. Barnhart scored on a kill to boost Kenmare to 18-23, but the Honkers misplayed the next point. The Thunder were excited about game point, which meant Kenmare would have to play its first five-game match of the season.
Every member of the Kenmare squad would say they despise five-game matches.
Katie Nelson struck the first blow against the Thunder with a block, which sent Hass back to serve. Hass later confessed she had no idea what the score actually read at that point because she was concentrating so hard on making her serves that day.
On her first serve, Hatton-Northwood committed a net violation, for a Kenmare point.
Hass made her next serve and the Thunder returned it, only to watch Halie Nelson smash it to the floor.
Hass kept making serves in the series, despite two time-outs called by Hatton-Northwood. She fired six serves all told including two aces. Katie Nelson scored on another block and one of Hass's aces tied the game at 24. The Thunder lost their spark as Hass continued sending her best shots across the net, with a misplayed ball and then a net violation giving the Honkers the set, the match and the fifth place trophy.
"I was too nervous to pay attention," said Coach Wallstrum, adding that he and assistant coach Faye Alexander were already planning strategy for a fifth set. "But Shelby has come through for us before."
To rally from a six-point deficit at game point is almost unheard of in varsity volleyball, especially with a player taking a chance on some of her hardest serves in the match. In fact, one of Hass's aces came on a ball that hit the net and barely rolled over to the Thunder's side.
"Once a team gets to 24 points, any incident or call can end the game," Wallstrum said. "What [the Honkers] did never happens."
Halie Nelson turned in 21 hits in the win. Hass made 12, Barnhart 6, Wallstrum 4, Katie Nelson 3 and Munson 2.
Katie Nelson pegged 3 blocks, while Wallstrum made 2 and Barnhart 1.
Munson finished with 44 assists in the match and 111 for the tournament, just a few shy of 3,000 assists for her high school career so far.
Hass served 4 points on aces, with 1 apiece from Munson, Crider, Halie Nelson and Katie Nelson.
The Honkers took a team approach to defense and covered the back row, with 26 digs by Hass, 21 from Katie Nelson, 20 from Halie Nelson, 18 by Barnhart, 17 from Crider and even 8 by Munson.
Stephanie Iverson led the Thunder in kills with 11, while Jordan Johnson hit 7.
Hatton-Northwood put up a strong blocking game, with 6 from Madison Skovlund, 5 from Darian Hedland and 3 from Johnson.
The Thunder scored 9 points on aces, including 3 apiece from Schwartz and Iverson.
Anne Pladson came up with 25 digs for her team, while Iverson made 15.
For the tournament, Beulah finished in 7th place after defeating Grant County 3-1, Midkota claimed third place with a 3-2 victory over Linton-HMB, and Central Cass swept Stanley 3-0 to earn the 2011 championship title.
Tournament honors
Halie Nelson and Munson were named to the 2011 Class B All-State Team for Kenmare. They joined ReeAnn Mehus, Chai Pappa and Jasmin Pappa of Stanley, Whitney Page of Bottineau, Ashley Koppinger of Our Redeemer's, Courtney Dixon of Central Cass, Kayln Schneider and Robin Weber of Linton-HMB, Emily Berge of Midkota, Meghan Battest of Beulah, McKenzie Hart of Langdon, Jacey Otterson and Kellie Schmit of Kindred, and Emily Thompson of Carrington.
Barnhart was selected to the 2011 Class B All-State Tournament Team from Kenmare. She joined Shaunessy Dauwalder, Chai Pappa and Jasmin Pappa of Stanley, Stephanie Iverson of Hatton-Northwood, Courtney Dixon, Faith Dooley, Anna Morris and Bethany Voss of Central Cass, Kayln Schneider and Robin Weber of Linton-HMB, and Emily Berge and Kallie Frappier of Midkota.
Kenmare tops Beulah
in consolation action
Kenmare returned to the state court in consolation action Friday afternoon, topping Beulah 3-1. The Miners won the first set 25-20, but the Honkers revised their game plan and claimed the next three sets at 25-20, 25-24, 25-18.
"Beulah had two 6'2" middles, which always gets us in trouble," said Coach Wallstrum. "They had an outside hitter who is left-handed, and they passed the ball well. They blocked us quite well in the first game, but we made some adjustments and started setting the ball lower."
Those lower sets made all the difference for the Honkers as Munson picked up the pace of the offense. "Everything goes a lot quicker then," Wallstrum said, "but Lexie is used to that. She set the ball that way for Dayna Froseth, two years ago, when Lexie was a freshman."
The strategy agreed with hitters Barnhart and Halie Nelson, who scored a combination of 34 points in the match on kills. "They made some good adjustments and hit the ball around the block," said Wallstrum.
That block showed up from Anna Iverson in the first set, including two blocks split by a Heidi Zimmerman ace to give the Miners a 3-0 margin to start. Kills from the Honkers' Katie Nelson, Munson and Halie Nelson put Kenmare back in the game at 4-7, but errors hurt Kenmare as balls were mishandled and hit out-of-bounds. They added points on kills from Barnhart and Hass and aces by Munson, Crider and Katie Nelson, bun the final three points for Beulah came on Honker mistakes.
The second game started with another block by Iverson and an ace by Kelsie Schmidt, but Katie Nelson struck back with a kill, followed by a pair of aces. Barnhart and Hass added kills, and this time Beulah stumbled on errors as the Honkers took a 10-7 lead. Halie Nelson and Barnhart hit their ways around Iverson, but the Miners refused to roll over and put together a string of three points on a kill by Iverson and two hits by Meghan Battest to pull within three at 23-10.
Halie Nelson was warmed up, however, and she slammed down two kills for the Kenmare win.
The third set was all about trading points as Katie Nelson, Hass and Halie Nelson struck for Kenmare while Battest, Schmidt and Kaycee Link scored on hits for Beulah. The Honkers played from behind the entire game, even though Kenmare only trailed 11-12 after a pair of hits from Halie Nelson. The next few Kenmare points came on kills from Barnhart, Katie Nelson and Halie Nelson and a Barnhart ace, even as Battest and Schmidt kept their team a point or two in the lead.
With the Honkers behind 19-21, Katie Nelson stepped up for a kill, followed by a Hass ace and a Halie Nelson kill. Battest gave the Miners a 23-22 advantage on a kill, but she hit her next attempt out-of-bounds and Halie Nelson used the momentum for a hit and a 24-23 Kenmare lead. The Honkers claimed the win on an Iverson hit that landed beyond the court.
The final set started on a 4-0 run by the Honkers as Hass fired two aces and Halie Nelson knocked down two hits, but Iverson and Battest combined for three quick kills and the back-and-forth battle started again. Battest remained lethal, but Halie Nelson and Barnhart worked to counter her points with their own.
A string of errors from both teams puts points on the board through the middle of the set, but after a 15-15 tie, Kenmare took control, starting with a Halie Nelson push. Battest scored two more points for the Miners on kills, but Halie Nelson added one and Barnhart came through with three hits, including her final kill at game point.
Wallstrum praised the Honkers consistent defense against the block and the Miners' hitters, adding that the toll of the state tournament was starting to show up in new bruises, aches and pains.
Halie Nelson turned in a strong performance with 19 kills, while Barnhart finished with 15. Katie Nelson added 7 kills, Hass 5 and Munson 2.
Barnhart and Munson were credited with 1 block apiece.
Munson set up her teammates 40 times, while Morgan Goettle had 1 assist.
Crider led the team in aces with 5. Katie Nelson scored 3 points on aces, while Munson and Barnhart fired 1 apiece.
In the back row, Halie Nelson came up with 27 digs. Barnhart had 20, Hass 19, Crider 10, Goettle 7, Munson 7, Katie Nelson 7 and Wallstrum 1.
Battest led the Miners with 15 kills, while Kaycee Link had 9 and Iverson 6.
Iverson put up 5 blocks against the Honkers.
Kaitlyn Grad made 23 assists for her team.
The Miners scored 5 points on aces, including 3 from Schmidt.
Nicole Lorenz paced the Miners in digs with 26, and Zimmerman made 16.
In Friday's other matches, Hatton-Northwood defeated Grant County 3-1, Central Cass topped Linton-HMB 3-1, and Stanley battled Midkota to a 3-2 victory.
Honkers fall to Lions
in quarterfinals
The Honkers lost to Region 3 Linton-HMB in Thursday's opening round play.
Kenmare was edged by the Lions at the Coal Country Tournament played in August, and the two sides rekindled their rivalry in state quarterfinals. Linton took the first set 25-18, but the Honkers came back to win the second set 26-24 against the Lions' block. Linton punished Kenmare 25-14 in the third set, but the Honkers challenged the Lions' dominant play in the fourth set and nearly pulled off the win, losing only 23-25.
"They're an experienced team," said Coach Wallstrum, adding they took second in the state tournament last year and returned in 2011 with much of that team still intact.
He noted the height disadvantage and the Lions' blocking skills. "They blocked us all over the floor," he said. "They must have touched 50 balls that we hit."
In response, the Honkers relied on their strong defensive play. "They were all over the floor on defense," said Wallstrum, "and I mean literally
on
the floor."
Kenmare played Linton evenly as the first game started, beginning with a Hass ace serve, but fell behind 8-13 following three quick points by the Lions. Linton's Robin Weber then scored four successive points for her team on an ace and three kills, putting Kenmare behind 9-17.
Halie Nelson had two more kills in the game, along with an ace from Katie Nelson and points from Hass and Barnhart, but Schneider scored on 4 kills, including on game point.
The Honkers pushed back in the second set, playing point-for-point with the Lions on kills from Katie Nelson, Barnhart, Hass and Munson to a 12-12 tie. In fact, the two teams tied 15 times in the set.
Kenmare had an actual lead at 16-14, following a kill and an ace from Katie Nelson and a Barnhart kill, but two kills and a block by Schneider and a pair of aces from McKenna Flyberg gave the Lions a 20-16 advantage. The Honkers fought back, logging a trio of kills from Halie Nelson, Barnhart and Hass combined with two aces by Nelson to take a 21-20 lead. A kill and block by Barnhart gave the Honkers two more points, as did out-of-bounds hits by Schneider and Weber, and Katie Nelson sealed the victory for Kenmare on a perfectly-placed tip.
The Honkers struggled with errors in the third set and Linton took advantage, putting together a string of kills and aces by Schneider for an 8-4 lead. Wallstrum, Hass and Barnhart each followed with two kills, while Halie Nelson had 1, but net violations, serving errors and missed hits plagued the team while the Lions notched kills and aces from Schneider, Weber and Kaidra Larson for a quick win.
The final set looked similar to the second, with 12 ties and both sides refusing to give the other an advantage. Hass opened with a kill, but Weber sandwiched an ace between two Schneider kills for Linton. The Honkers refused to go away, but their last lead came at 15-13 on a Halie Nelson kill. They stayed with the Lions through the rest of the set and tied the game at 23-23, but Sch
neider was determined to claim the win. She scored the final two points for her team on a tip and kill, which sent Kenmare to the consolation bracket.
Kenmare's hitters took turns at the net, with 11 from Barnhart, 9 by Halie Nelson, 8 from Hass, 6 from Katie Nelson, 3 by Wallstrum and 2 from Munson.
Barnhart notched 3 blocks against the Lions, while Wallstrum made 2 and Munson 1.
Halie Nelson and Katie Nelson scored 3 points apiece on aces, while Barnhart and Crider each served 1.
Munson finished the match with 31 more assists to her credit, while Halie Nelson and Katie Nelson each made 1 assist.
Halie Nelson worked the back row to come up with 26 digs, while Hass played tough defense with 22 digs. Crider finished with 18 digs, Barnhart 17, Katie Nelson 14, Munson 9 and Wallstrum 2.
The Honkers had trouble shutting down Schneider, who made 25 kills in the match. Weber added 14.
Linton made 9 points on blocks, with 3 apiece by Schneider and Whitney Gerving.
The Lions also served 17 aces, with 4 apiece from Weber, Schneider and Flyberg.
Gerving set up 38 assists in the match.
Samantha Gross led in digs with 31, while Schneider had 16, Weber 11 and Gerving 10.
In other quarterfinals action, Region 8 champion Stanley dominated Region 5 Grant County 3-0, with set scores of 25-18, 25-14, 25-10; Region 4 champion Midkota defeated Region 2 Hatton-Northwood 3-1, with set scores of 25-19, 25-19, 20-25, 25-11; and Region 1 Central Cass swept Region 7 Beulah 3-0, with set scores of 25-16, 25-16, 25-8.