Thanks for reading some of the latest features about area people and events.
To view every page and read every word of The Kenmare News each week,
subscribe to our ONLINE EDITION!
Honkers off to State B
The Honkers' top scorer Katie King was held to 12 points in the game, the lead changed sides a few times, and the Aggies refused to back off their full court press, but Kenmare earned a third straight appearance to the state Class B girls basketball tournament with a 51-40 win in the Region 6 championship game Thursday night.
3/16/11 (Wed)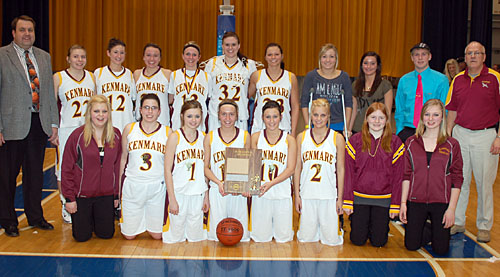 2010-2011 Region 6 Champions, Kenmare High School
The Honkers' top scorer Katie King was held to 12 points in the game, the lead changed sides a few times, and the Aggies refused to back off their full court press, but Kenmare earned a third straight appearance to the state Class B girls basketball tournament with a 51-40 win in the Region 6 championship game Thursday night.
The contest was the first time the two teams, both ranked in the final state Class B polls, played each other this year. "We didn't know what to expect," King said. "We knew they were faster than us, so we talked about getting back on defense."
She admitted the Honkers got a little impatient with Velva's defensive attack early in the game. "At the beginning, we ran their game," she said, "but once we got a good enough lead, we slowed it down."
"Velva is really aggressive," said senior forward Erika Lemere. "They were probably the best team we could have played before going to the state tournament."
Junior Ashley Barnhart turned in one of her top scoring performances of the year with 15 points against the Aggies, but she said the Honkers battled all the way. "[The Aggies] are extremely quick and they have a lot of speedy, quick guards who shoot the three well," she said. "We had to take care of the ball, and we had to play tough defense on them all the way around."
That tough defense started as the game opened. Kenmare took the first possession, but King missed a shot and the Aggies raced down the court, only to run into a wall of maroon and gold. Velva used nearly 30 seconds before they took a shot, with Allison Manley hitting a three-pointer.
That was the Aggies' sole field goal of the quarter, with Kenmare taking a 6-4 lead on two shots by King and one from Barnhart. Velva's only other point in the period came from a free throw by Sarah Weidler, on a King foul.
The Honkers had their own wall to face as Velva worked to shut down Kenmare's offensive runs, but a rapid pattern from Lexie Munson to Shelby Hass to Erika Lemere gave the Honkers an 8-4 advantage and the momentum.
Kenmare opened the second quarter on a drive and basket from Munson for a 10-4 margin, but Manley drilled a second three-pointer and Weidler hit a shot, plus made good on a free throw after a Kortni Miller foul to tie the game.
Neither team could get close to the basket for the next three minutes as the two sides waged a defensive battle and forced turnovers, but Barnhart took a feed from King and sank a three-point attempt with a confident bob of her ponytail. Emma Keller followed that up with a basket for Velva, but Miller galvanized her team and the crowd with a steal and layup for a 15-12 lead, then took a pass from King on the next possession and got fouled by Weidler for two more points on free throws.
The final minute of the quarter was a flurry of action, with field goals by Keller and Weidler. However, King found the mark after rebounding her own blocked shot for the 19-16 halftime lead.
Honkers and Aggies fans held their collective breath in the third quarter. Kenmare didn't score for the first three minutes, while Weidler and Jaylen Newman battled their way through the Honkers' defense to take a 22-19 Velva lead. Kenmare came back with an inside shot from Miller, followed by a Lemere steal on the next possession and a feed to Barnhart for a 23-22 Honkers' lead.
Velva called a time-out and set up a play to give Kara Kuntz an open three-point shot and the 25-23 lead. Miller tried another inside shot and missed, but Lemere was in position for the putback and a 25-25 tie. Keller nudged the Aggies forward 27-25 on a field goal, but Barnhart responded on the next possession with a trey to give Kenmare the 28-27 edge.
Weidler hit a three-point attempt at the 1:26 mark and more back and forth action marked the rest of the quarter, with no shots falling for either team. Kenmare had the final possession of the quarter and tied the game in dramatic fashion as a Hass shot bounced off the rim into King's hands for the putback and the 30-30 tie just as the buzzer sounded.
A full minute passed without points for either side as the fourth quarter began, but Munson got an assist from King and sank a three-pointer to set the Honkers in motion. Rachel Pfennig hit a free throw on the next Velva possession, but those were the only Aggie points for two and a half minutes of play, while Barnhart calmly sank two baskets and King made good on a pair of free throws for a 39-31 Kenmare advantage.
Weidler made a basket halfway through the period, but Munson followed that with an inside shot and free throw for a 42-33 Kenmare lead. The defensive battle raged for two more minutes with no points scored, then Velva started using intentional fouls to force stops. The Honkers added nine points to their tally on free throws.
Manley and Tasha Heisler both swished three-pointers as the game clock wound down and Kuntz sank a free throw on a Miller foul, but the Aggies couldn't make up ground fast enough. Kenmare claimed the Region 6 title before a wildly cheering crowd on both sides of the court, even as Miller grinned through a final free throw attempt that completely missed the basket.
Assistant coach Arnold Jordan watched Miller and noted the Honkers needed some free throw practice before the state tournament, but he celebrated with the rest of the team. "They came out with an attitude they weren't going to lose this game," he said. "That's what I've been preaching! In the fourth quarter, they came out and got some good shots. That built confidence, and they took control of the game."
The seniors were delighted to return to the state tournament. "I feel pretty lucky," said King. "Most people don't get this opportunity."
"This could have been my last game, which made me fight really hard," Lemere said.
"We wanted it a little bit more, to get back to the state tournament," Miller added. "And our crowd was awesome. I think that was the biggest student body we've ever had at [one of] our games!"
Barnhart, who led her team with 15 points, decided the seniors deserved to play on the state court one more year. "So I stepped it up," she said. "They would double down on Katie and there would be two girls on Kortni. That left the rest of us open and it happened to be me a couple times."
KHS head coach Jason Schwarz wore a big smile after the game. "This was absolutely the perfect game, opponent and situations we needed to be in our next game," he said.
He described the Aggies as scrappy, using their press and trap effectively to the very end. "The biggest thing for us was our poise," he said. "They made it tough for Kortni and Lexie. We didn't get a lot of rest, and look at what they had to do. They were assigned defense on the two toughest players [for Velva] and then they would have to work to get the ball across the half court line every time."
He praised Barnhart's performance at both ends of the court. "Holy smokes, Ashley Barnhart!" he said. "In big games, you need everybody to play just a little better than they normally do, and she
really
did it tonight!"
Schwarz credited the win to the Honkers' team chemistry and help defense. "Everybody is playing their role," he said. "We've talked about how no one wants to be the weak link on our defense. Everybody's trusting you to be in position."
Championship stats
Barnhart scored her 15 points on 4 of 6 field goals and 2 of 2 three-point attempts, along with 1 of 2 free throws.
Two other Honkers scored in double figures, including Munson at 13 points on 2 field goals, a trey and 6 of 7 free throws.
King posted a double-double performance, despite being double-teamed. She finished with 12 points on 4 of 8 field goals and 4 of 6 free throws, and grabbed 14 rebounds, including 4 offensive boards. She also had 4 assists in the game.
Miller added 7 points and Lemere 4. Lemere also had 10 rebounds in the game and logged 2 assists.
Weidler was the only Velva player to post double digits, with 15 points. Manley added 9, Keller 6, Kuntz 4, Heisler 3, Newman 2 and Pfennig 1.
The Honkers shot 50 percent from the field at 17 of 34, while the Aggies finished at 33 percent with 15 of 46. Kenmare sank 14 of 20 free throws for 70 percent, compared to 50 percent for Velva at 4 of 8 from the charity stripe.
Kenmare finished with 19 turnovers, a testament to the Aggies' pressure defense, but pulled down 33 rebounds. Velva had 12 turnovers and 23 rebounds in the game.
Region 6 honors
King and Miller were named to the All-Region 6 Team for their performance during the season. They were joined by Weidler and Manley of Velva, Crystal Hovland and Aubrey Hovland of Rugby, Logyn Bloms of Berthold, Heidi Artz of Bottineau, Sarah Christopher of Our Redeemer's, Jackie Miller of Mohall Lansford Sherwood, Kendra Thom of Westhope-Newburg, and Chantel Urban of Surrey.
King was also selected as the Region 6 Senior Athlete of the Year.
In the third place game, Bishop Ryan held off Rugby 55-52. Panthers' senior Crystal Hovland had 29 points in the contest.
#2 ranked Kenmare takes on #1 ranked Beach to open State B Tournament
Kenmare will open the state Class B girls basketball tournament in Bismarck on Thursday, March 17th, at 1 pm against Region 7 champion Beach, the No. 1 ranked team in the state and the defending state champions. The Honkers and the Buccaneers met for a game in Beach in early January, with Kenmare losing by 5 points.
Other opening round action on Thursday features Region 4 champion Carrington against Region 5 winner Washburn, Region 2 winner Central Valley against Region 3 champion Linton-HMB, and Region 1 champion Central Cass against Region 8 winner Watford City.
State tournament action continues Friday and Saturday, with all games played at the Bismarck Civic Center.
Honkers' bench
finishes win over Lions
Bishop Ryan played Kenmare to two close games previously this season, but the Honkers left little doubt about their skill and experience in a Region 6 semi-final game on March 8th. The Honkers rolled over the Lions 67-32 and sent the celebrated "Bench" in to finish the fourth quarter.
Schwarz said the team's intensity level was the key to the win, with the youngest players feeding off the contagious energy of the starters. "[The bench] has to really push the older girls in practice," Schwarz said. "We thought, let's reward them with a little bit of playing time."
That reward came on the heels of a strong Honkers effort. Kenmare finished the first quarter with a 9-7 lead on early points from King and Miller, but the Honkers didn't score in the second half of the period while the Lions rallied from a 9-2 deficit on shots by Hannah Stewart, Anika Rovig and Sydney Landsiedel.
That all changed in the second quarter as Kenmare outscored Bishop Ryan 20-6, starting with a three-point shot by Lemere, and followed by shots by Miller, King, Munson and two in succession from Barnhart.
The Honkers' offense moved King to the periphery, which confused the Lions' defense. Miller went out on three fouls at the 5:53 mark in the second quarter, which shifted Munson to the point guard position and resulted in the occasional wide-open basket like the one King scored on an inbounds play in the final second of the period for a 29-13 margin.
Kenmare continued their punishing game in the third quarter, taking a 46-20 lead on shots from Lemere and Munson and a surprise inside basket from King. Miller and King also dished out assists, with Miller and Barnhart both scoring on King feeds and Shelby Hass scoring after a Miller pass. Munson, Barnhart and Miller made their free throws count, too, while the Lions struggled to get their shots to fall.
Barnhart scored on the first possession in the fourth quarter, followed by a steal and two quick field goals and a free throw by King before two minutes were gone, opening up a 53-20 margin. More free throws by Miller and King, plus a Miller three-pointer, bumped the score to 60-27.
With a media time-out at the 3:20 mark and a Honkers' win almost a sure bet, the Kenmare crowd roared as Shantell Brekhus entered the game. Hass scored again on a Barnhart feed, then Brekhus was fouled and stepped to the free throw line surrounded by Lions waiting to rebound. While her teammates cheered wildly, Brekhus sank both attempts, leaving Bishop Ryan with an inbounds pass as more young Honkers substituted into the game.
Munson scored the final points for Kenmare on a trey at the 1:23 mark, then took a seat with the rest of starters as Samantha Fetterhoff, McKenzie Chrest, Taylor Eckleberry and Kennedy Fricke worked the court with Brekhus. As the seconds ticked down, the Kenmare crowd jumped to their feet and the Honkers soared into their third consecutive regional championship game.
Schwarz noted the Honkers' intensity level remained high, even when Miller went out of the game. "It was a little bit of a test for us, and we passed the test," he said. "Everybody stepped it up a little bit more."
"I was hoping they could keep up the intensity and they did," Miller said about her teammates as they went on a 14-5 scoring run before halftime while she watched from a seat next to Coach Schwarz. "They did a good job. We're rivals with Bishop Ryan and we wanted to come out tonight and show them who was the better team!"
Munson took the position shift in stride as point guard. "We want to keep Kortni on the court, but when she goes out we have to step it up, and I knew we had to relax and keep playing our game and getting
our
shots," she said. "We played Minot Ryan twice and didn't play that well both times. We wanted to come out and play our best all year against them."
"We have a whole other level of confidence right now," Schwarz said. "We're playing well on defense and it's carrying over on offense. We've had that intensity the last three games and it's an attitude we're playing with."
King, whose presence was most noted outside the lane for a change, still led all players with 20 points in the game, including 6 of 11 field goals and 8 of 10 free throws. She pulled down 9 rebounds and made 2 assists.
"They're going to put two or three people around her, so we moved her outside and got her moving around and now she's tougher to track," Schwarz explained. "We've done that very little, so it was not something [the Lions] were prepared for."
Miller scored 14 points on 3 field goals, 1 three-pointer and 5 of 6 free throws. She passed off 3 assists.
Munson led the team in assists with 5 for the night and scored 11 of her own points on 2 field goals, 1 three-point attempt and 4 of 4 free throws.
Barnhart added 9 points on 4 of 6 field goals and 1 of 2 free throws. She grabbed 6 rebounds in the game and made 3 assists.
Lemere finished with 7 points on 2 field goals and 1 three-pointer. She pulled down 5 rebounds. Hass added 4 points on 2 of 5 field goals.
Brekhus had 2 points on her pair of free throws.
Quinn Harmon led the Lions with 13 points, but she was the only Bishop Ryan player to score in double digits.
The Honkers shot 49 percent from the field at 22 of 45 and 83 percent from the free throw line at 20 of 24. The Lions finished at 31 percent shoot with 12 of 39 field goals and 44 percent at 8 of 18 free throws.
Kenmare out-rebounded Bishop Ryan 34-24 and committed only 11 turnovers while forcing 19 for the Lions.
In the night's other semi-finals game, District 11 rivals Velva and Rugby squared off, with the Aggies clipping the Panthers 36-30.