Thanks for reading some of the latest features about area people and events.
To view every page and read every word of The Kenmare News each week,
subscribe to our ONLINE EDITION!
Honkers are District Champs for seventh straight year
The Honkers claimed their seventh consecutive District 12 title November 1st, defeating Our Redeemer's 3-1 for the trophy in the championship match played at Burlington.
11/09/11 (Wed)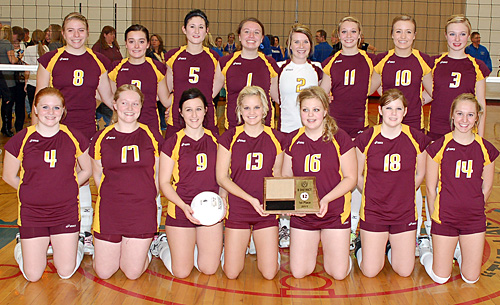 2011 District 12 Champion Kenmare Honkers
By Caroline Downs
The Honkers claimed their seventh consecutive District 12 title November 1st, defeating Our Redeemer's 3-1 for the trophy in the championship match played at Burlington.
The Knights tried their best to prevent the victory, handing Kenmare a rare loss at 19-25 in the first set. "We didn't start with the intensity we needed," said Halie Nelson, who was also named the District 12 Senior Athlete of the Year for her performance this season. "After we screwed up enough, we decided to get going."
She and senior Ashley Barnhart combined for 27 kills in the match. Barnhart agreed with Nelson about the Honkers' lack of intensity, but said the momentum changed in the second set. "When we got up 7-2 at the beginning of the second game, right then I knew we could win it," she said.
KHS head coach Tim Wallstrum said he didn't think the girls were as mentally prepared as they needed to be for the championship. "I told them we were playing for better positioning in the regional tournament and for pride," he said. "Everybody wants to beat us and that's something the girls have to carry on their shoulders every year. But when [the Knights] beat us that first game, the girls decided they were going to win."
Most of the fans watching the first set might have predicted a different outcome. The Knights took a 3-0 lead on Honker misses. Halie Nelson made her first kill, followed by a Katie Nelson ace, but Our Redeemer's quickly ran up an 8-2 lead on two Ashley Koppinger blocks, plus a savvy Koppinger tip and a pair of aces served by Payton Ringoen.
Barnhart came back with two kills and Hass closed the gap to 6-8 on her first hit of the night, but the Knights took control of the court again and went up 14-7 as Koppinger added points with a hit and two aces. For every two or three points the Honkers put together, Our Redeemer's came back with a string of three or four. With the score standing at 19-24, Koppinger drove home the game-winning kill for the Knights.
Kenmare turned the tables on Our Redeemer's in the second set, as Halie Nelson unleashed three successive kills from both sides of the court. Barnhart and Beca Wallstrum each added a hit, Lexie Munson scored an ace, and Hass made a statement with three kills for a 12-6 lead before the Knights knew what hit them.
Koppinger tried to keep her team in the game as she nailed two kills, blocked Halie Nelson and scored on back-to-back aces, but Kenmare's hitters kept finding their mark as Munson set her teammates flawlessly. A kill by Hass put the lead at 24-17 and a missed hit by the Knights gave Kenmare the win.
The third set opened as a battle back and forth as the two sides traded point for point. Koppinger and Emily Van Lith combined kills for a 7-4 advantage, but the Honkers refused to go away as Hass, Wallstrum and Katie Nelson scored on their own hits.
The Knights appeared to claim the momentum as the Honkers bobbled a couple of returns, but Barnhart scored on a kill and then combined with Munson on the next play to block Koppinger. Kenmare trailed 10-14 at that point, but Barnhart pushed her team, scoring two more points on hits, then taking the serve for three quick aces to pull within two at 15-17.
The Honkers didn't take the lead back quickly, but they played with confidence. Halie Nelson, Wallstrum and Barnhart all added points with kills, and Barnhart and Munson blocked Koppinger a second time, which put Kenmare ahead 23-21. Katie Nelson sealed the victory with two aces.
Standing one game away from the district title, Halie Nelson and Barnhart paced the team with kills to begin the fourth set, along with an ace served by Caleen Crider. The Knights were equally determined, however, and the two sides tied eight times before the Honkers inched ahead 18-16.
Hass scored on her 12th hit of the night, followed by a Munson ace and Barnhart's final kill for a 21-17 margin. The Knights called a time-out and came back to the court to score twice, but the Nelson sisters decided they were ready to go home as Katie scored on one hit and Halie followed with two. Kenmare players and fans alike celebrated their 25-19 win.
For the night, Barnhart led all players with 15 kills. Halie Nelson and Hass each scored on 12, and Katie Nelson added 8.
Munson ran an efficient offense, setting up her teammates 43 times.
Barnhart scored 6 points on aces, while Hass made 4, Katie Nelson 4 and Halie Nelson 4.
Barnhart finished the night with 2 blocks.
In the back row, Katie Nelson, Halie Nelson and Barnhart each made 8 digs.
Koppinger led the Knights with 14 kills and 6 blocks, while Emily VanLith had 6 hits.
Ringoen set up her teammates 20 times.
Koppinger scored on 6 aces. VanLith added 4.
From the back row, Koppinger came up with 13 digs and Kasey Rademacher made 12.
Good night for Honker hitters
KHS head coach Tim Wallstrum was impressed with the challenge from Our Redeemer's. "They're a very solid volleyball school," he said. "They're known for that, and the team this year serves well and is aggressive."
He continued, "We want to do that, too. We didn't serve-receive well in the match, and we still won. That's a good sign."
The two teams know each other and what to expect. "They know who to block and they know where to block," Wallstrum said. "You have to flat perform better than they do."
He didn't like everything he saw from the Honkers that night, especially the 15 points scored on aces fired by the Knights, but he did praise Munson's tremendous setting performance. "We passed so poorly, but she still made it work," he said.
The Honkers took advantage of Munson's assists, and Wallstrum also about the hitters, including Barnhart for putting away the most kills in the match. "She's 5'4" and people forget that," he said. "She's a leader for us, and she doesn't get the credit she deserves."
Wallstrum was pleased to see Halie Nelson recognized as the Senior Athlete of the Year, which he considered a well-deserved honor. "Number one, she's a terminator, one of those girls who can put the ball away," he said. "She has a high percentage of kills for the year. Number two, she's a high percentage server, and number three, she plays great defense."
He said the Knights knew what to expect against Nelson. "They did have quite a few nice blocks against her, and she had to adjust," he said.
Nelson still finished with a 43 percent kill rate for the night, far above the 35 percent Wallstrum wants to see from his hitters. Barnhart finished with a 48 percent kill rate, while Hass, a junior, chimed in with a 41 percent kill rate. "She has the hardest hit on the team," Wallstrum said, "but not as much vertical as some of the others. She knew she had to step up tonight and hit around the block."
He also singled out sophomore Katie Nelson for her 50 percent kill rate, and freshman Beca Wallstrum for a 60 percent kill rate. "Give the freshman some credit," said Coach Wallstrum. "She came through at some crucial times for us."
For all the rivalry, the Knights and Honkers hold a great deal of respect for each other on the court. "Our Redeemer's is fun to play," Wallstrum said, "and the Our Redeemer's fans are the most well-mannered, nicest opponent we play all year. They represent their school well."
Among the Honkers, Halie Nelson, Barnhart and Munson were named to the All-District 12 team. They joined Koppinger, Ringoen and Alyssa Tonneson of Our Redeemer's, McKenzi Njos of Lewis & Clark, Quinn Harmon of Bishop Ryan, Shania Brackenbury of MLS, Shanta Zietz of DLB, Payton Schumann and Krissi Lesmann of Glenburn, and Kayle Schiele of Surrey.