Thanks for reading some of the latest features about area people and events.
To view every page and read every word of The Kenmare News each week,
subscribe to our ONLINE EDITION!
Haugland in Goose Hunters Hall of Fame
"It came as quite a surprise," Haugland said. "My daughter and others did a good job of keeping it secret."
10/27/20 (Tue)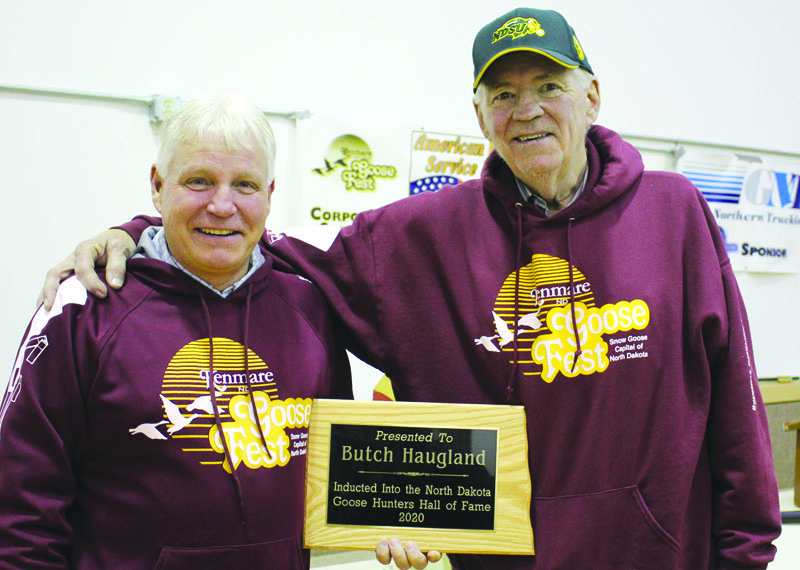 2020 Hall of Fame... Butch Haugland, left, is inducted into the Goose Hunters Hall of Fame Oct. 23 in Kenmare. The induction was a complete surprise to Haugland who attended GooseFest like he usually has in past years. Jerry Essler, left, presents the prestigious award to Haugland.

Editor's note: Instead of publishing an article about a Goosefest Hall of Fame inductee before the induction ceremony, this year's award was kept quiet in order to totally surprise the inductee.
In a year in which nothing is normal, there was plenty of shock value for the Goosefest Hall of Fame inductee, Butch Haugland.
It was a total surprise for Haugland who lives in Ambrose, who made the trip to Kenmare with his daughter, which he has done many times over the years...
Read EVERY WORD on EVERY PAGE of The Kenmare News by subscribing--online or in print! For details, log on to (www.kenmarend.com) email us at (news@kenmarend.com) or phone in a request at 701-385-4275.