Thanks for reading some of the latest features about area people and events.
To view every page and read every word of The Kenmare News each week,
subscribe to our ONLINE EDITION!
Harris Construction sold to Farden of Maxbass
As of March 1st, Harris Construction Inc. in Kenmare was acquired by Farden Construction of Maxbass.
3/14/12 (Wed)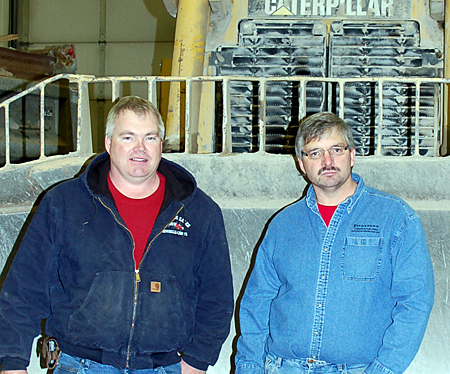 Harris brothers sell company . . . Third generation construction
company owners Tim Harris, left, and Kirk Harris will keep working at
the Kenmare location, but Harris Construction Inc. has been sold to
Farden Construction of Maxbass. Co-owner Steve Farden says
the Kenmare office will remain open to serve area customers.
By Caroline Downs
As of March 1st, Harris Construction Inc. in Kenmare was acquired by Farden Construction of Maxbass.
Harris Construction owners, and brothers, Kirk Harris and Tim Harris were pleased about the sale. "They do work on the east side of us and the west side of us, and to the north and south of us," Kirk said. "They're a pretty good-sized company, with about a hundred employees."
"And they will be taking over the contracts for our customers, if the customers want them to," Tim added.
Actually, Harris Construction's customers in the area may not notice much difference. The Kenmare office will remain open with the same employees if those individuals wish to stay and work for Farden, and most do. "We'll still be around at least a year," Kirk said, indicating himself and Tim. Then he referred to the brothers' wives, Julie and Melissa, both of whom work in the office. "The girls say they're going to retire."
For the Harris brothers, the opportunity to sell the company came at the right time. Kirk said health issues are slowing him down, while Tim said industry expectations and regulations are getting difficult to fulfill without hiring more people and investing more money. "We figured if we wanted to retire in five years, this was a good time to sell," he said. "Prices for everything are up right now."
Harris Construction
started with John Murray
Harris Construction has a long history in Kenmare, dating back to the days of Northern Graveling Co., owned and operated by John Murray, Tim and Kirk's grandfather.
Kirk explained that their father, the late Ron Harris, and a cousin Don Harris, also of Kenmare, started working for Murray in the early 1960s, hauling gravel and coal throughout the region. "They married Murray sisters," he said, in reference to his mother Carolyn. "There weren't actually any Harrises in this business."
Ron Harris and Don Harris bought out Northern Graveling in 1964 and added earth moving equipment, according to an article about the company written in the Centennial edition of The Kenmare News, July 2, 1997. At that point, the name was changed to H&H Graveling.
The two Harrises split the company in 1972. "Dad took the construction end of it and Don took the graveling," Kirk said.
In 1987, Kirk and Tim Harris joined their father in the construction business and bought Harris Graveling from Don.
Kirk and Tim had plenty of experience already in the company, starting at a tender age. "I remember getting out of bed and going to work," Tim said as he talked about doing things like holding a tape measure or cleaning equipment to help his father as a little boy.
He also laughed about driving some of the equipment with his brother Brent in the 1970s. "Brent would be running the steering wheel and I was running the controls," Tim said, adding that neither one was big enough to handle the equipment alone.
As the older brother, Kirk was working full-time by then. "I got paid minimum wage at $2.20 an hour to do that, in the mid-Seventies," he said.
Harris Construction won contracts all over the state and into eastern Minnesota building roads, hauling gravel, blading township roads, doing soil conservation jobs, building golf courses, landscaping, snow removal and more. The two brothers are proud of the jobs the company bid with the North Dakota Department of Transportation.
"We had lots of contracts with the Department of Transportation for 17 years," said Kirk. "All the way from Bowman to Cavalier, up to Crosby and anywhere in-between."
Both men ticked off a list of numerous road projects. "North of Williston on Highway 2 at the 13-Mile Corner through the curve and 11 miles," said Kirk, "and all of [U.S. Highway] 52 from here to the Brooks Ranch, outside of Minot."
"Highway 5 to the Northgate turnoff," said Tim. "Drake to Harvey."
"Minot to Voltaire," added Kirk. "I tell Julie all the time when we're out driving, 'We built these roads.' We've worked in a lot of little towns."
Harris Construction also built six of the state's golf courses, including courses in Williston, Jamestown, Underwood and Mandan. "We lived a year in Fargo, Tim and I," Kirk said, "while we built the Rose Creek Golf Course."
The brothers worked there in 1991, before GPS technology was available so all measurements were converted from scale drawings. "We had to wait for beet harvest to get done before we could start," Tim said. "There is now a 34-foot difference in elevation."
"We took a whole quarter of land to do it," said Kirk.
Tim recalled the architect hired by the city for the job, who insisted on examining the site from each tee box before work was completed on a hole. "He could stand there and tell us what he wanted us to change," Tim said. "He had a vision, and he wanted to see the sand traps from the tee box. We couldn't put any topsoil down until he approved it."
Neither brother has had time to golf the course yet, but that could be on their future agenda.
Kirk and Tim started talking with Ron about buying out the business about seven years ago. "As soon as 2005, he said he was going to retire," Kirk said.
The brothers actually took over Harris Construction in 2007, following their father's death. At about the same time, activity in the oilfields of western North Dakota was getting busy and the two new owners made a deliberate decision.
"We told ourselves we could make a living right here, the way the oilfield was developing," said Kirk. "Basically, we haven't done much state highway work for four years now."
The two have kept both aspects of the business in operation by dividing their focus. "Tim has mainly done the graveling and I've handled the construction part of it," Kirk said.
The company attracted national attention in 2011 for its transition into servicing the oilfield, with articles and photos in North Dakota's Construction Bulletin and the national publications US Builders Review and Construction Equipment.
Harris Construction has had as many as 75 employees, working on three different jobs during that season, but in recent years they have generally run with 45 to 50 full-time and part-time workers. The workload has been constant, with their equipment inventory growing from Ron Harris's single gravel truck in 1963 to 151 pieces of major equipment in use today.
Kirk reviewed the list. "We've had 25 different scrapers just since 1997," he said, "and we're up to 39 pickups in the last 10 to 12 years. Dump trucks, we're up to 26."
He paused and referred to their current shop and office building. "We built this shop in 2000," he said, "but our yard isn't big enough, if we brought everything home." Some of Harris's equipment is stored at the gravel pits and on John Murray's farmsite, while some pieces, like the scrapers, spend most of the year on assignment.
The brothers admit there are aspects of the job they'll miss, and they tell stories about the next generations of Harrises playing around and riding in the equipment the way they used to do.
The time is right for the sale, however, and the phones in the Kenmare office are being cheerfully answered, "Farden Construction."
"I'd like to thank all our customers in the past," Tim said and smiled. "We've tried to treat everybody fair."
"If it wasn't for our customers, we wouldn't be here," Kirk added. "I'd also like to thank all of our employees over the last 30 to 40 years. We couldn't have done it without them either."
Farden Construction
is family-owned
Steve Farden of Farden Construction in Maxbass believed the two businesses offer complimentary services. "We're primarily oilfield, and the Harris family has been primarily a road-building company," he said. "With the atmosphere in North Dakota right now, you've got to get into the oilfield for the workload."
Like Harris Construction, Farden Construction is a long-standing family business. Steve Farden is co-owner and vice-president of the company, along with his brother Todd. Their father Kenny serves as president of the company, while their uncle Russ is secretary-treasurer.
Farden Construction is headquartered in Maxbass, with shops in Minot, Stanley and now Kenmare. "We could find good quality help in the Kenmare area," said Steve. "There will be over 130 [employees] in the business now."
The company started in 1935 with Steve's grandfather, who moved homes. He developed his business to build basements and foundations, and started serving the oilfield in the 1950s "We move drilling rigs, we build pads, we build pipelines," Steve said. "Virtually every aspect of the business, we can handle. We've seen a steady increase in our business the last seven years."
He joked about having 40 years of experience with the company, at age 41. "I like to say the first two years of my life, I didn't do much," he said. "Dad used to take us on the drilling rigs all the time."
The business aspect of the company will continue to take place from the Maxbass office, with 24-hour service. Day-to-day operations from Kenmare will be managed at the Kenmare office.
"We have 30-plus employees based in Kenmare and they'll be dispatched out of Kenmare," said Farden. "They'll serve customers in upper Ward, Renville and Burke counties, and that will help with our oilfield customers in Burke County."
He also intends to continue serving Harris Construction customers as usual around Kenmare. "That means the farmers, the community, the municipalities and, of course, the oilfield," he said. "We'll be involved in construction operations as they always have, and Kirk and Tim will be with us for the foreseeable future."
He described the acquisition as a win-win situation for both companies. "It helps us get stronger and it helps Harris Construction keep up with the needs of the community," he said, adding that he preferred to build streets, foundations, and curb and gutter rather than man camps.
Farden Construction can be reached in Kenmare at 701-385-4141. The Maxbass office can be contacted at 701-268-3127 or by email at fardenconstruction@srt.com.
More information, including a 2006 article published by General Equipment & Supplies, Inc., is available on the company's website at www.fardenconstruction.com.
"I've always thought highly of Kenmare," Steve added. "Hopefully, we can take care of the community."