Thanks for reading some of the latest features about area people and events.
To view every page and read every word of The Kenmare News each week,
subscribe to our ONLINE EDITION!
Fish houses in the lake at Darling
Any fish houses still on Lake Darling rest on thin ice these days. Literally.
1/11/12 (Wed)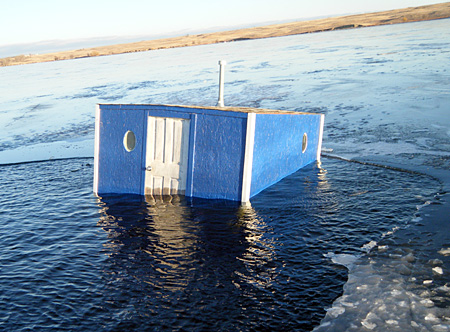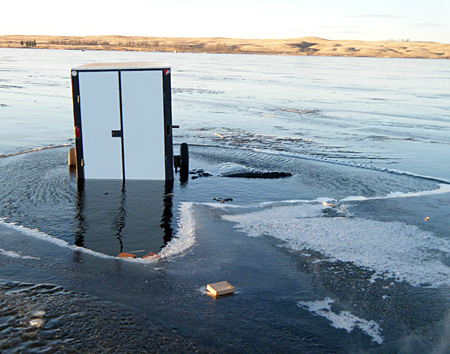 Floating fish houses . . . Record high temperatures have left any fish houses
remaining on Lake Darling in danger of dropping through the rapidly melting ice.
By Caroline Downs
Any fish houses still on Lake Darling rest on thin ice these days.
Literally.
"We have had many of the fish houses that are remaining on Lake Darling go through the ice in the last couple of days," said Tighe Teets, law enforcement officer for the Souris River Basin National Wildlife Refuge Complex. "Several are floating now, and several will probably go through in the next couple of days with the warm weather."
With record high temperatures in the 40s and low 50s recorded on at least two occasions last week and again on Monday, ice fishermen don't stand much of a chance to enjoy their sport on Lake Darling right now.
Teets described the ice conditions at the lake as highly variable, ranging from open water to maybe 12 inches thick. "We have extremely horrible conditions for ice on Lake Darling," he said. "We've had a couple of trucks go through that I know about and maybe a third and fourth one as well."
Personnel at the Upper Souris National Wildlife Refuge do not assist in vehicle or fish house removal from the lake. "It's up to the owners to take care of that, and it's a safety issue now," Teets said. "We're recommending not driving a vehicle out there at all, and I personally would not fish by myself."
As of early January, the stretch of lake between the Grano crossing and Landing #3 had eight sites of open water, with at least six of those extending from shore-to-shore. Water is flowing at each of the bridges on the lake, with large sections of open water at those sites.
Refuge officials have contacted owners of the fish houses remaining on the lake with the recommendation to remove those houses immediately. "Owners of fish houses are not permitted to leave the houses on the shore or in the parking lots," Teets said. "Please take them home."
Persons with questions about the ice conditions are welcome to call the refuge office at 701-468-5467 Monday through Thursday. "We're trying to watch the ice conditions daily," said Teets. "Be cautious, smart and safe on Lake Darling ice."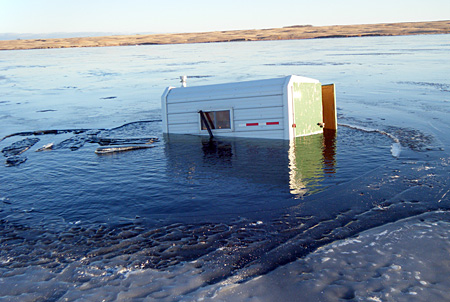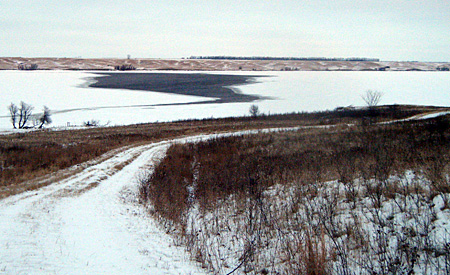 January surprise . . . Ice conditions at Lake Darling have
been poor this month, with open water seen at several locations from
the service trail on the west side of the lake between Grano and Landing #3.
Upper Souris National Wildlife Refuge officials say walking onto the ice is safe
in some spots, but they do not recommend anyone driving onto the lake
for ice fishing at this time.