Thanks for reading some of the latest features about area people and events.
To view every page and read every word of The Kenmare News each week,
subscribe to our ONLINE EDITION!
Fire threatens Niobe properties in another week of high risk
The latest fire weather watch, with high winds and low humidity, expired early Tuesday evening and rain showers are in the forecast for Wednesday, but members of the Kenmare Fire Department aren't relaxing yet.
10/03/12 (Wed)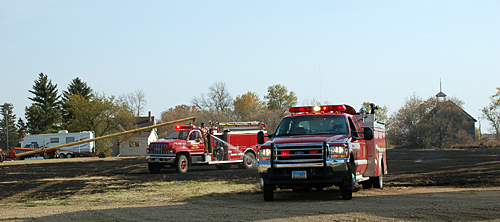 In the black . . . Members of the Kenmare fire department reacted
quickly Friday afternoon, with five trucks reaching Niobe within
minutes of a reported grass fire. The flames covered about two
acres but were extinguished before any damage could be done
to grain bins, farm equipment or Elmdale Lutheran Church
immediately north of the scene. Neither the Wes and Arliss Hennix
home, currently rented out, nor the Elmdale School No. 5,
both seen in the photo, were harmed by the fire.
By Caroline Downs
The latest fire weather watch, with high winds and low humidity, expired early Tuesday evening and rain showers are in the forecast for Wednesday, but members of the Kenmare Fire Department aren't relaxing yet.
Local firefighters responded to three calls during the week, and they expect the demand for their services to continue.
The most potentially serious situation occurred Friday afternoon, when Paxton Perlichek reported a small grass fire in Niobe across the gravel street from and directly south of Elmdale Lutheran Church.
A cool morning transformed into a warm afternoon, with the thermometer reaching above 80 degrees and east winds gusting between 15 and 20 mph when the call was made to the Kenmare Fire Department about 2:30 pm. Sparks from garbage, thought to be burning safely in one of the Perlicheks' metal burn barrels, blew out and ignited the dry grass on property owned by Wes and Arliss Hennix of Kenmare.
Five trucks and 11 personnel responded to the situation. According to fire chief Doug Skjordal, about two acres were scorched by the flames. Firefighters were able to stop the fire around grain bins owned by Rick Hennix, but the fully-loaded bins were not damaged in any way.
"There was a tractor and auger there, but we got that out of the way," Skjordal said.
The fire was extinguished within a half hour or so, but firefighters sprayed water over the entire blackened area before they returned to Kenmare. "We soak everything down, especially when it's this dry," said Dave Hedlin.
Bryce Hennix was on the site, checking two other grain augers parked near the bins. He said nothing looked damaged by the flames. "It's a good thing I'd mowed this earlier," he said as he indicated the burned area. "This could have been worse. I'm glad no one got hurt."
Grass fire Saturday
Four units from the Kenmare Fire Department started out toward a grass fire called in Saturday afternoon about 4 pm, but only one truck and three firefighters were needed to put out the small blaze.
Kyle Mahlum reported the fire from the former Sam Mahlum farm northeast of Kenmare. Skjordal said Kyle Mahlum was mowing sloughs and road ditches at the time. "He figured a bearing went out and caught the top of the grass on fire," said Skjordal.
Firefighters contained the flames to a small area and returned to Kenmare shortly after 5 pm.
Combine fire contained
The department also responded to a combine fire south of town on September 25th. Owner Troy Coons was working in his field when the machinery caught fire. According to assistant fire chief Nate Condit, all fire trucks and about 15 volunteers went to the scene after the mid-afternoon call came.
"They had been using a water-based fire extinguisher," said Condit, "so they were able to keep the flames to a smolder."
He said members of the department assisted Coons in dissembling the combine to get more direct access to the fire. "Then Troy [Coons] flushed it out," he continued. "He had his personal trailer and water tank out there."
The fire was restricted to the combine, and members of the department returned to Kenmare within 90 minutes.
Farmers asked to call with
controlled burn plans
A fourth call was made to the department Thursday night about a fire east of town, but that situation turned out to be a controlled burn by a landowner.
Members of the fire department reminded landowners and farmers to notify the department of any plans for such burns.
"We need to know about those," said department secretary/treasurer Chuck Leet. "We'd like to know where and how many acres they plan to do, so if we do get a call and the caller says it's something out of control, we know what we're up against."
Skjordal agreed. Landowners and farmers can call 701-385-4444 or 911 to announce their plans for a controlled burn. "That would be a big help to us," said Skjordal.
Ward County is not currently under a burning ban, although the adjacent townships in Renville County are (see story below). "The conditions are super dry," said Leet. "I'm surprised we don't have a burn ban. It would take almost nothing for a fire to take off, especially if the wind comes up all of a sudden."
Renville County enacts burning ban, depending
on conditions described by National Weather Service
Landowners and residents in Renville County may want to burn stubble or debris to clean up their fields and yards. However, they need to pay close attention each day to the weather and fire conditions before lighting a match.
It's the current law for the county.
Lack of moisture across the region has greatly increased the fire danger in recent weeks. The combination of wind and a lack of precipitation has dried vegetation, which promotes large fire growth. Fire departments throughout the area have responded to numerous fire calls, including several large grass fires, and during several of those calls mutual aid from other fire departments has been requested.
Given their concern over available resources to fight fires and the health and safety of citizens in the county, the Renville County Commissioners approved the following Fire Emergency and Burn Ban Policy for Renville County on September 18th:
An Automatic Burn Ban (including a ban on the ignition of fireworks, garbage burning and campfires) remains in effect whenever the National Weather Service fire index is in the Very High or Extreme Status and/or a Red Flag warning has been issued for Renville County.
The policy will remain in effect until further notice by the commissioners.
Any individual who willfully violates this Burn Ban is guilty of a Class B Misdemeanor, punishable by up to 30 days in jail and a $1000.00 fine.
Updated Red flag warnings and Fire Index information can be seen online at www.crh.noaa.gov/bis/.
Anyone with questions about the Fire Emergency and Burn Ban Policy should contact the local fire department or Kristy Titus, Renville County Emergency Manager, at 701-756-6288.