Thanks for reading some of the latest features about area people and events.
To view every page and read every word of The Kenmare News each week,
subscribe to our ONLINE EDITION!
Earl Lindquist goes to great lengths to record family history
Earl D. Lindquist of Longview, WA, wanted to have a family history book ready for the Lindquist reunion scheduled in July 2013 for Saskatchewan.
5/22/13 (Wed)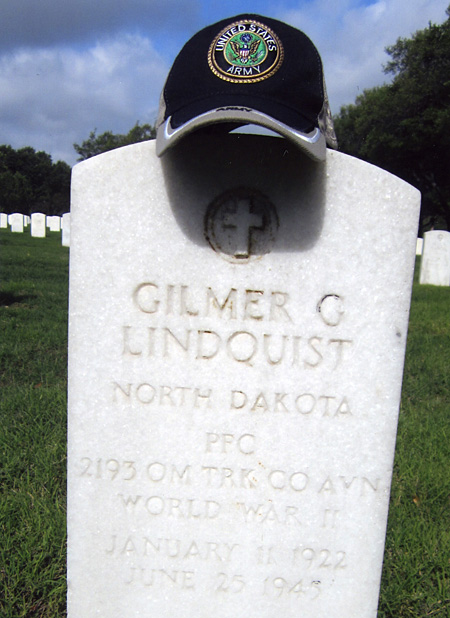 Gilmer Lindquist's headstone at the Fort Sam Houston National Cemetery,
San Antonio, Texas. Gilmer's remains were interred
at the cemetery November 16, 1948.
By Caroline Downs
Earl D. Lindquist of Longview, WA, wanted to have a family history book ready for the Lindquist reunion scheduled in July 2013 for Saskatchewan.
That meant a trip to the Fort Sam Houston National Cemetery in April to find out more about one of his father's cousins, and one of Kenmare's World War II soldiers who was killed in action, Gilmer Lindquist.
"I was working on the book, and I realized we don't have much information on Gilmer at all," Earl said, "so I flew to San Antonio."
Once there, he located Gilmer's stone and took several photos, including shots with pictures of Gilmer's parents and from Gilmer's high school yearbook. One photo showed a U.S. Army cap set at the top of the stone.
"I served in Army, too," Earl said, adding he was drafted during the Viet Nam war and served from 1964 to 1966. "So the military means something to me."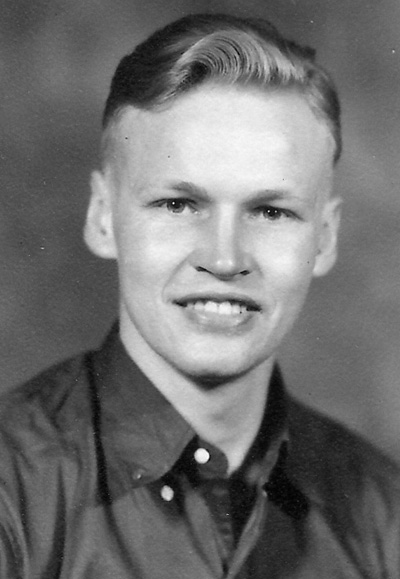 Kenmare High School yearbook senior photo of Gilmer Lindquist,
probably taken 1939 or 1940.
A popular and efficient soldier
PFC Gilmer G. Lindquist was born January 11, 1922, the only child of Axel and Marie Mary (Peterson) Lindquist of Coteau. Gilmer graduated from Kenmare High School in 1940 or 1941, according to Earl. He farmed in the area and began military service in January 1943.
He received basic training in the Army Air Forces at Miami Beach, Florida, and was transferred to Kelly Field in Texas and Camp Kilmer, New Jersey, before sailing to England for duty in October 1943.
In 1944, a clipping from The Kenmare News reported that Gilmer was "...now stationed at an air service command base somewhere in England as a truck driver in a quartermaster heavy trucking outfit. He is doing his part to keep American bombers striking at the heart of enemy territory."
The article went on to say, "In rain, ice and fog, the men of this battalion drive forth in white-starred army trucks to keep a steady supply of ammunition, maintenance tools, food and clothing pouring into American bomber bases."
Gilmer's young life ended June 25, 1945, during a boating accident on the Seine River in France. His parents received the news about 10 days later, with one letter arriving July 5th from Captain Harold F. Wolff, the commanding officer of the 2193rd Quartermaster Company, and a second letter coming July 9th from the chaplain, Captain George B. Edgar.
Captain Wolff wrote of Gilmer's burial service at the American Military Cemetery at Solers, France, about 15 miles south of Paris. "Prior to your son's death he had been driving a truck for our company," wrote Wolff. "He did a wonderful job in his capacity as a truck driver, and he liked his duties very well. His noble efforts towards winning the war with Germany will always be remembered and appreciated."
Captain Edgar wrote more personal information about Gilmer, including a detailed description of the accident that included Gilmer's and a friend's efforts to first stabilize the capsized boat, then try swimming for shore.
"Gilmer was not an expert swimmer," Edgar wrote. "They made a little progress when suddenly a rather swift current caught them. Gilmer was pulled under water and his friend barely made the shore."
Edgar went on to mention the efforts of several men from the company who attempted to help Gilmer, but no one could reach him. His body was recovered several hours later.
Edgar conducted the funeral service for Gilmer and wrote, "He was accorded full military honors. The entire company attended the services, and a number of civilians from Port Marley also attended. Your son had a number of friends among these good people....Your son was one of the most popular and efficient soldiers in his company. Everyone held him in the highest regard. We have felt his loss deeply, and can partially understand the awful heartache which this tragic news has brought you."
Gilmer's body was brought back to the United States for interment in the Fort Sam Houston Military Cemetery on November 16, 1948.
Finding family in a
national cemetery
As the son of Earl O. and Uldean Mary (Gregg) Lindquist of Niobe, Earl has maintained his parents' interest in the family genealogy. The elder Lindquists left the Niobe area in 1936, but traveled frequently back to North Dakota to visit family in Niobe, Kenmare, Stanley and Williston. "They worked on genealogy from 1950 until they passed away in 2004," Earl said.
Earl's commitment to the family stories has become a full-time occupation, and he compiles and shares much of the information online. The Lindquist family book, with 122 copies needed for the reunion, is coming together, but Earl has further research and writing to do. "I've got two months left," he said, laughing.
One of Earl's goals for the book is to include a photo of every Lindquist recorded and a picture of the headstone of each deceased member of the family.
The trip from Longview to San Antonio to see Gilmer's gravesite hints at the extent of Earl's dedication to maintaining the family records. Visiting cemeteries is nothing new for Earl, but this was his first experience in one of the national cemeteries.
His response took him by surprise.
"I'm not an emotional person, but I was so impressed," he said as he described the well-tended grounds, the rows and rows of white markers, and the funeral services he observed while he was there, which included a 21-gun salute and a horse-and-carriage. "I had no idea what a national cemetery was like."
He spent three days in San Antonio and walked among the thousands of headstones, pausing to read names aloud in tribute. The visit left him with a sobering impression.
"No other family lives down in that area," he said. "I think I'm the only visitor Gilmer has had there."
Editor's note: A write-up about Gilmer's military service was included in the special feature "Some Gave All," published in The Kenmare News on November 10, 2010, to highlight the lives of 12 Kenmare area residents killed in action during World Wars I and II. A total of 17 men from the Kenmare vicinity were killed in action during the two wars. A link to the feature can be found online at The Kenmare News website.