Thanks for reading some of the latest features about area people and events.
To view every page and read every word of The Kenmare News each week,
subscribe to our ONLINE EDITION!
Dry conditions helping some area farmers reclaim saturated fields
Two years ago, in 2010, Jerry Overton planted every field he farms northeast of Kenmare. Then he watched as late May and early June rains washed away 30 percent of his crop and transformed cropland into wetlands.
8/29/12 (Wed)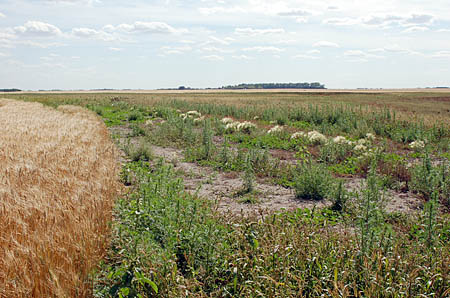 Gaining ground . . . The dividing line here between standing wheat
and weeds is a beautiful sight to Ron Jensen, who farms this field
on the south side of the Rockford and Fairbanks township
boundary northeast of Kenmare. Everything above covered by
weeds was underwater last year and earlier this spring following
the wet conditions of 2011, but Jensen said he has gained
at least 60 acres back now that he plans to seed next year.
Overton had nothing to harvest a year ago
because of wet cropland
By Caroline Downs
Two years ago, in 2010, Jerry Overton planted every field he farms northeast of Kenmare. Then he watched as late May and early June rains washed away 30 percent of his crop and transformed cropland into wetlands.
Last year, Overton couldn't seed a single field. Hundreds of acres were under water and the rest waterlogged.
This year, however, he's smiling--along with his neighbors--as the 2012 harvest rolls forward.
Overton grows barley, wheat, canola and flax, with 90 percent of his ground planted this year. "We've still got a lot of standing water and a lot of wet areas," he said. "Some of that water and swampy stuff is going to haunt us for a while yet."
On the other hand, he's got a product to sell this year. "The barley's done," he said. "It yielded well, but not quite as well as expected. We started the wheat [August 16th] with a test weight of 64 pounds and protein at 14.9 percent. That yield should be excellent. And we'll start the canola after that."
He has custom combiners working with him during these weeks, instead of sitting on his sprayer to kill weeds like he did in August 2011.
"Ron Jensen and I agreed, we worked harder last year with no crop," Overton said, describing lessons that came the hard way as fully-loaded sprayers sank and stuck in muddy fields. "We battled water, weather and roads all summer long."
In fact, Overton and other farmers in the area spent much of the past two summers searching for detours around submerged roads.
He praised the efforts of the Rockford and Fairbanks township boards to make repairs as quickly as possible this year. "They have no money to work with, but they did an excellent job patching up these roads," he said.
"These conditions were a once-in-a-lifetime event and they stepped forward to take care of it."
A wet 2011 leads to
success with winter wheat
for Jensen and others
Ron Jensen, who farms in Rockford and Fairbanks townships near Overton, is happy to drive the combine as he pulls a crop off the land he works, especially as he watches the water continue receding this summer.
"Going into planting this year, there was still a lot of water," he said.
Jensen estimated that he planted about 75 to 80 percent of his fields, finally dried out after two wet summers. He has also gained about 60 acres or so in a field in Fairbanks Township on the border with Rockford, which looks good for next year.
"It's surprised me how much it has dried up this summer," Jensen said. "Next year, that quarter may have only 20 acres of water left on it. I'm getting real estate back!"
Jensen planted barley, durum, spring wheat and canola for this growing season. His barley proved to be a good crop, but the quality and yield of his canola was mixed. He'll be working on the wheat and durum crops next.
Because of conditions in 2010 and 2011, Jensen planted winter wheat for the first time last fall. "It took a disaster to come and force me into it," he said, adding that friends had encouraged him for years to add the grain to his rotation.
The results surprised him. "I had an excellent winter wheat crop," he said. "I've never seen anything like it, the price was good on it, and from what I've heard, it was fantastic for everyone."
Jensen said he was concerned about the open, mild winter of 2011-2012, with little snow cover to protect winter wheat. "But as soon as it warmed up, the crop was up," he said. He started harvesting those fields July 25th.
110 percent better than
last year for Peterson
David Peterson didn't mince words as he described 2012 as "...110 percent better than last year."
The Renville County farmer only planted about 5 percent of his land last year. "This year, we got 90 to 95 percent seeded," he said. "The difference was pretty dramatic."
Like Jensen, Peterson tried winter wheat for the first time last fall, with good success on the harvest this summer. He was also happy with his yellow pea and malt barley quality and yield.
"We're working on canola right now," he said, with spring wheat to follow.
Peterson, who farms with his son Michael, planted soybeans for the first time, too. They joined a handful of farmers in western Renville County and the Gooseneck of Ward County who have included beans to their rotations in recent years.
"We were going to seed it last year," he said, adding that he took advice from other soybean growers from the area. "It's a crop that will be here eventually because the genetics have changed. We like to keep a few new things in our arsenal to make [the rotation] work."
He said Michael motivated him to try the crop after working for a farmer near Wahpeton who raised sugar beets, corn and soybeans. "He really wanted to plant beans," Peterson said, laughing. "The next thing he wants to raise is corn, but so far, not on this farm!"
The soybeans have proven to be fairly low-maintenance to this point, according to Peterson. "They're about two weeks out, maybe longer," he said. "They've podded up nicely and should fill in. Then they'll be ready. We have high hopes and high expectations."
Train cars fill, farmers smile
For Carl Zeltinger, general manager of the Italgrani USA North Dakota operations based at Renville Elevator Company in Tolley, the 2012 harvest has been a pleasure. Farmers are coming in with smiles on their faces and trains are getting filled at the elevator.
"A year ago, Renville County only had 15 percent of the crop planted," he said. "All the farmers are excited to have grain in the grain bins, and we're happy to get back to our normal grain handling operations."
Like farmers in the area, Zeltinger was happy with the winter wheat harvest. "It's almost over and went really well," he said as he estimated 60- to 80-bushel yields, depending on the fields.
Zeltinger said the majority of the barley crop was making malt quality this year, at 70 percent plumpness and 13.5 percent protein.
"We're getting going on spring wheat," he said. "The samples I've seen have sure looked nice."
Canola results from the area has been mixed, according to Zeltinger, with 2000 pounds per acre considered a strong yield. "The yields have been a little lower than what people have expected," he said. "We've seen yields from 1200 to over 2000 pounds. The quality is nice, though."
He estimated flax harvest would begin in another week, with soybeans, corn and sunflowers to follow. "Soybeans and corn are slowly working their way into the northwest," he said.
Zeltinger praised the farmers he serves, calling them state-of-the-art as they master new crop types, new equipment and new technologies. "It takes a pretty good mind behind these operations, and the farmers are experts," he said.
The national news has been dominated this summer by headlines about drought conditions covering much of the United States, with high market prices reflecting those circumstances.
"The markets are pretty decent," said Zeltinger. "Northern North Dakota probably has the best crop in the U.S. as far as wheat goes, with the rest of the country dried out. We're fortunate up here to have the crop we do this year."
"I've been on the other side of that," Overton said, describing his mixed feelings toward commodity prices this year. "The market is good if you have the crop. The market is what it is today because of somebody else's hardship."
Jensen agreed with Overton's observations about the drought's impact on markets. At the same time, he and other farmers east of Kenmare are still waiting for those last fields to dry out from two years of saturated and submerged conditions in this area.
"It's farming," Jensen said. "You roll with what you're dealt."