Thanks for reading some of the latest features about area people and events.
To view every page and read every word of The Kenmare News each week,
subscribe to our ONLINE EDITION!
Donnybrook woman working toward starting new day care
Nicole Chinchak of rural Donnybrook may be the best child care provider you don't know yet.
3/13/13 (Wed)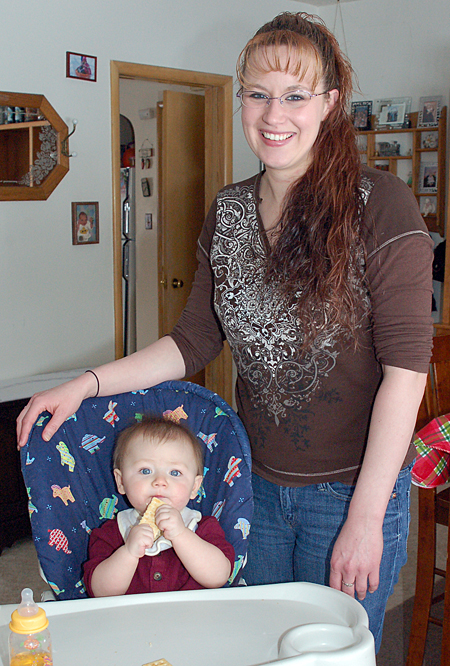 Nicole Chinchak with son Jaxson
By Caroline Downs
Nicole Chinchak of rural Donnybrook may be the best child care provider you don't know yet.
The mother of two children and owner of Sunrise Childcare, Chinchak is working to establish a new day care option for parents in the area.
Just don't say "day care" to Chinchak, who prefers the term "child care."
"The focus should be on the child," she said.
Chinchak hails from Prescott, Arizona, but lived for a while in Cando, North Dakota, with her fiancé Jason Degenstein of Devils Lake. The two arrived in Donnybrook last September when Degenstein accepted a position as shop foreman at Farmers Union Oil Co. in Kenmare.
They live on the David and Sharon Miller farmstead north of Donnybrook with their son Jaxson, eight months, and daughter Taylor, who attends third grade at Kenmare Elementary School.
Chinchak breaks into her characteristic laugh as she describes the couple's attempts to marry. Their first wedding date was postponed because of Degenstein's deployment with the North Dakota National Guard. A second round of wedding plans for 2011 dissolved during the Mouse River Flood in Minot.
"We're trying to get normal again," said Chinchak. "We'll get things settled and worry about the wedding details later."
Eight years with
special needs kids
While she's waiting on the wedding plans, Chinchak is moving ahead to fill a need she sees for child care in communities around the area.
She has eight years of experience working with special needs children in care facilities, including at Ability and Rest Care Home Care in Arizona as well as Easter Seals-Goodwill in Cando. Her background includes assisting with everyday needs as well as habilitation to instruct the children in learning to do common tasks.
Since moving to the Donnybrook area, Chinchak has spent some weekends working with elderly residents at Trinity Nursing Home in Minot, but her heart remains with children.
"I have a sister who is autistic," said Chinchak. "She's 17 now, but when I lived at home, I was always helping my mom with her. At school, I would go in to help in her classroom part of the day."
Chinchak realized she enjoyed the time spent with her sister and turned her attention toward making a career out of caring for other children. "When I turned 18, I figured what better job to do than what I have experience in," she said.
She set out to find similar employment after her family established a routine at their new home near Donnybrook, when she ran into an unexpected problem. "There is so much work around here I could do," she said, "but there's no child care."
Chinchak started with a list of 24 day care providers in Kenmare, Minot, Berthold and the surrounding towns, hoping to find a place for Jaxson. "I called every one of them," she said. "From here to Minot, everything was completely full, especially because he was an infant."
She finally located one day care center in Minot that would accept Jaxson if Chinchak came to work for them. Chinchak was delighted to accept the opening for her son and the position for herself.
However, she soon discovered she had a different view of how children should be cared for and what a day care center should provide, especially for its youngest clients. Her experience there convinced her she could operate her own child care facility.
"I want something outside of the box," she said, "a safe place for kids to be happy and a place they want to come to. Our focus will be on having fun."
She grew concerned about the various day care facilities she observed that placed an intense emphasis on school settings and structured routines for the youngest children. "I'm a mother," she said. "I like to teach kids, but I'm not a 'teacher.' We'll have a schedule, but it won't be as rigid as the ones I saw. After all, these are kids. I don't think child care should be an institution."
She envisions Sunrise Childcare as a place where kids enjoy themselves and parents feel confident about leaving their children. She plans to offer a variety of activities, with plenty of opportunity in the family's spacious living room for playing and discovery.
"The more independent your child can be, the better off they are in life," said Chinchak, "but they shouldn't all have to do the same thing at the same time. I want this to be a fun place."
Beginning at home,
looking for a facility
Chinchak has focused on establishing Sunrise Childcare in accordance with state regulations, so she currently operates from her home where she watches three children on a part-time basis along with Jaxson.
"I can take up to four or five kids right now," she said. She explained she is certified in infant and adult CPR and First Aid. She has also started the process to obtain her license from the state in order to operate a larger business.
"I'm waiting for my fingerprint clearance and then I will schedule my fire inspection," she continued. After she meets those requirements, she will arrange for an in-home inspection with Ward County officials.
She will start the business from her house, but eventually she would like to operate the facility as a center in a separate building, preferably in Donnybrook or Kenmare to be more accessible for parents.
"I know that's a challenge," she said with another smile, "because I came to a place where nobody knows me."
However, she enjoys spending time with and planning activities for children, as evidenced by the child-friendly atmosphere in her home and the various themed events she has hosted for her daughters' friends through the years.
"My house has been the place where kids tend to hang out," she said. "That's one reason why I think I can do [child care]."
Persons with further questions about Sunrise Childcare are welcome to contact Chinchak at 701-482-7882.
"I've got all kinds of wonderful ideas for my business," she said, "but basically, I want kids to have fun and be safe here."