Thanks for reading some of the latest features about area people and events.
To view every page and read every word of The Kenmare News each week,
subscribe to our ONLINE EDITION!
Cost-cutting plan may close Tolley Post Office
The post office at Tolley is one of 76 post offices across the state that may close under a cost-savings plan announced last week by the U.S. Postal Service.
8/03/11 (Wed)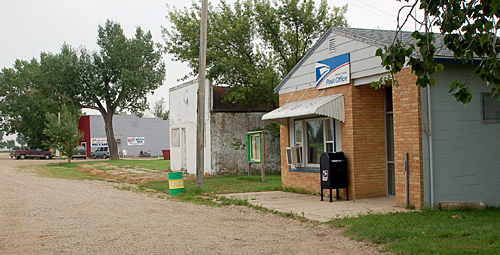 Looking down Main Street . . . The Tolley Post Office, at right, and
Wes's Bar, at left, on most days are the most active enterprises of
Tolley's graveled Main Street. The Post Office will be part of a study
looking at closing thousands of post offices across the United States.
Tolley included in study of 3,653 post office outlets

By Caroline Downs
The post office at Tolley is one of 76 post offices across the state that may close under a cost-savings plan announced last week by the U.S. Postal Service.
In a statement released July 26th, the USPS reported plans to conduct studies of 3,653 retail offices in all 50 states and Washington, D.C., to determine their customer needs. This is considered to be the next step in "right-sizing" the USPS retail network.
Several other post offices in north central and northwest North Dakota were also named, including Alamo, Antler, Columbus, Fortuna, Granville, Karlsruhe, Kramer, Maxbass, McGregor, Sawyer, Upham, Wildrose and Zahl.
Thirty-eight additional post offices in North Dakota are already officially listed for closing, including Douglas, Flaxton, Palermo and Ross in this area.
Tolley PO offers full service
The Tolley Post Office has been in operation since 1905, when the town was founded. Current postmaster Faye Alexander has held that position for 13 years and works with one staff member as PMR (Postmaster Relief).
Patrons can conduct their business at the window from 9:45 am to 2 pm Monday through Friday and from 10 to 11:30 am on Saturdays.
No rural mail routes are based out of the Tolley office. "Our route is administered by the Mohall Post Office," said Alexander. "I'm the first delivery she makes on the Tolley route."
The Tolley Post Office offers full services to customers, and delivers to 48 active mailboxes. Traffic at the counter averages 10-15 customers per day, but the lobby remains open after regular business hours for patrons who work out-of-town to pick up their mail.
Most USPS revenue
comes from other sources
By closing the proposed 3,653 retail offices, including Tolley, the USPS estimates a one-time savings of $200 million to help offset the $8.5 billion net loss suffered in fiscal year 2010, which ended last September. During the third quarter of 2011, the Postal Service announced a loss of $2.2 billion.
According to Postmaster General Patrick Donahoe, more than 35 percent of the Postal Service's retail revenue comes from expanded access locations such as grocery stores, drug stores, office supply stores, retail chains and self-service kiosks.
Increased online sales at usps.com are another major source of revenue.
Of the retail offices considered for closure, 3,061 provide less than $27,500 in annual revenue or two hours of workload and $50 or less in sales each day, while 385 post offices generate less than $600,000 in annual revenue while operating among five or more other postal service locations, such as stamp kiosks, within two miles.
Another 188 of the post offices proposed for closure have less than $1 million in annual revenue, with five or more postal service locations within a half mile. Services at 19 of the post offices on the nationwide list are currently suspended.
According to Dean Granholm, vice president of delivery and post office operations, the closings could cost the jobs of about 3,000 postmasters, 500 supervisors and another 500 to 1,000 clerks. About 574,000 persons are employed by the Postal Service.
Village Post Office - USPS
has concept to offer postal
services through local stores
For communities like Tolley, which may be affected by the closure of its post office, the Postal Service has introduced the "Village Post Office" concept as a potential replacement. Village Post Offices would be operated by local businesses, such as pharmacies, grocery stores and other appropriate retailers, and would offer popular postal products and services such as stamps and flat-rate packaging.
Donahoe said the Village Post Office concept will create another way for the USPS to meet customer needs.
According to Donahoe, downsizing efforts by the USPS will attempt to preserve local town identities by maintaining their zip codes, with mail for those towns being delivered through other nearby facilities.
Patrons of the Tolley Post Office are asked to express their thoughts and opinions by completing any surveys received from the USPS regarding the potential closure.
They are also encouraged to attend any community meetings scheduled to discuss the closure and to direct their concerns and questions to USPS personnel present at those meetings.
At press time, no meeting to consider the future of the Tolley Post Office had been scheduled.