Thanks for reading some of the latest features about area people and events.
To view every page and read every word of The Kenmare News each week,
subscribe to our ONLINE EDITION!
Cobblestone Inn to build 45-room motel at Kenmare
Travelers and visitors to the area may soon have another option for a good night's sleep, with Cobblestone Hotels announcing plans to build on the southeast side of Kenmare.
7/24/12 (Tue)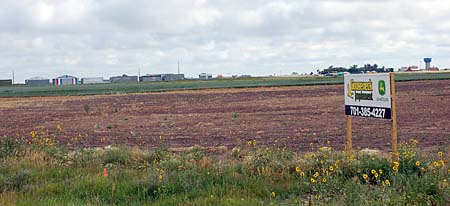 Building site . . . The location for the new Cobblestone Inn & Suites
at Kenmare will be on 3.2 acres just north of the site where the new
Gooseneck Implement dealership is under construction. The Kenmare
Municipal Airport hangars are visible to the north of this location,
with the NAWS water storage tower in the upper right corner.
Project estimated at $3.8 million
By Caroline Downs
Travelers and visitors to the area may soon have another option for a good night's sleep, with Cobblestone Hotels announcing plans to build on the southeast side of Kenmare.
The 45-unit Cobblestone Inn & Suites proposed for Kenmare will offer upscale, limited service lodging, according to Jim Bortz, vice president of development for Cobblestone Hotels, LLC, which is based in Neenah, Wisconsin.
"We're targeting a mix of leisure and business travelers," Bortz said. "We want to make sure this is sustainable with or without oil."
The facility will be situated along U.S. Highway 52 between the new Gooseneck Implement site and the Kenmare Municipal Airport on 3.2 acres purchased from Kevin Borud.
Bortz said the Kenmare motel would include a mix of standard king rooms, king whirlpool rooms and double rooms with queen beds, most with microwaves and small refrigerators. The motel will also feature a meeting room, exercise room, free high-speed internet, hot continental breakfast, small convenience store to provide snacks for guests, and possibly a beer and wine lounge as determined by the local ownership group. Rates will range from $79 to $99, depending on the season and availability.
"We may have one or two extended stay rooms with kitchenettes," Bortz added.
Ownership of the Cobblestone Inn & Suites of Kenmare will follow the company's model. "Every [Cobblestone property] is a local ownership group," Bortz said. "We form an LLC, and we are one of the investors, but nobody knows Kenmare like the people who live in Kenmare."
He noted Cobblestone Hotels puts 40 to 50 percent equity into each new project.
Bortz was still discussing details with potential owners during a trip to Kenmare last week. Once all the plans are in place, he would like to schedule a groundbreaking as soon as possible and begin foundation work for the construction.
"We expect to be in the ground this fall yet," he said, "and if we can be in the ground this fall, we expect to be open in five to six months."
The Kenmare project is estimated to cost $3.8 million to open the doors to guests, including the land purchase, construction materials, staff wages and even the complimentary soaps and shampoos. Bortz said the facility will hire the equivalent of six full-time employees, with 10 to 12 part-time employees needed as well.
"We run a pretty efficient operation," he said. "Hopefully, all the staff will come from around this area, specifically a good, strong manager."
Carrington, Langdon, Killdeer, Harvey, Bottineau, Rugby,
Parshall also sites for motel development
The new motel in Kenmare will be one of several projects the company is handling in North Dakota. Cobblestone Inn & Suites welcomed guests in Carrington beginning in February, Langdon in March and Killdeer in June. Groundbreaking ceremonies were held July 12th for Cobblestone Inn & Suites in Harvey, and Bortz is working with ownership groups in Bottineau, Rugby and Parshall to develop new motels, along with the Kenmare project.
Cobblestone Hotels opened its first site in 2008, with interest in the brand growing rapidly through Wisconsin, North Dakota, Iowa and Nebraska. Communities in Minnesota and South Dakota may soon join the list.
"Last year at this time we had seven properties open," said Bortz. "This year, we have 17, and we'll have 10 more open this time next year."
In fact, five motels are under construction and 25 projects are in development.
According to Bortz, Cobblestone developed a business model to focus on underserved markets in smaller communities after members of the company spent three frustrating years and $12 million building a 128-unit motel in Milwaukee, WI. Restrictions imposed by that city's government and other red tape prolonged that project.
"From that point, Cobblestone was born," he said. "In the small towns, a lot of the deals are handshake deals. We can walk in and have a conversation and see if we can help you get what you need."
Bortz said Cobblestone will only build in places where local individuals and businessmen are ready to support the project. "If people say, 'We need a motel here,' and are willing to put money down, we'll go there," he added. He described Rugby as one such community, with investors coming together within a matter of days to launch the Cobblestone project in their city.
Interest in the Kenmare motel grew from comments made by Carrington investors. "Because of Carrington, I was made aware of Kenmare," Bortz said. He was told about Kenmare's current growth and development, its attraction for waterfowl hunters, and its location along a busy U.S. Highway 52 as one of the few communities northwest of Minot to offer guest services to travelers.
"There's a need," he said.
For more information about the Cobblestone Inn & Suites project in Kenmare, contact Bortz by phone at 920-230-2622 ext. 105 or by email at jbortz@staycobblestone.com. Further details about the Cobblestone Hotels company can be found online at www.staycobblestone.com.