Thanks for reading some of the latest features about area people and events.
To view every page and read every word of The Kenmare News each week,
subscribe to our ONLINE EDITION!
City expands out to the southeast with approval of new water and sewer
A low bid of $841,330 was accepted by the Kenmare City Council on Monday to extend water and sewer to the new Gooseneck Implement dealership site.
7/11/12 (Wed)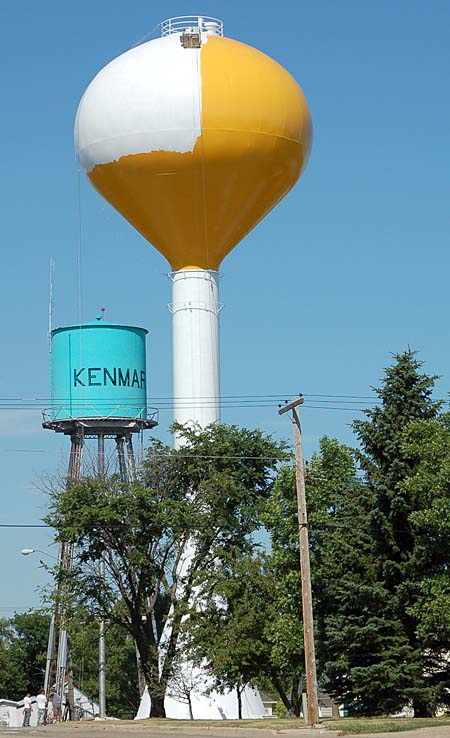 Maroon or gold? . . . Kenmare's new water tower is starting
to look very gold in color, with painting ongoing this week. It will
ultimately be painted maroon, however, with only a logo of geese
and the Kenmare name showing up in gold. The tower should
be in use within two months.
By Terry Froseth
A low bid of $841,330 was accepted by the Kenmare City Council on Monday to extend water and sewer to the new Gooseneck Implement dealership site.
The location is south of the city airport at the southeastern extension of the Kenmare city limits.
The winning bid from Wagner Construction of International Falls, MN was considerably under the engineer's estimate of $950,000 and the next lowest bid of $910,889.
Four additional bids came in at $949,334, $962,438, $1,299,684, and $1,391,160.
The date for substantial completion of the work was set for November 1st.
Water tower will be maroon
The new city water tower is being painted gold this week, but it will ultimately be maroon, according to Ryan Ackerman of Ackerman-Estvold Engineering.
The original plan called for the tower to be all gold in color, with a maroon logo.
In May, the city council approved changing the color to all maroon, with a gold logo of geese and the Kenmare name.
To accomplish that, the gold paint will be covered with a decal of the logo, the entire tower will then be painted maroon, and finally the decal will be taken off to reveal the gold logo.
During the city engineer's report, Justin Froseth of Ackerman-Estvold estimated the new water tower could be ready for use in less than two months.
Building permits
Action of the Planning Commission was given council approval.
A building permit was issued to Shane Harris for a 24'x72' addition to his Modern Woodworks business.
A building permit was issued to Ken and Lisa Keysor for a 28'x76' modular home and 24'x28' garage at 308 5th Ave NE.
A building permit was issued to Sandy Livingston for an 8'x12' deck at 208 4th Ave NE.
Appointments
Mayor Roger Ness appointed the council members to six committees.
The Streets and Walkways committee will consist of Chuck Leet as chairman, with Todd Ankenbauer, and Paul Standard.
Garbage and Landfill will have Terese Skjordal as chairperson, with Chuck Leet and Tori Kling.
Ways and Means will have Troy Hedberg as chairman, with Kling and Leet.
Water and Sewer will have Ankenbauer as chairman, with Kling and Skjordal.
Fire Department committee will have Standard as chairman, with Hedberg and Ankenbauer.
Beautification and Health will have Kling as chairperson, with Standard and Skjordal.
The council elected Leet as president and Ankenbauer as vice-president. Barb Wiedmer was appointed city auditor, Jim Maxon as city attorney, and Ackerman-Estvold as city engineer.
In other action:
• The newly elected city council members, Paul Standard, Tori Kling, and Troy Hedberg, took the oath of office.
• Jan Kostad reviewed the financial statement.
• A raffle permit was approved for the Honker Booster Club.
• A liquor license transfer was approved for City Limits Bar to the Memorial Hall for the Goettle wedding reception on July 14.
• The council approved giving authority to the mayor for signing deeds conveying real estate property.
• City engineer Justin Froseth asked about the plan for new street lights around the downtown square. He was instructed to coordinate a plan with the development of the west side of the downtown business square so everything would tie together.