Thanks for reading some of the latest features about area people and events.
To view every page and read every word of The Kenmare News each week,
subscribe to our ONLINE EDITION!
Breast cancer couldn't keep Judy from hunting moose
Judy (Mortensen) Berg, a 70-year-old great-grandmother from Epping, may just be North Dakota's newest poster girl for October's Breast Cancer Awareness month, after filling her once-in-a-lifetime North Dakota moose tag northeast of Kenmare on October 13th.
10/24/12 (Wed)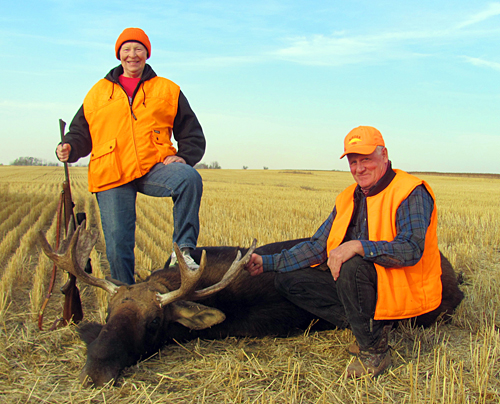 Great-grandma gets her moose . . . Judy (Mortensen) Berg, formerly
of Kenmare and now of Epping, bagged this 37" bull moose near Antler
with assistance from her husband David, at right, and local friends
Jerry Overton and Martin Irgens. Judy started submitting her name
for the state's once-in-a-lifetime moose drawing after David shot
a bull moose near Kenmare two years ago.
By Caroline Downs
Judy (Mortensen) Berg, a 70-year-old great-grandmother from Epping, may just be North Dakota's newest poster girl for October's Breast Cancer Awareness month, after filling her once-in-a-lifetime North Dakota moose tag northeast of Kenmare on October 13th.
"There's a poem I have on my wall about the ten things cancer can't do," Judy said. "Number 11 is going to be 'Keep Judy from hunting moose!'"
She started submitting her name for the state's moose drawing two years ago after her husband David filled his moose license east of Kenmare. "This was only her second year of applying," David said. "It's the luck of the draw."
The daughter of Billie and Ardis Mortensen and a 1959 graduate of Kenmare High School, Judy called one of her former classmates, Jerry Overton, to ask about moose prospects on his land northeast of Kenmare. Jerry and Martin Irgens of the Tolley area teamed up to assist the Bergs.
"We hunted for four days," Judy said. "I put it out on the Trading Post (radio show) that if anyone out there wanted moose off their land, let me know and I would help them."
The calls came in, and Judy's hunting party scoured the Norma area. They saw a few moose, but Judy didn't get any shots.
On the morning of October 13th, Judy was hunting around Norma again when Martin received a call from Norman Buynak, a farmer in the Antler area. "He said they'd been seeing two bulls, two calves and a cow up there, where they were combining sunflowers," Judy said. "So, we headed that way."
When Judy's group arrived at the field, she immediately spotted the moose at a distance, by a small wetland. "There they were, munching down and lazing around," she said.
Judy and her friends talked to the congenial landowner, who even offered to combine a path through the sunflowers if she shot a moose and it ran into the field. "Can you beat that?" Judy asked.
Martin circled around the moose to encourage them to move toward Judy, while David positioned himself to coach his wife.
However, his advice proved questionable.
"My husband told me moose never get excited," Judy said, adding he'd said she would have plenty of time to set up her shot. "And they never run like deer, but when those moose came out of those trees, they were in flight mode!"
The running moose surprised Judy, who finally shot the bull bringing up the rear. "He looked respectable," said Judy. "And David was saying, 'Shoot!' so I shot."
"She shot him at a dead run," David said. "Her first shot slowed it down. Her second shot, at about 50 feet, dropped him."
Judy shoots a Remington 7 mm magnum, after using a .243 Winchester for some of her previous deer hunts. "That is my rifle and nobody better lay hands on it," she said. "We're best buddies. David bought me that rifle several years ago because he got tired of me asking to use his rifle."
Her respectable-looking bull weighed close to a thousand pounds and sported a set of antlers measuring 37 inches across, although two tines on each side were broken off from recent battles with other bull moose. "I said I was going to get one at least a half inch bigger than the one David got," Judy said, "but I would have to put [my bull] on the stretcher. He's three inches smaller."
No matter the size, Judy is delighted with her success and plans to have a full head mount done. "He's going up on the wall," she said. "We'll have to move out into the garage."
She laughed, then added, "It isn't about the trophy, though. It's about the hunt, the camaraderie and the people you see that you haven't seen for years, the country you see. I think the other people along with us had more fun than I did, helping me and taking pictures with the bull. They were so into it!"
Stubborn Dane outlasts cancer
Judy's moose hunt almost didn't happen this year. She had been treated for breast cancer in 2005, and the cancer returned in January 2011. "The recurrence was in the surgical area," she said.
She endured several rounds of radiation and finished in May, but the treatments left her exhausted and weak through the summer into fall. "And I'm one of those stubborn Danes," she said. "I thought, I'm not having everybody waiting on me."
She and David decided she would try the hunt, one day at a time. "And it went well," she said about the first day, adding that her friends in the Kenmare area were willing to help any way they could. "People are just wonderful, but I am independent and nobody carries my rifle for me or I don't hunt."
She admitted the cancer was on her mind through the hunt, especially because during the trip she missed a retirement party for a dear friend with cancer at home. "So, Twila and I have a date to do our own thing," Judy said. "Her husband called this morning and said she wanted to see the pictures from my hunt."
She continued, "Cancer is a wicked and awful thing, but it makes lives, too. It puts the spunk in people who never thought they had the spunk to fight."
Word gets around
Judy celebrated her hunting success with her daughter and son-in-law, Terrie and Steve Simoneau of Kenmare, and then decided she should call other relatives from Terrie's house with the good news. Word got around faster than her messages, though.
"I called my mother first, and she was happy for me," Judy said. "Then I called my oldest daughter to tell her, but she said, 'I know. Terrie put it on Facebook already.'"
She shared some of the meat with Terrie's family, but took the rest home for the freezer. "We'll do what we did with David's moose," she said. "We gave away and fed up to three-quarters of it. We have lots of barbecue parties, and we love moose. It is excellent and good for us."
Along with the steaks and roasts, Judy has enjoyed her hunting story. A great-granddaughter in California saw the news on Facebook and phoned Judy with congratulations.
Judy also called the Williston radio station back to cancel her request for information about moose sightings. Her call was heard by one of her husband's 18-year-old employees. "David went into his shop and here this kid was laughing so hard about some 70-year-old grandma he'd heard on the radio saying she'd gone out and shot a moose this weekend. David told him, 'Here, let me show you a picture of that.'"
And Judy is now reversing a decision she made before the moose hunt.
"I thought, I'm 70 years old and this is going to be my last hunt," she said. "But I had so much fun, by heck, I'm going to put in for an elk and a [bighorn] sheep license next!"