Thanks for reading some of the latest features about area people and events.
To view every page and read every word of The Kenmare News each week,
subscribe to our ONLINE EDITION!
Bombers off and running with big wins
The Berthold Bombers are burning up the basketball court this season, opening on November 29th with a 78-28 win over Velva and following that with a 92-50 victory over Stanley on Friday.
12/07/11 (Wed)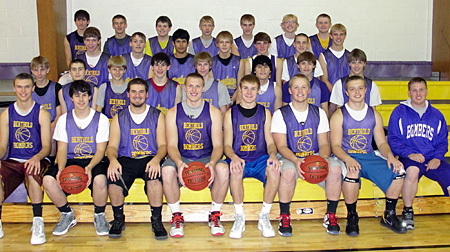 2011-2012 Berthold High School Bombers Boys Basketball Team

By Caroline Downs
The Berthold Bombers are burning up the basketball court this season, opening on November 29th with a 78-28 win over Velva and following that with a 92-50 victory over Stanley on Friday.
The Bombers dominated Stanley in the Blue Jays' home gym, starting with a 28-10 lead after the first quarter that they extended to 52-22 by the half and 70-30 after three periods.
Three seniors scored in double digits, with Alex Bloms pouring in 26 points, Dan Yale right behind him at 25 and Adam Birdsall adding 11.
Logan Gunderson chimed in with 5 points, Colin Lindahl 4, Ryan Ross 3, Matt Block 2 and Austin Lee 1.
The Bombers and the Aggies started more tentatively in the season's first game, with Berthold holding a 10-8 edge after one quarter. The Bombers started hitting their shots in the second period, however, going up 32-15 by halftime and 57-20 after three quarters, while playing a strong defense that limited Velva's success.
Yale led all players with 25 points and 10 rebounds for his first double-double of the season, while Bloms finished with 12 points. Lee added 9 points, Gunderson 7, Mitchel White 7, Birdsall 6, Cale Neshem 3, Lindahl 3, Adam Knudsvig 2, Ross 2 and Jaeden Jenson 2.
The Bombers hit 33 of 63 field goal attempts and 6 of 13 free throws.
Meet the Bombers
Seven seniors lead with experience on the Bombers' squad, with Adam Birdsall, Matt Block, Alex Bloms, Corbin Dahle, Brandin Langan, Colin Lindahl and Daniel Yale.
Four juniors wear the purple and gold with pride, including Tyler Fjeldahl, Logan Gunderson, Jaeden Jenson and Cale Neshem.
Six sophomores take the court for Berthold, with Stetson Carico, John Paul Guerrero, Adam Knudsvig, Wyatt Limke, Ryan Ross and Mitchel White.
A dozen freshmen are testing their wings as Bombers this season, including Will Burke, Garrett Dahle, Shayd Dalen, Jared Hamilton, Nick Helfrich, Ethan Hennessy, Austin Kilene, Austin Lee, Tyrel Mollerud, Jordan Nelson, Ryan Schweitzer and Marshall White.
Returning head coach Brock Teets is assisted by Shane Gunderson and Todd Lee.
Liz Nelson and Shelby Hennessy will handle the team's statistician duties.
Season schedule
The Bombers will continue their season this week at the Velva Tournament. Berthold played in the opening round last night, with results unavailable at press time. Tournament play is scheduled December 8th, 9th and 10th.
Berthold hosts their first home game on the 12th, when Parshall comes to town to play the C-squad and Drake-Anamoose arrives to play the varsity and JV teams. The Bombers close out their December action at Garrison on the 19th.
The court heats up again in January as Berthold travels to Tioga on the 2nd, then opens District 12 play by hosting Bishop Ryan on the 5th. The varsity plays on the road against Glenburn on the 10th and hosts Our Redeemer's on the 13th.
The Bombers will play in the Super Saturday event at the Minot Auditorium on January 14th, taking on the Bottineau Braves. The team travels to Ray on the 16th, then welcomes DLB to the home court on the 19th.
The January schedule rolls along with games on the road against MLS on the 24th and Kenmare on the 27th. The Bombers face Mandaree at the Minot Auditorium on the 28th and finish District 12 regular play on the 31st.
February opens with the final two home games of the season as the JV and C-squads host Minot Central on the 2nd and the varsity and JV welcome Turtle Lake-Mercer on the 6th.
The District 12 tournament will be played February 9th, 10th and 11th at the Minot Auditorium, followed by the Region 6 Tournament on February 20th, 21st and 23rd.
The Class B boys basketball state tournament is scheduled for March 1st, 2nd and 3rd in Grand Forks.
_________
Bombers setting sights on State B tournament

By Caroline Downs
Brock Teets, head coach for the Bombers boys basketball team, is pleased with the team's dominant 2-0 start and the team's intensity.
He's not surprised, though. With 29 players in grades 9-12, a roster of returning varsity experience, and a bitter taste left over from last season's regional tournament, the Bombers are making a run for a Class B state tournament berth.
"Last year, the way it ended, was tough and we had kids hurting," he said. "We want to get back to that state tournament."
Last year, the Bombers also started over building a varsity team as then-junior Dan Yale was the only experienced player coming back. "We were a little green last year," said Teets. "We struggled at times, but we had a solid year and made some strides, and I was pleased with the way the kids competed."
This year, he described the Bombers as hungry, with a great deal of depth on the bench and many players who are expected to contribute.
So the Bombers are going to work now.
"On offense, we're sharing the ball well, making the right passes and being unselfish as a team," said Teets. "We stress that we play for each other."
Defensively, the Bombers are dangerous, always looking for a steal or to force a turnover. "That gets us going," Teets said. "It's been solid so far, but we need to get better."
He acknowledged the path back to the state tournament will not be smooth. "If you don't show up to play in District 12, you're going home with a loss," he said.
He named Bishop Ryan as one team to watch, with several younger players ready for varsity roles. "They have tremendous guard play," he said, "and then you have to look at DLB. They're returning almost their whole squad from last year."
He described MLS as a scrappy competitor and noted the size and athleticism of the Glenburn Panthers. "Anything's possible with them," he said about Glenburn. "They're big and very capable."
Teams from the other side of the region will challenge Berthold as well. "Bottineau has a nucleus with their two big players," Teets said. "Rugby is extremely talented and extremely athletic this year, and Westhope-Newburg is a solid basketball team who returns a lot."
He continued, "The region is going to be a battle. You're never going to walk through this region. It's tough."
The Bombers are preparing for that battle, despite early season injuries for Jaeden Jenson, Brandin Langan and Tyler Fjeldahl. "It's been the walking wounded around here," Teets joked, adding that upcoming medical evaluations will determine the status of those players.
The rest of the team will continue to maintain the up-tempo pace they've already started this season. "We'll try to wear teams down using our depth," said Teets. "Fans will notice our energy level. We have a lot of kids who come off the bench and play with that same type of energy. The style of ball we play is definitely based on our energy!"