Thanks for reading some of the latest features about area people and events.
To view every page and read every word of The Kenmare News each week,
subscribe to our ONLINE EDITION!
Bombers football lose one, win one, to start the season
The Lewis & Clark-Our Redeemer's football team shut out New Town on the road August 31st, 19-0.
9/05/12 (Wed)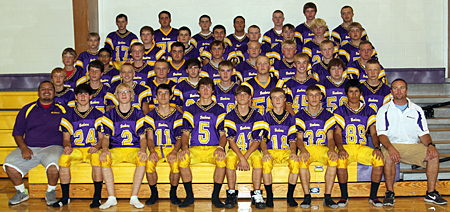 2012 Lewis & Clark-Our Redeemer's Varsity Football Team
By Caroline Downs
The Lewis & Clark-Our Redeemer's football team shut out New Town on the road August 31st, 19-0.
Neither side scored in the first half, but the Bombers came alive in the third quarter when Dalton Njos found the end zone on a 14-yard run.
Austin Lee made good on a 50-yard pass reception from Christian Olson for the team's second touchdown of the night.
In the fourth quarter, Mitchel White ran the ball over the goal line on a 35-yard rush. He finished the game with 177 yards in 14 rushes.
Alec Lee ran for 55 yards, Olson for 49 and Njos for 40.
Olson completed 3 of 10 pass attempts for 60 yards. Lee caught one of those for a score, while White caught two passes for a total of 10 yards.
The win puts the Bombers at 1-1 for the season, following the August 25th loss to Richardton-Taylor.
Bombers field 43 players
Nine seniors lead the team this year, including Chris Olson, Patrick Marquez, Dakota Brown, Bryce Lynne, Tanner Strand, Cole Zimmerman, Logan Gunderson, Trenton Gray and Dalton Njos.
Nine juniors wear the purple and gold, with Nick Stenvold, Mitchel White, Adam Knudsvig, Mckenzie Gray, Wyatt Limke, Joey Peterson, Benjamin Hovland, Alex Stevens and John Paul Guerrero.
Fourteen sophomores are ready to take to the field, including Austin Lee, Ryan Schweitzer, Alec Lee, Jordan Nelson, Marshall White, Davis Koppinger, Colton Ryan, Jared Hamilton, Tristan Gray, Jacob Castaneda, Trevor Ringoen, Tyrel Mollerud, Austin Kilene and Nicholas Helfrich.
Eleven freshmen fill in the Bombers' ranks, with Marco Guerrero, Dawson Brown, Clay Hornberger, Josh VanLith, Colton Bredahl, Bailey McCrite, Jamison Ogle, Tanner Blahut, Braydon Lautenschlager, Brock Borud and Tucker Hennessy.
Morgan Cummings, Tayler Haugen and Madison Moen are handling stats for the team.
Alexandra Gonzalez, Brianna Sechrist, Crissy Wittman, Aubrie McCrite and Kaylee Kurtz are leading the cheers.
George Duenas is coaching the team, with Fred Nelson and Drew Weirson as assistant coaches.
First home game is Friday
The Berthold field will host its first game of the season when Watford City comes to town Friday night. L&C-Our Redeemer's will travel to Tioga to face Williams County on September 14th, then host Stanley on the 21st. The September schedule is rounded out with a road game at Velva on the 28th.
The Bombers welcome Garrison-Max to the home field on October 5th, followed by longtime rival Des Lacs-Burlington on the 12th.
The first round of the Class A football playoffs will be played October 20th.
Kickoff time for all regular season games is 7 pm.