Thanks for reading some of the latest features about area people and events.
To view every page and read every word of The Kenmare News each week,
subscribe to our ONLINE EDITION!
Berthold fast becoming hub for Enbridge Pipeline operations
Berthold is fast becoming a hub for Enbridge Pipeline operations in western North Dakota as work nears completion on two pipeline projects tied to the Berthold Station and a third expansion project begins.
4/18/12 (Wed)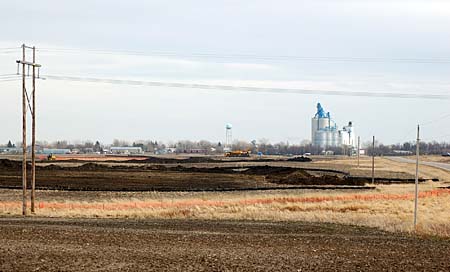 Major expansion for pipeline company . . . Dirt work has begun
at the site of the proposed Enbridge Berthold Station Expansion
Project west of town, and south and west of the current Enbridge
facility. Plans call for new storage tanks, rail and double loop track,
piping and associated buildings as a rail transfer facility is constructed
to move an additional 70,000 bpd of crude oil from pipeline to market.
Berthold Farmers Elevator, seen in the background at right,
is partnering with Enbridge to operate the rail transfer facility,
which is expected to transport oil by February 2013
and employ up to 13 people.
By Caroline Downs
Berthold is fast becoming a hub for Enbridge Pipeline operations in western North Dakota as work nears completion on two pipeline projects tied to the Berthold Station and a third expansion project begins.
"The Berthold Station has become the beating heart of our system in North Dakota," said Katie Haarsager, community relations advisor for Enbridge and based in Minot. "We're seeing more transportation options on the producers' side."
One pipeline project, the Portal Link Reactivation and Reversal Project, was finished as of May 2011 and allows crude oil to flow north through an existing pipeline from Berthold into Saskatchewan, then to Manitoba and into the Enbridge Mainline system back to the U.S. New pump facilities constructed near Kenaston and Lignite will enhance that pipeline.
"We're moving oil north to the international border at this time," Haarsager said. "That's about 25,000 barrels per day (bpd)."
A second pipeline project, the Beaver Lodge Loop, runs parallel to an existing Enbridge pipeline. The segment of that line between Stanley and the Berthold Station was completed at the end of 2011, according to Haarsager, with 29 miles of new 16" diameter pipeline now in the ground.
The second segment, 26 miles of 16" pipeline between Stanley and Beaver Lodge, near Tioga, is scheduled to be finished this summer. "That segment should be in service early in 2013," Haarsager said.
"We'll be able to move another 145,000 barrels per day north of Berthold to the international border, then down to [the Enbridge Mainline] at Clearbrook, Minnesota."
The Berthold Station also saw the construction of two new 80,000 barrel tanks as part of the Beaver Lodge Loop project.
Those two projects served as the prelude to Enbridge's current expansion plan for the Berthold Station. Beginning this summer, Berthold area residents will watch construction on Phase I of the Berthold Station Expansion Project, where new rail track, loading arms and other related equipment will be installed west of the current storage tanks to allow the off-loading of crude oil from truck to railcar.
According to Haarsager, Phase I operations should be ready to start sometime in July. About 10,000 bpd are expected to be handled there. "We can stage 10 trucks at the site, and load five trucks at a time," she said. "We expect to see 45 trucks per week."
Phase II of the project, pending approval by the North Dakota Public Service Commission regarding new tankage and pipeline, involves construction of a new rail facility, pumping units, two 150,000 barrel storage tanks and related piping south of current operations. About 0.6 miles of pipeline will be installed between the existing Berthold Station to the Berthold West unloading facility and another mile of pipeline between the Berthold West site and the new Berthold South site.
The Berthold South site will serve as a rail transfer facility with a pipeline-to-rail capacity of 70,000 bpd.
Haarsager explained the Berthold South site will be constructed as a double-loop facility capable of storing up to three unit-trains of 118 railcars apiece. "These unit-trains will be loaded at Berthold and go straight to market," she said. "We anticipate loading one unit-train per day out of this facility."
Enbridge considers the pipeline a benefit both to the state's growing oil industry and to area residents. "The more pipeline we have in the ground, the fewer long-haul trucks are needed," Haarsager said. "Once we get the line up and running, hopefully people will experience less traffic on the road."
Enbridge will handle construction of the Berthold South and Berthold West facilities at an estimated cost of $160 million. Operation of the Berthold South rail facility will be in partnership with Berthold Farmers Elevator (see related story in this issue).
Haarsager said Enbridge was pleased to establish the connection with BFE. "We formed a great relationship with them," she said. "It's an opportunity to provide another transportation option to oil producers and a great opportunity for us to partner with the community and Berthold Farmers Elevator."
The rail transfer facility will bring a projected 30 full-time jobs to BFE, as well as contract, construction and maintenance jobs, according to Haarsager.
The additional track and pipeline required for the rail transfer facility means Enbridge is buying additional land for the proposed expansion. Haarsager said approximately 92 acres are under agreement to be purchased for the Berthold West site, while another 319 acres are under agreement for the Berthold South property.
Because of the expected increase in rail traffic at the Enbridge facilities and concerns for safety, Haarsager noted a quarter-mile segment of 296th Street west of town, running north from 72nd Avenue to the BNSF crossing, will close permanently to the public. That railroad crossing is located immediately south of the Wild Rose Cemetery.
"Railcars are going to have to move back and forth along that track," Haarsager said, "and there are so many rail crossings at one place there, we wanted to make sure there would be no traffic problems."
She added that Enbridge is considering building an east-west road from the city to the cemetery. At this time, residents and visitors can still take U.S. Highway 2 and turn south on 296th Street to approach the cemetery from the north.
Discussions are also underway with BNSF to create a different access for farmers who need to transport equipment and grain north and south of the Enbridge facility.
In a further nod toward safety, Haarsager said a turning lane from U.S. 2 into the Enbridge facilities was scheduled for construction this summer. "This will have a reduced speed and create a safer situation," she said. "We want to make sure we're accommodating everyone."
As plans for the latest project are finalized, Haarsager said Enbridge is looking at moving approximately 235,000 bpd into and out of the Berthold Station after the expansion is completed. One of the best aspects of the project, from Enbridge's perspective, is the ability to cooperate with the community of Berthold.
"Our main goal with all our projects is to work locally as much as possible," Haarsager said. "To be able to work with Berthold Farmers Elevator will be a great partnership for us and for them. It's exciting for the community to see the benefit from this."