Thanks for reading some of the latest features about area people and events.
To view every page and read every word of The Kenmare News each week,
subscribe to our ONLINE EDITION!
Berthold day care wants more kids
The Kids Academy day care facility in Berthold was opened in fewer than three years after a group of local residents formed a non-profit organization to provide child care for the community.
4/24/13 (Wed)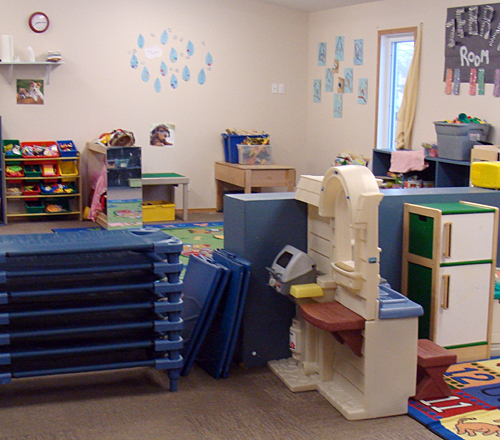 Kid space . . . The large preschool room at The Kids Academy in Berthold provides
children ages 3 to 5 with a varieyt of learning and play centers to use during the day.

By Caroline Downs
The Kids Academy day care facility in Berthold was opened in fewer than three years after a group of local residents formed a non-profit organization to provide child care for the community.
Last week, Kids Academy president Andy Fjeldahl encouraged members to spread the word about the opportunity parents have for local child care. "We have one of the finest facilities in the state," he said during the organization's annual meeting, "and we want to fill it up with children."
Actually, the day care has 30 children enrolled, including five infants and a group of regular after-school attendees. "But we're licensed for 49 right now, and once we get new exterior doors installed, we will be licensed for 69," said Fjeldahl.
30 kids now,
room for lots more
The Kids Academy, operating through a contract with ABC Child Care in Minot, can handle a variety of age groups. One room is outfitted for infants up to 18 months complete with refrigerators and sinks, and another for toddlers up to three years with its own bathroom and diaper changing station.
Children ages three to five play and participate in activities in the center of the day care, with separate boys and girls bathrooms and a third, handicapped-accessible rest room.
Kids ages six to twelve have an area dedicated to their needs and interests, and the children and staff all benefit from the large, fully-equipped kitchen.
Coat racks and cubbies labelled with the children's names written in bright colors add a welcoming touch, not to mention the crates, tubs and shelves overflowing with toys, games and craft supplies.
The yard has been filled with new playground equipment appropriate for various ages. A sandbox and planters for gardening will be added this summer, along with a handicapped accessible ramp for the deck on the backside of the structure.
Director Andrea Grossman oversees a staff of 16 employees, including four full-time workers, 10 part-time workers and two who fill in as needed. "I have a lot of good staff who love the kids," she said. "You can see that. It's so cozy here, and it feels relaxed and calm."
According to Grossman, the Kids Academy is open to children from 7:30 am to 6 pm daily. "And we could open as early as 7 am," she added.
The staff can accommodate any special dietary and medication needs at the facility, and children are welcome on a "drop-in" basis. Breakfast, lunch and at least one snack are served daily, and the children stay busy with a variety of planned, supervised activities.
"They have lesson plans and curriculum," said Grossman. "We work on numbers, shapes, colors, letters and social skills with the kids."
Like Fjeldahl, Grossman would like to see the day care enrollment increase. "We are looking for more children," she said.
She noted space for children ages three to five is extremely limited now through the end of the school year on May 17th, when more openings will be available. Space is open at this time for infants through three-year-olds, however, and more children through the age of 12 could be accepted, with up to 18 spaces open for the school-age crowd during the summer months.
Parents with more questions about the day care or inquiries about openings should contact Grossman at 701-453-3622.
Projects and fund-raising
in future plans
While Grossman handles the day-to-day operation of the facility, Fjeldahl and The Kids Academy members addressed plans for the coming year.
Board member Candice Asmundson listed a variety to be done during the summer, including the ramp, sandbox and planters for outdoors along with sod and more landscaping.
"We will also have an official sign made for the yard and one to hang on the side of the building," she said.
Members raised additional concerns about security at the day care and suggested locking the doors during operating hours. Fjeldahl said he would discuss the matter with Ward County Social Services and find out their recommendations, taking fire safety and evacuation procedures into account.
The organization ended the year with a balance of just under $240,000, but payments will need to be made on a $360,000 zero-percent loan obtained from Verendrye Electric Cooperative. The Kids Academy board of directors has also estimated operating expenses at $77,200 for the next 10 years, which leaves $197,497.60 to be raised.
Asmundson announced the organization had already raised $380,000 toward the purchase and construction of the day care building, which has a total cost of $550,000.
"We're constantly applying for grants and collecting donations," added board member Kelly Finke. "We also want to get the community involved."
Members discussed possible fund-raising options for the coming months, including an ice cream social held during the All-School Reunion this summer, a golf scramble and a 5K or 10K running/walking event.
Jana Fjeldahl noted the opportunity for other contributions, as well. "Because we are a 501(c)(3) organization, we can take donations, and donors will receive a tax deduction for that," she said.
In other business during the meeting, the members elected Joel Rademacher to serve a three-year term on the board.
Membership in The Kids Academy organization is open to anyone in the community interested in quality day care for children in Berthold and the surrounding area. Andy Fjeldahl recounted broad community support for the organization during the past three years, with area businesses, individuals and organizations offering generous commitments of land, labor, materials and money to the project.
"It's a great feeling of accomplishment," he said about the operation of the Berthold day care. "We've had such great support from the community, and we appreciate everything the community has done for us. Now, we will be working on raising more funds to take care of our debts."
Anyone interested in contributing to The Kids Academy project is welcome to contact Fjeldahl at 701-453-3481.
The goal of the organization remains true to the vision established when the first meeting was held in 2010 at the Tumbleweed Cafe. "We want to provide this community with a day care everyone can be proud of," said Fjeldahl, "and now we will continue to make upgrades."