Thanks for reading some of the latest features about area people and events.
To view every page and read every word of The Kenmare News each week,
subscribe to our ONLINE EDITION!
Baptist Home will become Maple View
When Gaylin Schmidt was introduced as the new owner of the Baptist Home of Kenmare during a meeting Thursday, he explained that he was already quite familiar with the Kenmare High School gymnasium as the grandparent of athletes on Bishop Ryan teams.
12/21/11 (Wed)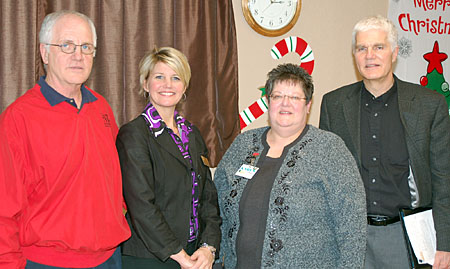 New owners, new name . . . (l-r) Gaylin Schmidt, owner of The View in Minot,
and Lori Soltis, director of The View, meet with Karen Schwartz, Baptist Home
administrator, and Dave Zwickey, CEO of American Baptist Homes of the Midwest,
to discuss details of the Baptist Home sale with the public. The sale will be completed
in January 2012, at which time care and services at Maple View of Kenmare
will continue as they have for the past 50 at the Baptist Home.
By Caroline Downs
When Gaylin Schmidt was introduced as the new owner of the Baptist Home of Kenmare during a meeting Thursday, he explained that he was already quite familiar with the Kenmare High School gymnasium as the grandparent of athletes on Bishop Ryan teams.
"And I hope that purchasing your home here finally gets me an invitation to the Kenmare GooseFest," he said. Schmidt is an owner of The View on Elk Drive in Minot, as well as memory care facilities in Bismarck and Grand Forks.
For the nearly 60 Baptist Home residents and staff members, family members, community leaders and business people who attended the meeting to hear details of the sale, the biggest change might be remembering the new name after January 2012 as the Baptist Home of Kenmare becomes Maple View of Kenmare, owned by the Kenmare Lakeview LLC.
But the doors will stay open, with care offered and business conducted as usual. "For these residents, it means unless they move, they have a place to live," said Schmidt.
Baptist Home administrator Karen Schwartz, who has announced her intention to continue as the administrator of Maple View of Kenmare, welcomed her guests on Thursday and introduced Schmidt and Dave Zwickey, CEO of American Baptist Homes of the Midwest.
Zwickey took the floor first and explained that while ABHM had provided a significant ministry in Kenmare for over 50 years, the company's headquarters in Minneapolis were too far away to provide the type of support and resources needed at the Kenmare facility.
"We wanted to find someone with a strong regional presence," he said, "and it was paramount in our minds that the new owner would continue the ministry and continue to provide the jobs and services needed in Kenmare."
Schmidt reached a satisfactory agreement with ABHM and its board of directors, with the sale handled by Town & Country Credit Union of Kenmare. "The funds are going to stay local," he said.
He described his involvement with The View, starting from his real estate background and his concern about senior living options in Minot. He talked about his partnership with the late Dale G. Mellum and their ideas for creating an assisted living facility.
"We designed The View and our main concern was to provide a quality facility for Minot and the region," he said. "We've been open five years now, and we have a waiting list. Hopefully that means more residents up here."
Schmidt mentioned the two memory care facilities in Bismarck and Grand Forks, also operated under the "Maple View" name. "Right now, I have 151 senior citizens living under my care, and my staff treats them as if they were their own mothers and fathers," he said. "To be in this business, you have to love doing what you're doing."
Excess beds to be transferred,
everything else stays the same
The expansion to Kenmare, which has been considered by Schmidt for two years, will benefit both the Minot and Kenmare locations. Schmidt is breaking ground this week on an addition at The View that will specialize in memory care, and excess beds that are licensed but unused by the Baptist Home of Kenmare will be transferred to the View.
The State of North Dakota enforces a moratorium on new nursing home beds, but the licenses for existing beds can be sold or transferred from one facility to another. The View intends to transfer 36 licensed beds to Minot, beginning with 10 beds next summer. Schmidt explained that 24 beds would remain at Maple View of Kenmare, as well as the entire assisted living unit.
Schwartz explained the Baptist Home was licensed for a total of 60 beds, but renovations to the building in the 1980s actually resulted in fewer rooms available. "If we filled every room, we would have 36 residents," she said, "and we've averaged 25 to 26 for the last six or seven years. It's not like they're taking anything away from our business or how we run things here today."
District 6 Representative Glen Froseth asked about the possible use of the empty space at the Baptist Home to address other housing demands in Kenmare, especially for rental housing. Schwartz said she wasn't certain how making the extra rooms available for that purpose would coordinate with state regulations for her resident population. "But anything's possible," she added.
At this time, Schmidt said no memory care facility was planned for the Kenmare location.
Additional questions were asked about support by Baptist churches across North Dakota and concerns from those churches that Maple View of Kenmare would be closed after the sale, much like the nursing home in Westhope.
"I'm absolutely convinced the Baptist Home of Kenmare will continue to be operated by the new owner," Zwickey said, "and to be sure of that, included in the purchase agreement we have an option to buy back the Baptist Home for one dollar if they intend to close it within the next three years."
Zwickey and Schmidt told family members that any long term care insurance plans should continue as established. "All the eligibility criteria are based on the care that's received," explained Zwickey, "and it's going to be the same care."
Zwickey added that employee health insurance coverage had been addressed between the two companies, with arrangements made to prevent any gaps in coverage while the sale was being finalized.
Residents were curious about their rent costs and staffing changes, but Schmidt reassured his new clients. "I charge the same as Karen is," he said, adding that the only increase would be the regular annual adjustment made for inflation.
"And we're looking to hire," he continued. "We can't go with any less employees. We need more. We hope Karen and the staff stay, and we hope they have brothers and sisters who want to come work for us."
Schmidt expected to see cooperation between the two facilities, including sharing employees when short-handed and getting residents together for special events. "We have a big bus in Minot that we're going to load up and bring our residents up to Kenmare for activities," he said, "and we want you to load your bus up and come down to the View when we have things going on."
"The most obvious change to the people who live here and who work here is that you're going to see a greater presence from the new owner, who is only an hour away," added Zwickey.
Lori Soltis, director of The View on Elk Drive, said she expects to offer complete support to Maple View of Kenmare. "The advantage is we can broaden the areas we're serving," she said, "and we can cover anything in their times of need. We're excited to bring our beliefs and mission statement to the community."
That mission statement may please current residents of the Baptist Home and their families, as it reads, "We promise to provide world-class services and lifestyle choices for people 55 and better. We will promote a culture that consistently upholds the core values of candor, integrity, respect and fun for our residents and employees."
"We should grow," Schmidt said. "If the community stays behind it with their support, seniors and their families will realize what kind of care is available in Kenmare."
Following a meeting held specifically for staff members Thursday evening, Schwartz said all current employees were offered jobs with Maple View of Kenmare. "But we're always accepting applications," she said.
She noted that benefits and employee policies were discussed with Schmidt and Soltis on Thursday. "We'll have more in-depth details in January, after the transition," she said.
More details about The View on Elk Drive, Maple View-Bismarck, and Maple View of Grand Forks can be found online at www.LifeAtTheView.com. Information about Maple View of Kenmare will be linked to that site as well, after the sale is completed. Persons with further questions are welcome to contact Schwartz at 701-385-4941.
Schmidt and Soltis ended the public meeting by inviting the audience to visit The View in Minot. Then they sat down and listened to several Baptist Home residents, including Vi Nelson, Lowell Melby and Wanda Kirchner, talk about the best aspects of their facility and the town.
"The help we've got here is just great. The food is just great," resident Joyce Westlake told Schmidt. "This is the best place on earth!"
Soon to be known as Maple View of Kenmare.