Thanks for reading some of the latest features about area people and events.
To view every page and read every word of The Kenmare News each week,
subscribe to our ONLINE EDITION!
Alliance Pipeline donates $5000 to Tolley Fire Department
Construction on an Alliance Pipeline segment from Tioga to the Alliance mainline near Sherwood is expected to begin this fall.
7/05/12 (Thu)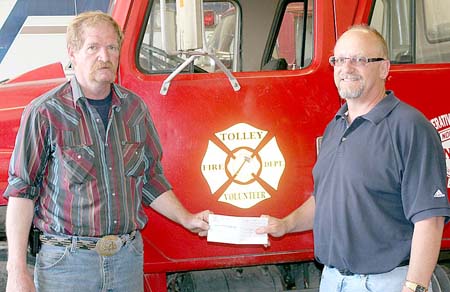 New partner in emergency services . . . Tolley Fire Department Chief David
Stark, left, accepts a $5,000 donation from Leighton Smith, Alliance Pipeline
representative. Stark said the department will apply the funds
toward equipment updates for the rescue truck and fire trucks.
By Caroline Downs
Construction on an Alliance Pipeline segment from Tioga to the Alliance mainline near Sherwood is expected to begin this fall.
However, on June 27th, Leighton Smith, area manager for Alliance in Valley City, was making a series of visits with landowners and emergency services personnel in the region. He stopped in Tolley to leave a $5000 check from Alliance to the Tolley Fire Department.
"We realize all the time and effort these responders put into their jobs," he said, "and this is our small way of saying thank you."
He emphasized Alliance's commitment to knowing the communities and landowners in areas crossed by the pipelines. "One principle of Alliance is to get out ahead of things and communicate, communicate, communicate," he said. "We want to show our respect for the land owners and the stakeholders in the area."
According to Smith, the proposed pipeline will transport a rich natural gas product, high in butanes and propanes, destined for markets in Chicago where the liquids will be separated for industrial use and the natural gas will be directed toward energy sales.
"Bakken gas is dripping with these valuable liquids," Smith said.
Transporting the natural gas product by pipeline will reduce the flaring seen across North Dakota's oil patch right now, as well as decrease the number of trucks hauling the product on the state's roads and highways.
That all comes later. On Monday, Smith was interested in meeting some of the people who will be Alliance Pipeline's neighbors in the area. He explained that the North Dakota Pipeline Association has already offered various training sessions to emergency departments regarding pipeline safety, and Alliance will continue those efforts for their own lines.
"Before we go into service, we want the area fire departments to know exactly what the product is in our lines," Smith said, "to know the pressures and the risks involved, and the response we would expect from them in case of an emergency."
He continued, "I want to be able to call someone at two in the morning if I need them."
Tolley Fire and Rescue Chief David Stark said many of the volunteers in the department have participated in pipeline safety training, but he was looking forward to continuing discussions about safety and appropriate emergency responses with Alliance.
He was pleased with the contribution from the company. "We're pretty happy they're willing to help us out," he said.
The funds will be used for equipment updates for the rescue and fire vehicles.
Smith indicated Stark would be one of Alliance's contacts so the community can be made aware of the additional traffic and workers expected in the area during construction. The project is awaiting approval from the Federal Energy Regulatory Commission, with winter construction planned to minimize damage to wetlands and soils.
Smith said, "I told him, 'Before the first truck pulls into Tolley, I'll call you.'"