Thanks for reading some of the latest features about area people and events.
To view every page and read every word of The Kenmare News each week,
subscribe to our ONLINE EDITION!
After a hundred thousand mistakes, Honkers turn play around to win championship
The KHS volleyball team was less than pleased with their performance in the first set of the Region 6 championship match last Thursday in Minot, losing to rival Bottineau 15-25.
11/16/11 (Wed)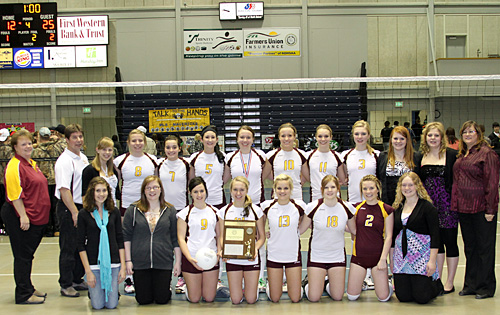 2011 Region 6 champion Kenmare Honkers--6th year in a row!
By Caroline Downs
The KHS volleyball team was less than pleased with their performance in the first set of the Region 6 championship match last Thursday in Minot, losing to rival Bottineau 15-25.
So they used that emotion to turn around and win the next three games, claiming the regional title and a state tournament berth for the sixth consecutive year and the 10th time in the school's history.
"We made a hundred thousand mistakes in the first set and I think that was an accurate number," said senior hitter Halie Nelson. She compared the night to the District 12 championship from the previous week when the Honkers lost the first game to Our Redeemer's, then came back to win three in a row for that trophy. "We just had to decide we were not going to lose, and we got rid of the mistakes!"
Teammate Ashley Barnhart laughed at Nelson's mistake count. "Well, we made way too many unforced errors, like maybe 25," she said. "I'm a little more practical than she is. We knew Bottineau would come ready for us, but we also knew we had to win that second game. Being down two games is the worst."
Barnhart said the team started playing better and together, and all six starters hit their stride at the same time. "Especially in that fourth set," she said.
"We started off with hitting errors and passing errors," said KHS head coach Tim Wallstrum. "Toward the end of that game, we were playing better, but they were in a big hole. Then the girls got serious."
He said the Honkers may not have stepped onto the court with the intensity level they needed right away for the regional championship. He also praised the Bottineau squad. "They have improved immensely this season, and Sienna [Bullinger] is a great coach," he said. "They handled the ball so well and they have five seniors who wanted to win. We had to work hard to beat them."
He described a championship match Kenmare lost to the Stars a few years ago, after winning the first two sets. "I really didn't want to lose to Bottineau this year," he added.
Neither did juniors Shelby Hass and Lexie Munson. "They're a big rival," said Munson. "It's fun beating a good team and battling against them."
Hass agreed. "We had some long, hard-fought volleys," she said, "but we don't like to go to five games."
Title earned in four games
The Honkers opened the first set with a kill by Halie Nelson, followed with one from little sister Katie, but fans watched in disbelief as the Stars rolled out five consecutive points, including an ace and two missed Kenmare hits. Halie Nelson and Barnhart responded with back-to-back kills, but Bottineau added four more points for a 9-4 lead as the Honkers stumbled again.
Kenmare trailed the Stars from that point, although they put together a five-point rally at the 21-9 mark, including two kills from Halie Nelson, a Caleen Crider ace and a block against Bottineau's Whitney Page. The Stars could taste victory, though, and pushed forward with kills by Page and Trista Bjerk for the win.
The Stars held the momentum from the first game as they launched into a 4-1 lead in the second, but the Honkers refused to step aside. Barnhart smashed two consecutive aces to tie the score, but was blocked by Page on the next play. Mikayla Hahn made it 6-4 for the Stars, but Halie Nelson hit it right back at her, then took the serve. The Stars fumbled the next two serve-receives and Barnhart struck again for an 8-6 score.
Neither side gave an inch as the volleys played out. The Honkers in the back row passed carefully and Munson set balls all along the net. Barnhart and Hass took turns logging points on kills as Kenmare established a 13-9 advantage. However, the TV time-out worked in the Stars' favor as they came out to score four points of their own for a 13-13 tie.
The Honkers kept working, with Hass hitting unstoppable balls from the outside for a 17-13 lead, but Bottineau tied the score at 17 on an ace. The Stars missed a hit on the next play, which allowed Halie and Katie Nelson to pierce the block with their kills. Hass served an ace for good measure for a 22-17 margin.
Bottineau showed plenty of patience and came back within a point on a Bjerk ace and a Page tip. Katie Nelson blocked the Stars on the next play, then served a ball out-of-bounds to hold the slim 24-23 lead, which Page eliminated with a kill to tie everything up again.
A win for the Stars would have put them within a single game of qualifying for the state tournament, but Barnhart was having none of that. On the next serve, she took a Munson set and slammed it on the court, then repeated the action on Halie Nelson's serve for the 26-24 win.
While the Honkers fans rocked the bleachers and the Stars fans looked on in surprise, both teams retained their focus and hit the court for a third set, which looked much like the second. Halie Nelson opened on a hard hit this time, only to see the Stars take the next two points, followed by Nelson and Barnhart kills to tie the score at 3.
Kenmare struck in quick succession on points from a Munson block, kills from Barnhart and Halie Nelson, and a Katie Nelson ace. Page and Halie Nelson traded kills and points for both teams, then Barnhart, Hass, Katie Nelson and Beca Wallstrum landed hits for a 13-7 Honkers' margin.
The Stars' crowd was quiet during the TV time-out, but came to life as their team rallied on a Page block, kills from Bjerk and Hahn and a Page kill. Katie Nelson took it upon herself to keep the Honkers moving as she scored on a hit, followed by an ace, but Page and Hahn combined to tie the score at 17.
The volleys stretched out and the points crept forward as the two teams traded point for point through the next 10 serves. With the scoreboard showing 22-all, the Honkers took charge, starting with a Katie Nelson kill, followed by a block on Page that scored. Fans wearing maroon and gold cheered wildly as two Bottineau players bumped into each other trying to return Crider's serve. That ace and point gave Kenmare the set at 25-22.
The win boosted the Honkers' momentum, with Katie Nelson starting strong on two kills and a block on Page. The Stars came out ready to play, and the two sides traded leads twice through a 6-6 tie, but Kenmare could see a sixth regional championship on the horizon.
Katie Nelson had three more hits, Hass served a pair of aces, Wallstrum scored on a tip, Halie Nelson made a kill around the block and Barnhart scored on back-to-back hits to take a 21-10 lead while the Stars faded. With victory in sight and Hass at the serving line, Munson set up the Nelson sisters, first Katie scoring point 23 and then Halie closing on points 24 and 25 for the 25-12 set and match win.
Barnhart led all players in the match with 16 kills. Halie Nelson made 15, Katie Nelson 14 and Hass 7.
From the serving line, Hass scored 3 aces, while Crider and Katie Nelson scored 2 apiece.
For the Stars, Page made 12 kills, while Bjerk had 10 and Danielle McDonald 9.
Bjerk also scored on 2 aces, while Page finished with 3 blocks.
Our Redeemer's Christian School finished in third place in the region with a 3-1 win over MLS Thursday night. Set scores for the Knights were 27-25, 23-25, 25-16, 25-22.
Barnhart, Munson and Halie Nelson were named to the Region 6 All-Tournament team for Kenmare, along with Page, Ashleigh Aufforth and Heidi Artz of Bottineau. They were joined by Lexi Bahl of MLS, Ashley Koppinger and Payton Ringoen of Our Redeemer's Christian School, Quinn Harmon of Minot Ryan, Abbey Paul of Rugby, and Emma Keller of Velva.
The Kenmare Honkers will play the third match in the opening round of the Class B state volleyball tournament against Linton-HMB on Thursday, November 17th, beginning at 6 pm at the Fargodome. Tournament action continues Friday and Saturday.
Other quarterfinals pairings include Grant County against Stanley at noon, Hatton-Northwood against Midkota at 2 pm, and Central Cass against Beulah at 8 pm.
Kenmare dominates MLS
in semi-final action
The Honkers owned the court against Mohall Lansford Sherwood in semi-finals action November 8th. They defeated the Mavericks 3-0 with set scores of 25-7, 25-10 and 25-16.
Kenmare used the first two sets to demonstrate their precision passes, with Munson setting up her teammates for a series of kills that couldn't be stopped. The Mavericks settled in for the third set, however, and used their blocking and tipping skills to challenge the Honkers.
The two sides battled back and forth with MLS staying within a point or two and refusing to stand down. The scoreboard read 13-9 when the TV time-out was called, and from that point the Honkers rolled forward. The kills were scattered across the front row, with Barnhart, Halie Nelson, Katie Nelson and Hass leaving their mark on the court and getting more excited with each point tallied.
Halie Nelson finished the night with 11 kills, while Barnhart and Katie Nelson scored on 10 kills apiece.
Munson put up 34 assists in the match.
Crider scored on 3 aces.
Barnhart scored with 2 unassisted blocks.
In addition to her kills, Hass came up with 7 digs.
The Bottineau Stars topped Our Redeemer's in the evening's other semi-final match, winning 3-1 with a confident game plan and set scores of 25-21, 25-21, 23-25, 25-16.