Thanks for reading some of the latest features about area people and events.
To view every page and read every word of The Kenmare News each week,
subscribe to our ONLINE EDITION!
Addition to Berthold School ready soon
Lewis & Clark-Berthold elementary students should have more room to maneuver--and learn--within the next month.
10/30/13 (Wed)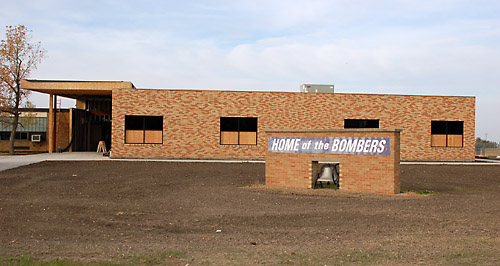 The Home of the Bombers gets bigger . . . Berthold's youngest students
will soon move into the four classrooms included in an addition
to the school's east side. The new entrance is seen at left, which features
trophy cases, restrooms, and room to add a commons area when
the school board presents further expansion plans to district voters.

By Caroline Downs
Lewis & Clark-Berthold elementary students should have more room to maneuver--and learn--within the next month.
The addition on the Berthold Public School's east end is nearly completed, nearly two years after the Lewis & Clark School District Board introduced the district's patrons to a $12 million plan to expand the elementary and high school wings of Berthold school and add a second gymnasium.
That plan was narrowly rejected by voters during a special election held in January 2012, but the school board forged ahead with a $2.7 million addition to the elementary wing of the school, adding four classrooms, two storage areas, restrooms, a new entry way, and approximately 7,400 square feet. Hight Construction of Minot has the contract for the project.
"We broke ground on this in March, and it should be done by Thanksgiving," said Brian Nelson, Lewis & Clark School District superintendent.
According to Nelson, the project will be paid from the district's general and building funds over the next 15 years, with annual payments of $180,000.
Four rooms ease
crowded conditions
The four new classrooms, about 1,000 square feet apiece, will go a long way toward easing the strain in the current elementary wing. Each of the new rooms includes a SmartBoard, wireless sound amplification system, bathroom and air conditioning. Storage rooms were built between each pair of classrooms, with access from the hallway.
"We're going to put grades one through four here," Nelson said as he stood . . . . Read EVERY WORD on EVERY PAGE of The Kenmare News by subscribing--online or in print!