Disagreeing with Virginia-Lee . . .
Posted 11/06/13 (Wed)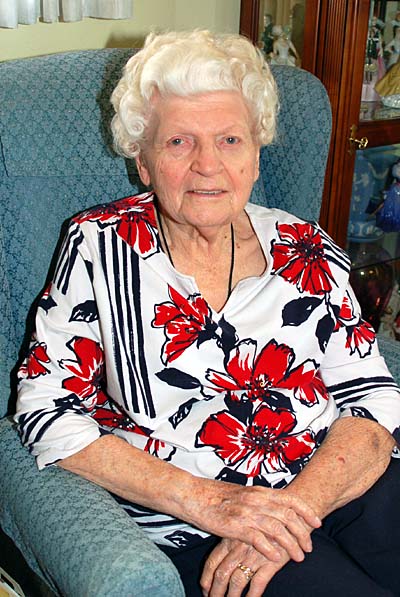 Virginia-Lee (Steinberger) Bryans, nurse and Lieutenant in the
U.S. Navy, serving in World War II and the Korean War.

If I had a dollar for every time I heard Virginia-Lee Bryans of Donnybrook say, "I'm no hero," in reference to her service as a U.S. Navy nurse, I could have bought her a dozen roses, or more.
She is the only female service member I've met from either World War II or the Korean War, and the only man or woman I personally know who served in both wars.
And, she is Virginia-Lee, who passed away a month ago before she could read these words about herself. She pushed against barriers in the military and the American Legion, and I'm guessing a few other organizations as well during her life, through sheer will and the force of her personality.
She didn't do any of it for recognition or glory, though.
She did what she had to do--whether hold the hand of a lonely young patient or clean the gory, gaping wound of a soldier suffering on her ward--because it would be the right thing to do at that moment.
Virginia-Lee (Steinberger) Bryans had a strong sense and a true heart for recognizing that.
The last time Virginia-Lee talked to me was the interview she granted regarding her service during the Korean War. She protested at first.
"I don't measure up to what the men did," she said. "I did what I was trained to do."
All she did was leave her brand-new husband Edward in March 1951 and report for her second stint as a Navy nurse. She was assigned to the U.S. Naval Hospital in Great Lakes, Illinois, to tend wounded soldiers returning from bloody battlefields halfway around the world in Korea.
"War isn't pretty," she said, "and with only five years between the two wars, the emotions were very raw. Some of the patients I saw were as young as 17 and some were re-treads from World War II."
She began her assignment with the 3-11 p.m. shift in the patient wards, one of her least favorite duties. "People are in the worse condition then," she said. "They're picky and they're worried and they're scared from the stress."
Her focus changed two weeks later, when she was scheduled for the urology ward. Her rounds included frostbite patients because soldiers headed to Korea then were often outfitted in lightweight uniforms that did little to protect them from the severe winter cold.
"A lot of our patients had been in hospitals in Japan," she said. "They came to us mostly by ship, but some came by air."
Her unit had 64 beds, always filled. "They all needed care," she said. "Some were ambulatory and others were in bed all the time."
What she didn't say was that patients who continued to need treatment after spending time in hospitals closer to the battlefields were, indeed, in terrible condition.
"The [enemy soldiers] didn't have a good reputation," she conceded when I asked her about that.
She returned to Carpio and her new husband after Thanksgiving that year, completing her military obligations. The couple farmed and started a family, and Virginia-Lee went on to make her mark in area communities.
"It was in the stretch of what I was doing," she said, listing her work in a tuberculosis sanitorium, at the U.S. Naval Hospital in Seattle during World War II, and in the surgical ward at Mayo Clinic.
Then she repeated the familiar words, "I'm no hero."
I'm guessing the hundreds of servicemen she cared for would disagree, whether she liked it or not.