Thanks for reading some of the latest features about area people and events.
To view every page and read every word of The Kenmare News each week,
subscribe to our ONLINE EDITION!
Maple View nursing home to close its doors
Maple View residents, family members and employees were informed July 8 the facility's owners have decided close its doors by October 1.
7/15/14 (Tue)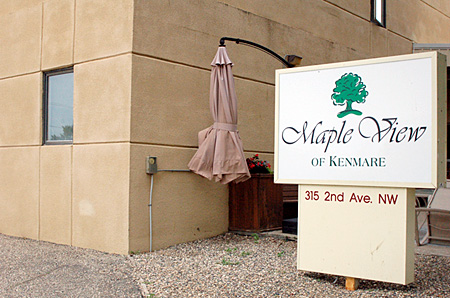 By: Kalynn Brazeal
Maple View residents, family members and employees were informed July 8 the facility's owners have decided close its doors by October 1.
Maple View of Kenmare was purchased February 1, 2012, from American Baptist Homes of the Midwest.
Two years of financial hardship has forced the business to close, according to statement from the owners.
Plans are to put the building on the market in hopes of finding a new owner.
The business will no longer be run as a licensed senior living facility.
Maple View, previously the Baptist Home, has been present in the community since March 1961.
By the numbers
Nineteen employees with 195 combined years of experience became friends and family to 18 very special resident that have lived at the home a total of 99 years.
Kenny Gravesen has called the Baptist Home, then Maple View, his home for 19 years.
Gravesen has a very positive outlook on the situation, and his future. "This is a good place to live, but it's kinda exciting moving to a new place. Something different is ok," Gravesen said.
A resident of the home for the past five years, and a lifelong Kenmare resident, Joyce Westlake, said, "I'm very lucky because I will be able to stay in Kenmare. I will be moving to the Kenmare Hospital nursing home."
Years for memories
for staff and residents
Karen Schwartz began her employment 15 years ago working in the business office. In 2001 she took the position of Administrator.
Other longtime employees include Darlene Stone, 29 years, Shirley Nore, 27 years, and Cindy Johnson, 23 years.
Schwartz states she has a heart full of memories and one of her favorites is when she asked her supervisors for their wish list and activity director Jodi Benge said she wanted a new bus.
Donut making soon became an art with over 600 dozen donuts being made in two days,
The dream of a new bus came true with a huge donation from Kenmare Veteran's Club Inc.
In September of 2009, Schwartz and Benge went to Bismarck and drove home their brand new bus.
That bus has traveled many miles full of singing, stories, and laughter.
Becoming a part of residents' families, listening to their memories and stories of the past and sharing their sadness along with their laughter, is the reason Maple View employees are blessed to do what they do, Schwartz said.
Demonstrating their devotion to the residents, the employees intend to stay and assist with the relocation of all residents.
Residents will be relocated to senior care facilities of their choice in the surrounding communities.
Buyback option
no longer an option
Just short of three years ago questions were raised as to whether the Kenmare facility would suffer the same fate as the nursing home in Westhope and be closed.
This was refuted at the time by Dave Zwickey, CEO of American Baptist Homes of the Midwest.
"I'm absolutely convinced the Baptist Home of Kenmare will continue to be operated by the new owner," Zwickey said, "and to be sure of that, included in the purchase agreement we have an option to buy back the Baptist Home for one dollar if they intend to close it within the next three years."
The closing date given of October 1, 2014 would fall within a three year time period.
However American Baptist Homes of the Midwest has released their restriction on the contract allowing for closure and sale of the building.