Thanks for reading some of the latest features about area people and events.
To view every page and read every word of The Kenmare News each week,
subscribe to our ONLINE EDITION!
Kenmare is 4th at State
The Kenmare Honkers girls basketball team made their third straight appearance in the Class B state tournament last weekend in Bismarck. They came home with a fourth place finish, the best showing for seniors Katie King, Erika Lemere and Kortni Miller, who have played on the state court in all three tournaments.
3/23/11 (Wed)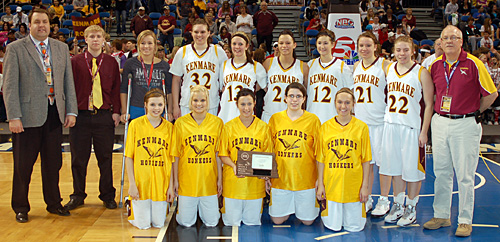 2010-2011 KHS Honkers, 4th place at ND Class B state tournament
The Kenmare Honkers girls basketball team made their third straight appearance in the Class B state tournament last weekend in Bismarck. They came home with a fourth place finish, the best showing for seniors Katie King, Erika Lemere and Kortni Miller, who have played on the state court in all three tournaments.
No. 2 ranked Kenmare opened the tournament in Thursday's first game of the day against No. 1 Beach, the defending state champions. With everything at stake, fans from all eight participating schools filled about 80 percent of the seats to watch the battle.
No one was disappointed, except perhaps the Buccaneers whose only lead in the game came with 3:35 left to play in the first quarter at 4-2. Thirty seconds later, Lexie Munson hit a three-pointer for Kenmare and the Honkers never looked back, winning the game 48-36 and handing the Lady Bucs their first loss in two seasons.
"Playing them earlier [in the season] and losing that game gave us some hunger for this," said KHS head coach Jason Schwarz.
He noted the Honkers had 27 turnovers in their first game against Beach, which Kenmare lost by 5 points. "We beat ourselves," he said. "We know if we take care of the basketball, we give ourselves a bigger chance, so our game preparation was about taking care of the basketball."
Thursday's win was hardly a cakewalk, however. Kenmare won the tip and ran 47 seconds off the clock by missing two shots and two free throws, although Beach didn't fare any better. The defense stood firm while the offenses looked tentative in the game's opening minutes, but Katie King called for the pass from Munson and drained an inside shot to put the first points on the board at 5:50.
The Bucs couldn't penetrate the Honkers' defense, but Abby Weinreis made good on a three-point attempt on the next possession to give Beach the 3-2 edge. The defensive contest continued unabated for two more minutes, until a Munson foul sent Weinreis to the free throw line to sink one of two. Munson redeemed herself with a three-pointer on the other end, followed by a shot by Kortni Miller on an assist from King.
Kenmare scored on their next two possession, first as Ashley Barnhart put back a shot and then as King found Miller again, to take an 11-6 lead after the first quarter.
The Honkers held the Buccaneers to a mere four points in the second quarter with a continued tough defensive effort. Beach ran a full court press the entire game, but it didn't bother Munson as she connected on a three-pointer in the first possession of the second quarter. Another two minutes of back and forth action ensued, characterized by Beach's full court press, but King and Munson scored another six points in field goals, along with a King free throw, to give Kenmare a 21-8 lead with just over four minutes remaining in the half.
The rest of the quarter passed with only one basket, coming at the hands of the Buccaneers, but Honkers' fans cheered plenty of action on steals by Barnhart and blocked shots by King as the Kenmare defense took a 21-10 advantage at halftime.
The third quarter started with free throws, first by Erika Lemere on a Weinreis foul and then by Weinreis on a Lemere foul. The Honkers stayed patient on offensive, though, and when Barnhart missed a shot on the next possession, Munson had herself in position for the rebound and putback.
The two sides were nearly stalemated through the middle of the quarter as defensive pressure continued, but Kenmare warmed up the scoreboard in the final three minutes with a three-pointer by Miller, followed by a King feed inside to Miller and then a King assist to Munson. Weinreis and Kiffin Howard showed their shooting skills for Beach, and then Brooke Davidson came up with a three-pointer, but Munson mirrored that shot on the Honkers' end and King ended the period with an inside shot for a 36-21 margin.
The Lady Bucs showed evidence of frustration in the final quarter, while Kenmare stayed focused and calm, especially on offense as the Honkers ran through their patterns until Munson was open for an inside look and a 38-23 score. Beach cut the gap to six points on a Weinreis shot and free throw coming from a Munson foul, but King turned around for a shot on a Barnhart assist on the next possession at the 3:18 mark.
From then on, the Honkers' points came on free throws by Miller and King, with one last field goal by Barnhart standing open under the basket, as the Buccaneers tried to get stops with fouls. Davidson managed a basket for Beach, but Kenmare's defense played tough through the final seconds of the game. With 30 seconds to go and the 48-36 margin, Honkers fans were on their feet cheering and celebrating as the Beach players merely watched the Kenmare players pass the ball among themselves to run out the clock and claim the win.
Schwarz credited the win to the Honkers' defensive intensity, especially in a big game. "It starts with Kortni and the rest feed off of her," he said. "Her intensity was tremendous today."
He recalled Miller's efforts when Kenmare beat then-state champion Bottineau in 2009, and her work that day against Miss Basketball candidate Brittney Dietz, who scored only 5 points in the Lady Bucs' loss. "If there's an All-State team for defensive players, if there's a Miss Basketball in defense, then it's Kortni Miller," he said. "Give me a Miss Basketball, and I'm going to 'D' them up. Hands down, she's an all-state quality player."
Miller spoke modestly of her role. "We tried not to let our nerves take over," she said, laughing. "I had to rely on the other guards more to bring up the ball [against Beach's press] and we needed to cut down our turnovers."
The Honkers were prepared for Beach's fourth quarter rally attempt, for which the team is known. "They did it against us in January, they did it earlier this year against Carrington," said Schwarz. "They're a second half team, and they do some things with their press in the fourth quarter to turn the heat up."
Kenmare's offense stayed steady in the face of that pressure, however. "First, we're going to go to Katie and Lexie, and then to Kortni," Schwarz said. "When we've got a lead, we'll work to keep it with easy baskets. Lexie is dead on right now, so we wanted to get her some openings."
King was delighted with her team's opening round win, their first in her three years at the state tournament. "We just really wanted it," she said. "We knew if we came out scared, we wouldn't do very well, and when we were ahead, we just helped each other settle down."
Shelby Hass subbed into the game in her first appearance on the state court, making 2 rebounds and 2 assists. "We had to do all the little things right, all the fundamentals," she said. "I wanted to take care of the ball and look [to pass to] Katie."
Munson led the Honkers in scoring with 17 points, sinking 7 of 9 shots which included 3 three-point attempts. "We knew we had to stay controlled the whole game," she said. "Coach Schwarz told us the team with the biggest heart was going to win this one."
King scored 14 points on 6 of 14 field goals and 2 of 5 free throws. She also pulled down 10 rebounds and made 4 assists and 2 steals. "I was focusing on taking it up down low and helping my teammates," she said.
She noted the team's communication with each other on the floor during the game. "We knew we had to talk more," she said. "That was a big key, because it's loud out there!"
Miller notched double figures with 12 points, including 1 three-pointer, 3 of 6 field goals and 3 of 6 free throws. She grabbed 7 rebounds and made 4 assists and 2 steals.
Barnhart added 4 points, along with 5 rebounds and 3 steals, and Lemere finished with 1 point in the game.
"We knew we had to focus on defense," Barnhart said. "We had three or four players to key in on, and then Lexie and Kortni did a good job against their press."
Beach was paced by 15 points by Weinreis. Howard added 6 points, Davidson 5, Brittney Dietz 5 and Hailee Farstveet 4. Jill Rising made 1 point and had 12 rebounds.
The Honkers shot 46.3 percent from the field at 19 of 41 and 46.2 percent in free throws at 6 of 13, while the Buccaneers shot 27.5 percent from the field at 14 of 51 and 57.1 percent in free throws at 4 of 7.
Turnovers were close, with 14 for Beach and 15 for Kenmare. The teams were nearly even in rebounds as well, with Kenmare pulling down 31 and Beach 32.
In other opening round action at the state tournament, Carrington routed Washburn 42-28, Linton-HMB slid past Central Valley 41-36, and Central Cass downed Watford City 47-26.
Kenmare drops semi-final
to Carrington 62-27
Unfortunately, the momentum from Thursday's big win didn't carry over into Friday's semi-final game against Carrington. The Honkers suffered their worst loss of several seasons in a lopsided 62-27 game that sent the Cardinals into the championship game.
"We came in with a game plan on offense and defense," Schwarz said. "But they got the momentum and got rolling. We have to stop them two or three or four times on defense and stop their snowball."
Again, the game started slowly, with both sides missing baskets for the first minute and a half. Carrington's Brittany Indergaard sank a long jump shot to put her team on the scoreboard, but Miller followed that with a steal and a basket just over a minute later.
Indergaard found the mark again, but Emily Thompson sent King to the free throw line for two shots on the next possession for a 4-4 tie. Thompson pulled her team ahead on two free throws after a King foul and then hit a basket for an 8-4 lead. The Honkers missed their shots, but held their own with tough defense on the other end of the court until Lemere hit a trey with just under two minutes left in the quarter.
Brittney Roundy sank two shots for the Cardinals, but Munson hit two from the charity stripe and the quarter ended 13-9 in Carrington's favor.
The Honkers were within striking distance at the top of the second quarter, but the Cardinals' held them to a mere two points in the period that came on a Miller drive at the five minute mark. All the Honkers attempted a variety of shots against a tough Cardinal defense without success, while Carrington ran up a 29-11 halftime lead that included four three-pointers from four different players.
Honker fans cheered the beginning of the third quarter as King put back a Lemere miss for two points, but the shots were few and far between for Kenmare as Carrington pushed their full court press relentlessly and stayed a step ahead on offense to score on nearly every possession they had in the last six minutes. King hit a free throw and scored on another rebound, while Munson had two shots, but the Cardinals finished the quarter with a 50-20 advantage.
Miller and King worked to reduce Kenmare's deficit in the final quarter, but the damage was done and Carrington kept pushing their press, despite the broad margin. The Honkers bench finished the final two minutes of the game.
Kenmare defeated Carrington 46-34 in the first game of the season, and Friday's outcome came as a surprise to the Honkers. "They were determined to win," King said, "and nothing was going to stop them."
"They couldn't miss and we couldn't make anything," Miller said. "Our bodies were just worn out."
"They played us like we played Beach," said Lemere, "and then we were each trying to [save the game] by ourselves instead of playing as a team."
Schwarz agreed the Honkers' energy level was down. "When the mind's trying to go and the body won't let you, that's hard," he said. "Thursday was a real big test and maybe we peaked in the first game as far as emotions go. The extreme focus we brought to that game, in a way, felt like winning the championship."
He also keyed on the Honkers' weaker defensive effort in Friday's game. "We were a step too slow at times, and sometimes two steps too slow," he said. "And we couldn't get anything going on offense, which usually feeds off our defense."
King led the Honkers with 10 points, scoring 1 three point shot, 2 of 8 field goals and 3 of 4 free throws. She had 6 rebounds, 2 assists and 2 steals.
Miller finished with 8 points on 1 of 7 three-pointers, 2 of 5 field goals and 1 of 2 free throws, along with 3 steals.
Munson had 6 points, along with 5 rebounds.
Lemere scored 3 points on a trey and pulled down 5 rebounds.
Rosenau paced the Cardinals with 16 points and 12 rebounds, while Thompson scored in double digits with 11.
Kenmare only shot 18.8 percent from the field at 9 of 48 and 75 percent in free throws at 6 of 8.
Carrington finished with 44.6 percent in field goals at 25 of 56 and 62.5 percent in free throws at 5 of 8.
The Honkers lost the rebounding battle, pulling down 27 in comparison to 46 for the Cardinals. Turnovers were relatively low, with 12 for Kenmare and 11 for Carrington.
In Friday's other semi-finals game, Central Cass edged Linton-HMB in a low-scoring 26-24 affair. In consolation play, Beach drubbed Washburn 65-42 and Central Valley rolled over Watford City 53-34.
Honkers edged
by Lions 48-44
With both teams wearing maroon and gold school colors in the third place game on Saturday and using similar defensive strategies, the Honkers looked like they were playing themselves.
"That's the best defensive team that we've played," Schwarz said. "They play defense the way we do!"
However, the Kenmare team lost some steam through the second and third quarters, and an outstanding fourth quarter showing wasn't quite enough to overcome the deficit as Linton-HMB claimed the trophy with a 48-44 win.
The Honkers looked strong in the first quarter, starting the game with smiles and laughs at the opening tip as players from both sides reminded each other which end of the court their basket was on. Kenmare grabbed the first possession and King scored in less than 30 seconds on an inside shot.
At the other end, the Honkers rolled along with their usual strong half court defensive play. Miller and Barnhart made steals, the Lions had limited looks at any close shot, and Kenmare rolled ahead 12-5 on shots by Munson and King, with a Barnhart putback at the buzzer.
Linton returned to the floor with a new strategy for their own half court defense and outscored Kenmare 21-8 in the second quarter. The Honkers looked good with baskets from Barnhart and King on the first two possessions, but the Lions scored on every possession they had through the first six and a half minutes of the quarter, with shots falling from the hands of Lindsey Hulm, Jacey Vetter and Kayln Schneider. Paula Nagel drilled a trey at the 3:31 mark and Nicole Hulm put her first points in the scoring column on free throws after a Munson foul.
King managed an inside shot and a free throw along the way and then another free throw on Schneider's third foul in the game, but too many Honker attempts missed the mark, with the Lions standing ready to grab the ball for their own offensive attack to take a 26-20 lead by halftime.
Kenmare's struggle continued through the third quarter. The only field goal of the period came on a three-pointer by Barnhart, while the rest of the Honkers' eight points resulted from free throws by King, Miller and Barnhart.
The Lions were slowed a little by the Honkers' defense, adding only 14 points to their total for a 40-28 margin.
With the trophy on the line, Kenmare dug deep as the fourth quarter started. Miller stole the ball on the Lions' opening possession and turned it into a layup at the other end. Lemere made good on an inside feed from King, and Munson drained a three-pointer at the 5:57 mark to reduce the gap to 42-35.
Miller grabbed another steal on the next play and scored again, drawing a foul on Lindsey Hulm in the process and sinking the free throw. King followed that with a basket down low on the next possession, and the Kenmare crowd was roaring again as the Honkers trailed 42-40 with 4:28 left to play.
The Lions had a few tricks of their own left, with another basket from Vetter, a steal and an inside move from Robin Weber that drew a foul from Lemere. Kenmare stayed focused, however, with King scoring again at 2:10 and a tough defense that held Linton back from any easy shots.
The two sides battled through the next minute of action, then Munson pulled her team within one point after hitting two free throws with 51.8 seconds to go. The Honkers used intentional fouls to stop the action, with Miller picking up her fifth at 42.8 seconds and King getting her second at 34.1 seconds. Schneider scored once and Weber made good on both of hers for the Lions 48-44 lead. Munson used a foul to get a stop with 20.7 on the clock and Vetter missed both shots, but the Lions stole the ball from the Honkers, only to watch the Honkers steal it back.
The buzzer sounded as the two teams scrambled up and down the court, with the victory going to Linton-HMB.
Schwarz and his players were all shaking their heads at the end of the contest. "We got off to a good start," he said. "We got some baskets and we'd go after [Linton]. In the second quarter, we came out with energy, but we hit a wall."
Kenmare's short bench, with essentially six varsity players, felt the effects of a three-day tournament. "We were giving the effort that we've got to give," Schwarz said. "In the second half, we turned up the heat. We knew we had to make plays on defense and we did, but I don't know if we could have done that on both ends of the game."
He would have liked to see the Honkers sink a few more of their shots in the contest and to see the seniors accept the third place trophy, but he acknowledged the wear and tear of three days of play. "We wanted Katie and Kortni and Erika to have a win for that last game," he said, "but we gave it everything we had and that's all we can ask them to do."
"We should have played stronger defense right away," King said. "Our effort was there, but things weren't working."
Miller and Lemere agreed. "Our defense was down," Miller said.
"We were just worn out, and we shouldn't have been," added Lemere. "Thursday drained us and Friday broke us, but we wanted to come back and get the win today."
The trio of seniors praised their younger teammates, with King describing them as hard workers.
"We interacted so well with each other," Miller said as she talked about how much she enjoyed playing on this Honkers' squad.
"We have lots of team chemistry," said Lemere. "The six starters all get along, and then there's our 'Fab Five' bench!"
The seniors also expressed gratitude for the dedication of Coach Schwarz and assistant coach Arnold Jordan. "Our coaches are amazing," Miller said.
"We're thankful for them," Lemere added.
King paced her team with 16 points, coming on 6 of 11 field goals and 4 of 5 free throws. She made 7 rebounds in the game, along with 4 assists.
Miller had 9 points in the game, including 3 of 13 field goals and 3 of 3 free throws. She grabbed 6 rebounds and made 4 steals and 2 assists.
Munson also posted 9 points, coming from a three-pointer, 2 of 8 field goals and 2 of 3 free throws.
Barnhart finished with 8 points on 2 of 5 field goals, 1 three-point attempt and 1 of 2 from the charity stripe.
Lemere added 2 points, along with 7 rebounds.
Vetter led the Lions with 12 points.
The Honkers shot 40 percent from the field at 16 of 40 and 76.9 percent in free throws at 10 of 13. The Lions only made 47 percent of their free throws at 8 of 17, but their shooting percent was much higher at 55.9 percent, sinking 19 of 34 shots.
Turnovers were low for both teams, with Linton-HMB at 7 and Kenmare at 11. The Honkers out-rebounded the Lions 26-20.
Carrington won the 2011 Class B title with a 54-46 victory over Central Cass. Beach took fifth place after beating Central Valley 42-33, and Washburn pushed Watford City out of seventh place with a rally in the final minutes of the game to win 50-47.
King named to
All-Tournament team
Katie King was named to the All-Tournament team for Kenmare. She joined Kayln Schneider of Linton-HMB, Emily Thompson and Sierra Rosenau of Carrington, Courtney Dixon and Taylor Kraft of Central Cass, Brittney Dietz and Abby Weinreis of Beach, Taylor Henningsgard of Central Valley and Sam Schell of Washburn.