Thanks for reading some of the latest features about area people and events.
To view every page and read every word of The Kenmare News each week,
subscribe to our ONLINE EDITION!
Great Northern Trucking has plans to make Kenmare its home base
Joey Matejovsky, operations manager for Great Northern Trucking, heard good news Thursday during his visit to Kenmare. "I talked to [public works director] Mike Thompson this morning and we can get water to our new location," he said. "We're looking to build immediately!"
10/05/11 (Wed)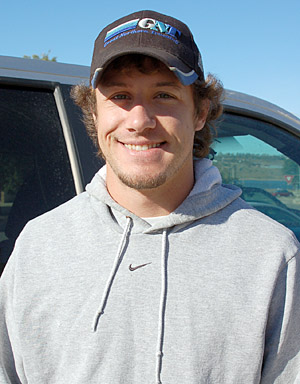 Joey Matejovsky, Operations Manager
for Great Northern Trucking, Kenmare
Will build shop and yard east of town
Joey Matejovsky, operations manager for Great Northern Trucking, heard good news Thursday during his visit to Kenmare. "I talked to [public works director] Mike Thompson this morning and we can get water to our new location," he said. "We're looking to build immediately!"
That "new location" for Great Northern Trucking is a site east of town, next to Bryce Boughton's repair shop and parking yard. GNT is purchasing 10 acres there and will construct a 60'x110' shop for the company's own repair work and office space.
Kenmare as GNT base
GNT, owned by Don Spearing of Oxbow, Saskatchewan, and employing 35 people, started operations in 1999. About 85 percent of the loads hauled by the company's 30 drivers are crude oil, with some natural gas and propane transported, too.
"We get contracts with the marketers," Matejovsky explained. "We transport [their loads] from Point A to Point B."
Some of the runs extend into Saskatchewan and Manitoba, but many are shorter trips around western North Dakota.
Most of the drivers keep their trucks with them, which will limit the number of trucks parked on the GNT site at Kenmare. "We run 30 pieces of equipment," Matejovsky explained, "and once we're established, I would expect to have about 10 pieces of equipment out here."
According to Matejovsky, who has been managing the operation from his home office, Kenmare will become the home base for GNT. "We looked at options in Berthold, Bowbells, Stanley and Minot," he said, "but the main reason we chose Kenmare was because it's a central location for us."
The community provides other benefits, too. "This is still a nice small town where people are friendly," said Matejovsky. "The schools are great and the other things offered here are great. We've got to meet a lot of people already!"
Finding real estate in Kenmare to meet the needs of GNT has not been easy, however. Matejovsky credited local residents Mike Zimmer and Jamie Livingston for making the new shop a reality. "I've met with them quite a few different times," he said, "and they've helped me out tremendously."
Company seeks friendly,
approachable employees
While new to Kenmare, Matejovsky is familiar with the region. He grew up in Wolf Point, MT, and moved to Minot in 2003 where he attended Minot State University, worked and met his future wife. He served nine years in the National Guard, moving in and out of Minot until four years ago when the Matejovskies purchased a home there.
Actually, the couple would have preferred to live in Kenmare then, but housing was difficult to find locally and the home they bought in Minot had an appealing price tag.
It also had an appealing location in the Longfellow Elementary School neighborhood that proved disastrous when the Mouse River flooded in June. "We had seven and a half feet of water on our main floor," said Matejovsky. "Now, we're going to build on a hill."
Although he's living in a motor home currently, Matejovsky intends to construct his own home next to the GNT shop. His wife Brianna is looking forward to becoming a Kenmare resident, along with the couple's son Britton, 3, and daughter Sailor, born May 30th just ahead of the first flood evacuation in Minot during the summer.
A few of the GNT drivers already have housing in Kenmare. More want to move to town, while others call Minot, Bowbells, Berthold and Stanley their temporary homes. "A lot of the guys live in their trucks right now," said Matejovsky. "I highly suggest when I hire them that they start looking for living quarters here right away."
He noted some of the drivers have little choice but to stay with their trucks. "About 25 of our drivers are originally from out-of-state, and some come from tough economic situations," Matejovsky said, adding that a few of the drivers experienced lay-offs from former employers who simply didn't have work available. "I want to get them out of their trucks, though."
To that end, he plans to build a small RV park next to the GNT shop where drivers can park campers to live in during late spring, summer and early fall and have someplace more pleasant and comfortable to stay. "We run a clean operation," he said. "The majority of our drivers are married and many have children of their own, whether grown or still at home. Our drivers are hard-working and dedicated."
GNT conducts an extensive review of driving and prior employment records before hiring anyone. Matejovsky, who started with GNT as a driver himself, said the company seeks quality people. "All our drivers are very friendly, very approachable," he said.
Opportunity to grow
The new GNT site in Kenmare brings new opportunities for the community. "We're looking to expand and grow," said Matejovsky. "We're looking for office space to rent on a temporary basis, until we get the shop completed. And we're looking to employ people right here in Kenmare. I'm still looking for office personnel and I appreciate the applicants who have contacted us. We will address those applications through early October."
He wants to hire local contractors to do the work on GNT's new site. "And I'm looking for someone who does basements," he said, laughing as he talked about his own house. "We're short on time and winter's coming fast!"
Once the GNT operation is established in Kenmare, Matejovsky would like to see the company diversify. "We're looking to expand to fresh water hauling and other service work for the oil industry," he said. "I think it will be easier to expand and grow in Kenmare, and as the company grows, that will bring more employment to town."
Even though Matejovsky is realistic about his immediate construction timetable, he is enthusiastic about the new direction and potential of GNT's future in Kenmare.
"We're excited to come into Kenmare," he said, "and we hope to be welcomed."