Thanks for reading some of the latest features about area people and events.
To view every page and read every word of The Kenmare News each week,
subscribe to our ONLINE EDITION!
Escalating repair costs and growing enrollment are the push for school building project
It's up to the voters now. Next Tuesday, Kenmare School District patrons will decide whether or not to fund a $14 million building project.
11/13/13 (Wed)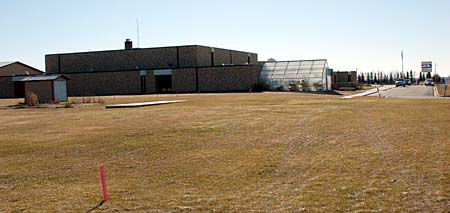 Proposed addition site . . . Pink stakes outline the dimensions of the site
of the proposed addition, north of the current high school building. Voters
will decide the issue of funding the addition on Tuesday.
By Marvin Baker
It's up to the voters now.
Next Tuesday, Kenmare School District patrons will decide whether or not to fund a $14 million building project.
A final public meeting was held Thursday night in Kenmare High School to talk about the proposed project, the cost of it, student growth potential, how it will affect elementary children and long-term improvements.
The polling location is in the Kenmare High School auditorium on Tuesday, Nov. 19. Patrons may vote from 8 a.m. to 7 p.m.
There are actually two issues at hand.
First, question No. 1: Shall Kenmare Public School District 28 issue its general obligation bonds in the amount not to exceed $14 million for the purpose of providing funds, together with any other funds available, to construct, remodel improve and equip school buildings; to include the addition of classrooms and a gymnasium at the high school?
Question No. 2: Shall the debt of District 28 be increased 5 percent on the assessed value of the taxable property of the school district beyond the 5 percent limit of indebtedness affixed by the constitution?
"We need a yes vote on both and I hope the people understand that," said school board president Jan Kostad. "If this is voted down, in five years the board will come back to the patrons to do this again."
Kostad broke some of the numbers down so patrons would understand what this might cost them individually.
He said the approximate tax impact on patrons would depend on whether they own a residence, farmland or a commercial business.
Kostad cautioned the numbers presented Thursday night are estimates and may vary slightly depending on which township the taxpayer is located, should the proposal be approved.
Based on the 2013 market value of a $100,000 piece of property regarding a 20-year bond, a residence would be taxed $267.85 annually, agricultural property would be taxed at $250.17 each year per 160 acres and commercial property would be taxed at $241.06 annually.
In addition, the above amounts represent a bond at a 2 percent interest rate.
If the rate to borrow was 3.75 percent, tax on a residence would be $325.95 a year, farmland would be taxed $304.44 and commercial property would be taxed $293.36.
"We've done some research here and one thing favorable is the interest rate," Kostad said. "When we look at the cost factor, we look at interest rates and that's an important factor over 20 years."
Kostad reminded the group of about 20 that the State's Homestead Property Tax Credit allows district residents 65 and older, or disabled, who have total assets of $500,000 or less, to get their property taxes reduced or zeroed, depending on their situation.
"So the elderly won't have to worry about paying this if it fits into their category," Kostad said. "But they have to fill out an application."
A modest growth in students in recent years, along with escalating repair and maintenance costs at the elementary school have steered the school board toward its approved proposal.
The board has looked at three options since the planning began nearly 24 months ago. Option 1 was to renovate the elementary school, option 2 was to add a gymnasium to the existing high school and option 3 is the one adopted by the board, to build a gym and several classrooms on the north side of the high school.
John Huenink, a planner with Kraus-Anderson, a construction company that specializes educational planning, said detailed estimates have been recorded and it shows the cost of elementary renovation and maintenance escalating as years go by.
"Bringing that building up to code would cost nearly as much as what is in front of you," Huenink said. "The cost per square foot at the elementary school is much higher."
He estimated the cost to get the brick structure renovated and brought up to code would cost just short of $10 million.
In fact, a brochure handed out during Thursday's meeting indicated maintenance needs at the elementary school costing $67 per square foot and maintenance at the high school costing $19 per square foot.
That alone should give patrons an idea of cost differentials and despite the approved proposal having a $14 million price tag, should save patrons over the 20-year term of the bond.
Recent growth has been steady, especially in the elementary grades and the board's concern is for the children to have adequate space and learning opportunities.
There are currently 28 children in kindergarten, 35 in first grade, 21 in second grade, 27 in third grade and 26 in fourth grade. Those classes that have more than 25 students are split to maximize learning potential.
School Superintendent Duane Mueller added that most parents prefer smaller classrooms.
The Nov. 19 proposal calls for two classrooms per grade level since growth in the coming years is anticipated, especially in the lower grades. Currently, every classroom is being used.
"So we've seen some nice growth," Kostad said. "Young families are joining the work force and we've got to be happy as a district that we are seeing some growth."
Nine years ago, the K-12 population was 278, but now stands at 314 students.
"We've seen 15 percent growth," Kostad said. "We've grown by 49 students [K-6] over nine years. There are limitations for how fast we can grow because of our boundaries. But with up to 80 apartments coming, and 20 homes for sale in town, we can anticipate modest growth."
Tuesday's vote will require a 60 percent approval to pass. If the proposal does pass, a design phase would begin in December, construction would begin in June 2014 and the addition would become operational in September 2015.
If the proposal fails, it's back to the drawing board.
"Voters will have to trust the board, that we will stay within the realm of the budget," Kostad said.