Kenmare Renaissance Zone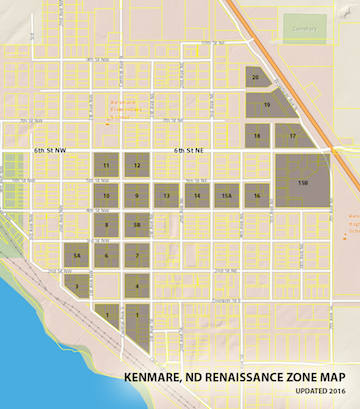 Kenmare Renaissance Zone Vision
Maintain and improve infrastructure, services, commercial and residential opportunities for citizens of Kenmare.

Kenmare Renaissance Zone Objectives
The Authority, City and Economic Development leaders have established objectives for their community through a strategic plan. Their specific objectives, along with meeting the benchmarks, include:
A solid working relationship between economic development, Fund-ITT committee and city leaders to promote the Zone.
Work with regional economic development and community organizations such as the Souris Basin Planning Council to assure the citizens of the community have the tools needed to succeed.
Coordinate projects with banks, accountant services and real estate agents throughout the region
Fully utilize the economic development director to promote the Zone to service clubs and community groups to gain a full understanding of the potential for development in the Zone and community.

City of Kenmare Renaissance Zone Checklist
Proposed Renaissance zone projects must be submitted and approved prior to the purchase of property or start of renovation or construction. Application must be submitted to the City Auditor's office for review by the Zone Authority, approval by the City Council and final approval by the ND Department of Commerce Division of Community Services. The estimated time for all approvals and review is 3-4 weeks. You will need to obtain the following information, along with an application & certificate of good standing in order for your project to obtain approval.
City of Kenmare Renaissance zone project application (available at City Auditor's Office)
Legal description and address of property, true and full value of property (city office can assist you)
Current zoning of property
Floor plan of building --prior to renovation and plans for remodeling
Estimate of total construction, renovations or acquisition costs
Estimate of annual state income tax to be exmpt
Estimate of annual property tax to be exempt
Certificate of Good Standing approval from ND State Tax Commissioner
Proof that local property taxes haev been paid (Ward County Auditor's Office)
Proof that city utilitiy bill and fees are current
Approval by all entities: Zone Authority, City Council and ND Division of Community Services
If you have any questions, please contact Marki Ellis at the City Hall. 701-385-4232 or by email at cityofkenmare@restel.net
Kenmare Renaissance Zone Program Guidelines/Application