Four KHS wrestlers making trip to State Tournament this week
Posted 2/13/13 (Wed)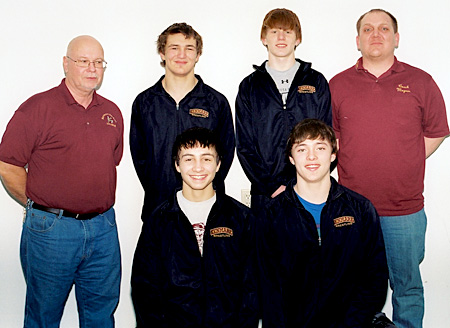 Four KHS wrestlers qualify for the Class B state tournament,
including Xavier Maureaux-132 lbs., Ty Jesz-160 lbs.,
Alex Giese-170 lbs., and Tanner Egeberg-126 lbs., with
assistant coach Dennis Kaatz and head coach Danny Mogren.

By Caroline Downs
Four Kenmare wrestlers, Ty Jesz, Tanner Egeberg, Xavier Maureaux, and Alex Giese, will see action in the 2013 Class B state wrestling tournament this weekend in Fargo, after qualifying at the Region 3 individual tournament held Saturday at Stanley.
Ty Jesz, 13-10 overall, had the best finish for the Honkers at second in 160 lbs., scoring 19.00 team points.
He started in quarterfinals with an 8-0 major decision over Spencer Koehmstedt, Rugby.
In semi-finals, he pinned Cole Hysjulien, Stanley-Powers Lake-Tioga-Ray, in 4:37, but lost a 7-0 decision in the championship match to Kiel Werre of Velva.
Tanner Egeberg, 16-8 for the season, placed third at 126 lbs., and scored 13.50 team points.
In quarterfinals action, he won by tech fall over Justus Rector, Bishop Ryan, (TF 16-0), but lost an 8-4 decision in semi-finals to Cole Peterson, DLB.
Egeberg received a bye in consolation semi-finals and turned that into a winning 7-2 decision over Josh Horner of Velva to earn the state berth.
Xavier Maureaux, 10-11 overall, placed third at 132 lbs., and scored 14.00 team points.
Maureaux received a bye in quarterfinals and was pinned in semi-finals by mason Brudevold of Velva in 5:34.
However, Maureaux came back in consolation semi-finals to pin Kaden Evenson of Stanley-Powers Lake-Tioga-Ray in 2:14. He earned third place when he pinned Cole Dauphinais of Bishop Ryan in 4:32.
Alex Giese, 17-10, placed fourth at 170 lbs., and scored 14.00 team points.
Giese pinned Zeb Demeray, New Town, in 2:51 during quarterfinals, but lost a 9-4 decision to Nathan Schmaltz of Velva in semi-finals. He came back with a pin over Tanner Langen, Rolla-St. John-Rollette in 2:38 during consolation semi-finals, then lost a close 5-3 decision to Carson Schell, Bishop Ryan in the final match.
Other Region 3 results
Other wrestlers competing for Kenmare in the Region 3 tournament included Branden Burtch, 5-12, at 106 lbs., who lost a 7-0 decision to Elijah Hackman, Velva, in quarterfinals and a 9-3 decision to Gaige Reep, S-PL-T-R, in consolation semi-finals. However, Burtch pinned Joey Berg, Rugby, in 1:38 to finish fifth in the region for the weight class.
Taylor Egeberg, the team's only senior competing in the regional tournament, was coming back from an illness last week. He lost three matches to Ben Hall of New Town, Dakota Johnson of Bishop Ryan and Jaryn Rasmussen of S-PL-T-R to finish in sixth place in Region 3.
The Kenmare-Bowbells team finished in sixth place at the tournament with 70.5 points. Bishop Ryan won the tournament with 215 points, with Velva in second place at 195.5 points.
State matches
begin Thursday
Tanner Egeberg will face No. 7 Codi Tomac, a Hettinger senior with a 32-11 record, at 126 lbs. to start his state tournament run.
Maureaux will begin with a match against No. 6 Joel Weber, a South Border sophomore with a 24-14 record, at 132 lbs.
Jesz opens his state tournament against No. 6 Joe Nelson, a senior from Watford City with a 19-14 season overall, at 160 lbs.
Giese starts against No. 6 Michael Olen, a Linton junior who wrestled 19-18 this year, at 170 lbs.