Bombers volleyball opens new season with two wins
Posted 9/12/12 (Wed)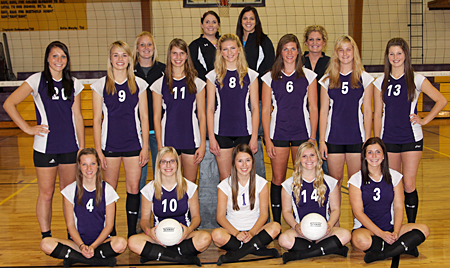 2012 Lewis & Clark Varsity Volleyball Team
By Caroline Downs
The Lewis & Clark volleyball team opened regular season play with two non-district wins during the last week of August.
On Thursday, the Bombers topped Velva 3-1 in hard-fought games. They lost the first set 32-34, then defeated the Aggies 25-20, 25-22 and 25-15.
Tessa Walters finished the night with 87 kills, while Madison Erickson and Bethany Limke had 7 apiece.
Elizabeth Nelson set up her teammates with 25 assists.
Jordyn Hornberger and Whitney Lee each came up with 10 digs.
On August 28th, Lewis & Clark shut out Garrison-Max 3-0 on the home court with scores of 25-7, 25-8 and 25-7.
Walters logged 10 kills while Rachel Birdsall had 8.
Nelson made 16 assists.
Hayley Deaver scored on 6 aces.
Bombers roster
Seven seniors lead an experienced Lewis & Clark squad, with Whitney Lee, Hayley Deaver, Tessa Walters, Jessi Johnson, Elizabeth Nelson, Jordyn Hornberger and Lacey Marmon.
Nine juniors put the ball into play, including Maci Abrahamson, Rachel Birdsall, Bethany Limke, Taylor Kunz, Madison Moen, Jaycey Bangan, Shelbe Neubauer, Jerica Schwanz and Emily Fegley.
Six sophomores take their turns at the net, with Madison Erickson, Trisha Howell, Brooklyn Schick, Sheyla Munoz, Liz Neshem and Emily Roark.
Nine freshmen wear the purple and gold, including Mychal Fjeldahl, Cassidy Limke, Perry Edwards, Taylor Simons, Ally Brown, Emily Ryan, Sierra Coons, Lindsey Vangsness and Kylee Carico.
Emilee Gregory is managing stats for the team.
Head coach Brooke Storro is assisted by Tara Holmen, Nikki Holmen and Kayla Lambrecht.
Varsity schedule
The Bombers return to court action on September 8th in the Glenburn tournament, then host Parshall on the 10th. The team goes on the road to Minot Ryan on the 13th before welcoming MLS to the court on the 18th.
Lewis & Clark travels to Surrey on the 20th,hosts Glenburn on the 25th and hits the road to DLB on the 27th. The month ends at the Washburn tournament on the 29th.
The Bombers start October by hosting Our Redeemer's on the 2nd before finishing regular season District 12 play on the 4th in Kenmare. Lewis & Clark welcomes Burke County on the 9th, then travels to Stanley on the 11th and Glenburn on the 16th. The team's last regular season match will be at home against Newburg-Westhope on October 22nd.
District 12 tournament play will take place in Kenmare on October 26th, 29th and 30th.
The Region 6 tournament will be held November 5th, 6th and 8th at the Minot Municipal Auditorium, with the winner advancing to the state Class B tournament scheduled for the MSU Dome on November 15th, 16th and 17th.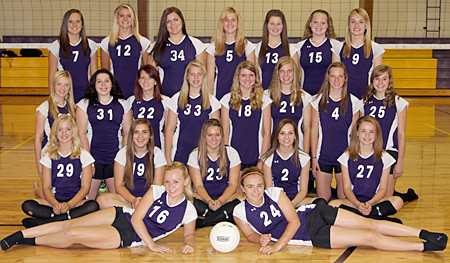 2012 Lewis & Clark JV Volleyball Team