Chicago man makes extended visit to Kenmare to volunteer at the refuge
Posted 7/05/12 (Thu)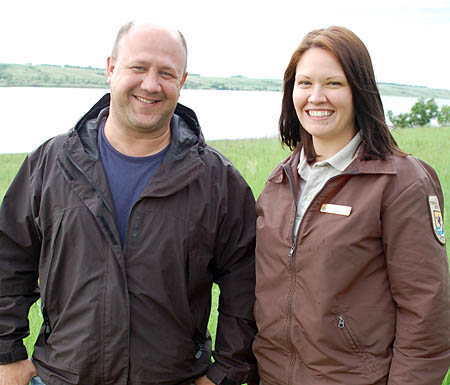 Giving something back . . . Volunteer Jim Coniglio of Chicago,
left, is making his first extended visit to North Dakota to assist
outreach and education coordinator Jennifer Jewett with
programs and interpretative presentations at the Des Lacs
National Wildlife Refuge this summer.
By Caroline Downs
"At the end of the day, I want to be able to say, 'So what?' and have a good answer for it," said Chicago-area resident Jim Coniglio about his decision to volunteer at the Des Lacs National Wildlife Refuge this season.
Coniglio responded to an announcement posted on Volunteer.gov by Des Lacs National Wildlife Refuge education and outreach coordinator Jennifer Jewett. "I looked at everything from campground hosting to hatcheries," he said. "Jennifer wrote [her announcement] well enough to pique my interest."
Jewett was looking for help with programs offered by the refuge during the busy summer season. "His main focus will be helping organize environmental education and interpretative programs," she said. "He'll help make the ones we already have better quality, and we should be able to develop some new ideas, too. I still have a list of programs I want to add to the schedule!"
Coniglio comes to Kenmare from a background in operations management, including accounting and sales, for national and international companies. "My roots are in the packaging industry," he said.
The current economic situation in much of the country has impacted his career, too, and he is using this volunteer service as an opportunity to consider his future. "I'm at a point in my life where I want to give back," he said. "I thought I'd take the plunge and do a career change and a motivating change. I've always loved the outdoors and wildlife, and in my adult life, I've been thinking more about conservancy."
He described the volunteer position at the Des Lacs NWR as challenging. "This position gives me more opportunity for outreach to the community, getting more people involved and affecting the way people think," he said. "I'll be working on different projects with all sorts of people. It's quite invigorating."
Jewett said Kenmare residents and other visitors to the refuge will see Coniglio in a variety of settings, including events in town and public use areas on the refuge. "He'll be involved in all the education programs we'll be doing out at the refuge," she said. "I also want him to revamp the kiosk at headquarters and to hopefully get more kiosks up and get more brochures set up at places around the refuge."
One of Coniglio's first ideas has been to compile a display of refuge information that could be set up at the Kenmare Branch Library for public access. He and Jewett have also discussed scheduling a nature photography class at the refuge this summer.
The refuge program calendar includes a visit from children in the Kenmare Branch Library summer reading program on July 24th, a guided nature hike for children on July 26th, Greenwing Day on August 4th and "Who's That?" animal tracks program on August 16th. Coniglio already assisted Jewett with a guided hike for young writers in the Kenmare Summer Arts Institute preparing to enter the outdoor-themed "Get to Know" writing contest and with the annual Wildflower Walk, which attracted nearly 20 visitors to Munch's Coulee.
"I have a feeling that with Jim's help, we'll be developing two or three other things for the public in July and August," Jewett said. "Watch for flyers, watch the refuge's Facebook page and watch The Kenmare News for more details!"