K-B-MLS girls earn 7th in State's first Class B softball tourney
Posted 6/06/12 (Wed)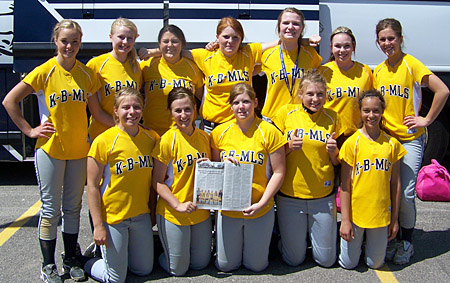 2012 Kenmare-Bowbells-MLS fastpitch softball team takes a break
at the first-ever Class B state tournament in West Fargo, where the
squad finished in 7th place after defeating Pembina County North.
By Caroline Downs
The Kenmare-Bowbells-MLS team ran into a buzzsaw at the Class B fastpitch softball tournament last weekend, but the squad finished in seventh place and earned a place in sports history by playing in the first state Class B tournament for the game.
The K-B-MLS team opened Thursday on the West Fargo field against Central Cass, losing 21-1 in five innings.
"Central Cass came out swinging their bats," said Jean Barnhart, mother of K-B-MLS first baseman Ashley Barnhart. "Their first 11 batters scored."
Chelsea Nelson scored for the local team in the second inning, taking advantage of a walk and stolen bases. The K-B-MLS team, with a batting average of 0.41 for the season, managed only two hits in the contest.
In the day's other games, Thompson topped Hillsboro-Central Valley 10-7, Grafton beat Hankinson-Fairmount 21-9 in five innings, and Enderlin-Maple Valley trounced Pembina County North 18-2 in five innings.
K-B-MLS loses to Hillsboro-CV
On Friday, K-B-MLS faced Hillsboro-CV in the consolation semi-finals and scored more points, but still lost 25-9 in five innings. Justice Brown, Emily Abernathey, Kennedy Fricke, Codee Gilbertson, Kim Sisk and Sydney Wheeling all crossed home plate to put points on the board, but the Hillsboro-CV team showed up with strong defense and offense.
"The K-B-MLS team couldn't get a lucky break," said Jean Barnhart. "Fielding and base running errors haunted the squad while Central Valley...played flawlessly."
K-B-MLS held a 1-0 lead after the first inning and played even with Hillsboro-CV at 3-3 after two innings. The squad turned in a strong third inning, with five runs scored, but, Hillsboro-CV put 11 points on the board in the third inning and eight in the fourth to pull ahead for the win.
In championship semi-finals play, Enderlin-Maple Valley routed Grafton 25-4 in five innings and Central Cass shut out Thompson 14-0. In the other consolation semi-final, Hankinson-Fairmount topped Pembina County North 11-2.
K-B-MLS pounds
Pembina County North
K-B-MLS put together a strong game Saturday against Pembina County North, winning 14-4 in five innings. Pembina County scored a run in the first inning, but K-B-MLS responded with four runs in the second inning and shut down the Pembina County batters through the fifth inning.
Ashley Barnhart scored four times in the game. Shania Brackenbury and Gilbertson each scored twice, with runs from Brown, Abernathey, Fricke, Nelson, Sisk and Wheeling.
According to Jean Barnhart, the K-B-MLS team showed a solid combination of pitching, hitting and fielding in the game.
In the day's other games, Hillsboro-CV edged Hankinson-Fairmount 8-7 for fifth place, Grafton slid by Thompson 10-9 for third, and Enderlin-Maple Valley slipped by Central Cass 2-1 for the state title.
All-State Team
Ashley Barnhart and Justice Brown were named to the 2012 fastpitch softball All-State Team. They were joined by Courtney Mitchell of Des Lacs-Burlington, Abby Niemann and Erica Sevigny of Grafton, Karleigh Weber and Bethany Ivesdal of Thompson, Kieran Horsley of Pembina County North, Tedi Perkins of Hillsboro-CV, Teri Loll and Karissa Krump of Hankinson-Fairmount, Kaylee Johnson and Megan Johnson of Enderlin-MV, and Kennedy Bresnahan, Sierra Amundson and Morgan Titus of Central Cass.
K-B-MLS by the numbers
The K-B-MLS team finished the regular season with 182 runs scored, second only behind Grafton's 227 runs for the season, and an earned run average of 3.23.
Ashley Barnhart led all players in the state tournament with a .596 batting average, followed by Gilbertson at .528 and Brackenbury at .516.
Abernathey paced the team in RBIs with 38 for the season, with 33 from Fricke and 32 by Barnhart.
Barnhart and Brackenbury each pegged three home runs during the season, with 2 from Gilbertson.
Abernathey handled the majority of the pitching duties for K-B-MLS, with a 16-6 record and 87 strike-outs.
K-B-MLS qualified for the Class B state tournament with a third place finish in the North regional tournament. The team has played a varsity fastpitch softball schedule for two years, coached by Jesse Radzwill of Mohall.