Rainfall at Kenmare in 2011 exceeds January-to-May average
Posted 5/31/11 (Tue)
The growing puddles, saturated fields, overflowing rivers and creeks, slumping hillsides and damp basements throughout the region only illustrate the obvious:
There's been a lot of rain this spring.
According to data collected at the Des Lacs National Wildlife Refuge, 2.40 inches fell between Friday and early Tuesday morning, although prescribed fire specialist Calvin Moldenhauer noted he had received just over three inches in the same period at his home east of Kenmare.
The year-to-date total for precipitation as of Tuesday morning was 8.92 inches, compared to a January-May average of 5.22 inches. The month of May 2011 has supplied 5.02 inches of moisture, including 5 inches of snow measured on May 1st.
The winter's high snow total, with more than 74 inches measured at the refuge since October 2010, continues to impact soil conditions. Moldenhauer reported 11.94 inches of precipitation measured from last October through Tuesday morning.
The immediate forecast calls for temperatures warming into the 60s and low 70s, with sunny or mostly sunny days, beginning today.

Photos taken May 22nd by Bill Broghammer while flying with his father-in-law, Kenny Brekhus of Kenmare, in the area surrounding Kenmare, Tolley and Mouse River Park.
See more photos HERE.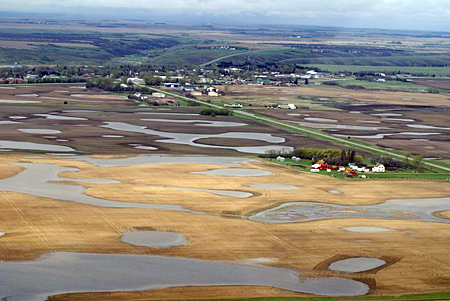 Looking west to Kenmare with Ward County Road #2 running
toward town. The upper center portion of the photo shows
Ward County #2 as it continues out of town toward Niobe.
The Norbert Nielsen farmstead can be seen in the lower right
portion of the photo.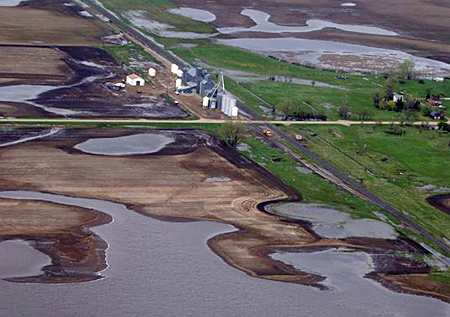 Looking west at the grain elevator at Norma.