Firemen called to downtown again
Posted 12/31/09 (Thu)

Another west side fire call . . . Employees and customers
at Kenmare Drug had a brief scare shortly before the end
of the business day on Monday, December 21st. Wires in a
light fixture near the entrance to the store burned,
but were quickly extinguished. About a month ago, the fire
trucks were parked two doors up the street on the west side
of the business square as a fire gutted Danny's Bar and Grill
and smoke damage shut down the R$ and Variety store
next door to Kenmare Drug.
When the fire trucks pulled up in front of the Kenmare Drug store late Monday afternoon, firemen and bystanders alike were probably thinking, "Oh no, not again."
Most of the firemen of the Kenmare Fire Department arrived within minutes of being called to the scene.
According to Fire Chief Dale Hanson, nearly 20 firefighters responded at about 5:20 pm, with three engines on the scene.
Fortunately, the smell of smoke through the main part of the drugstore was attributed to wires burning in one of the light ballasts.
"It was pretty smoky inside there," Hanson said. "We found the cause right away, and Cameron Bartuska cut the light off." Firefighters finished their work within a half hour.
Drug store clerk Sue Jessen said much of the appearance of smoke was actually from the fire extinguisher powder. A white haze hung in the air long after the fire extinguisher was used by employee Kristi Anderson to put out the small flames coming out the end of the light fixture.
Jessen said they knew right away where the problem was, as they could start to smell the hot wires and ballast a short time before it started smoking.
Since they were about to close the store for the evening, they summoned the fire department to check it out. "We thought it would be better to be safe than sorry," Jessen said.
Damage in the store was minimal, and Kenmare Drug resumed regular hours Tuesday morning. Even Monday afternoon, after the incident, customers checked out with their purchases as firemen remained at the scene.
Bartuska, an electrician from Gravesen Electric as well as a firefighter, returned to the store Tuesday morning to make repairs and check all the lights.
The call came about a month after a fire shut down two neighboring businesses on the west side of the square.
Danny's Bar & Grill was gutted by a blaze in the early morning hours of November 25th, with R$ & Variety sustaining heavy smoke damage in the incident. Both of those businesses remain closed.
"We were lucky this was something small," Hanson said. "It turned out well."
Officers with the Kenmare Police Department also responded to the call and handled traffic control.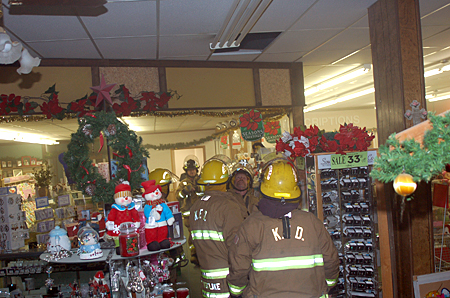 No damage . . . A white haze from burning wires and fire
extinguisher powder lingers in the air as Kenmare firemen gather
under the point of origin, a light fixture near the store's entrance.