Swimming Pool

840 North Central Ave
Kenmare, ND 58746

Phone: 701-385-4355
Karen: 701-848-6518

Hours

Mon - Fri: 1-5pm & 7-9pm
Sat & Sun: 1-5pm

Pricing

Family Pass: $175
Single: $110

Captain Pass: $3 (non-swimming spectator)
Single Session: $5

Birthday Parties: $40/hr
Family Reunions: $40/hr

Parents please note...
Access to the baby pool will now ONLY be from the outside gate entrance. There will no longer be access to the baby pool from the main pool.

Cost to use the baby pool for swimmers UNDER the AGE of SIX is the same as prices as the main pool. (those older than 6yrs of age are not permitted to use the baby pool and may be asked to leave if they do not follow this rule)

2015 Swimming Lessons

June 22-26
July 6-10
July 20 - 24
August 3 - 7

Level 1 at 11:00
Level 2 at 10:30
Level 3 at 10:00
Level 4 at 9:30
Level 5 at 9:00
Level 6 at 8:30

If interested or have questions, call 701-385-4355. May leave a message, or call Karen at 701-848-6518.


WATER AEROBICS THURSDAY AND SUNDAY AT THE KENMARE POOL
5:30 - 6:30 pm
$6: Per Session
Contact the Kenmare Pool 385-4355
Kenmare Swimming Pool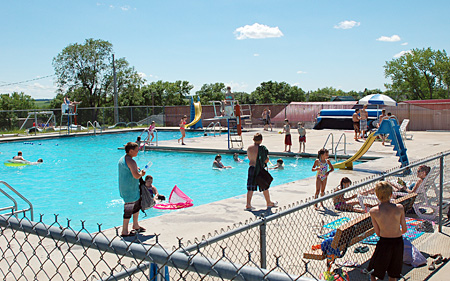 The heated swimming pool features a diving area, baby pool, two newly installed water slides and a large deck. The facility is supervised by qualified lifeguards.
Swimming lessons are offered in several sessions during the summer.
Just south of the swimming pool is a play park, which is equipped with a jungle gym, swings, and picnic tables.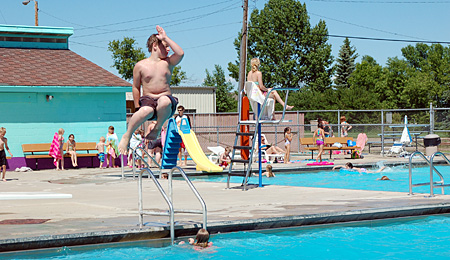 Recent News